Ocean Park Shark Mystique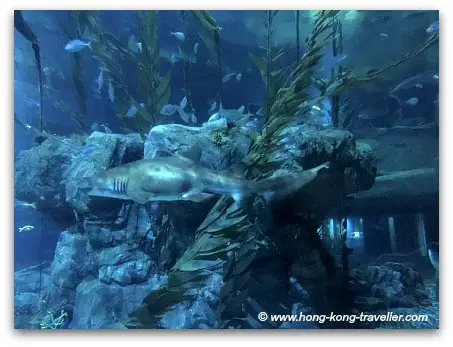 Ocean Park's Shark Mystique is one of Asia's largest shark exhibits. A wonderful educational and interactive presentation of over a hundred sharks and rays of all kinds in a fantastic layout over three levels and a 360 panoramic display.
You find Shark Mystique in the Marine World area of the Summit, the older area of the park, where the old "Reef Atoll" exhibit used to be.
This has been totally redone and the results are quite impressive. The Reef Atoll area is fondly remembered by many, this was the original Ocean Park Aquatic Exhibit where many fell in love with marine life. The new Shark Mystique exhibit does it justice, and many needed accesibility enhancements have also been implemented, the exhibit is wheelchair friendly.
You can't miss the distinct entrance with the shark's mouth at the end of a corridor of old fishermen's fishing village stilt houses...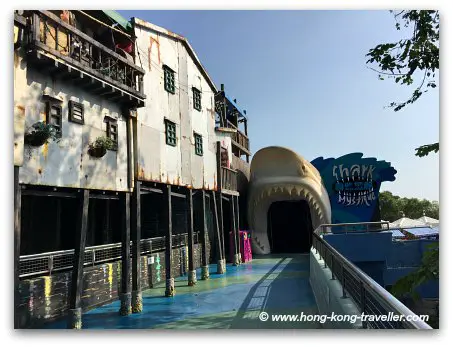 Entrance to Shark Mystique is through the Shark's Mouth at the end of the Stilt Houses
First are the overhead pools where you can see all the creatures lurking and darting in the waters below...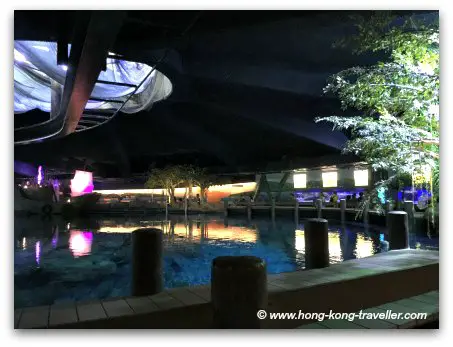 Pools where you can observe the sharks from the surface...
As you continue spiraling down to the colossal 360 exhibit, you reach the underwater viewing areas...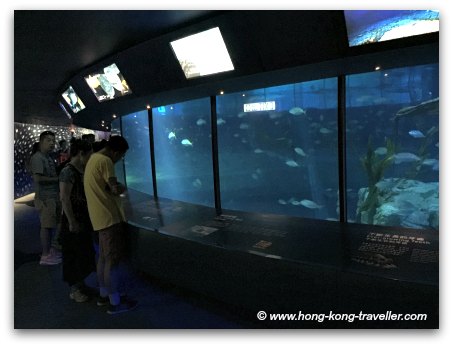 The underwater viewing areas at Shark Mystique
... and this is where you can observe all the action...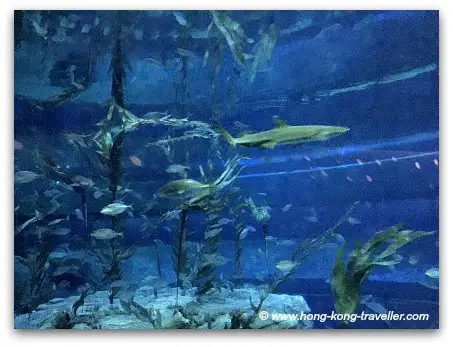 ...Fantastic Marine Life...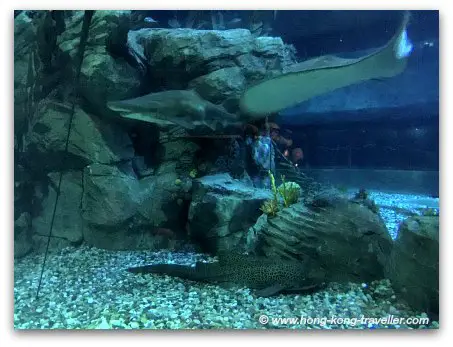 Sharks and Rays swim about, a Leopard Shark rests in the bottom...
...Sharks and fish of all sorts and sizes and types, some quite peculiar...
Like these Sawfish with their distinct serrated snout. They belongs to the ray family, rather than the shark family and is an endangered species...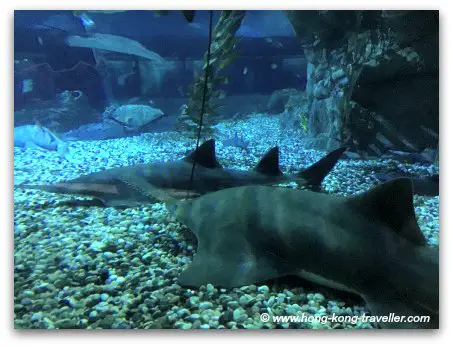 Sawfish with their distinct serrated snout...
And the Leopard Sharks with their telltale spots...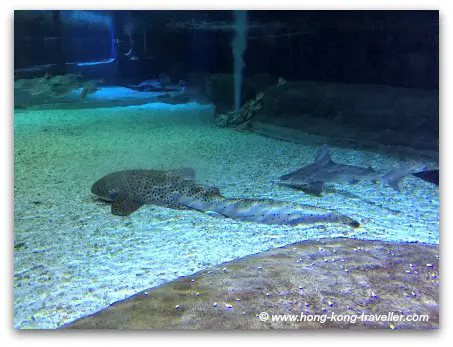 A Leopard Shark also known as Zebra Sharks rests in the bottom...
Marble rays and white tips, black tips, nurse sharks...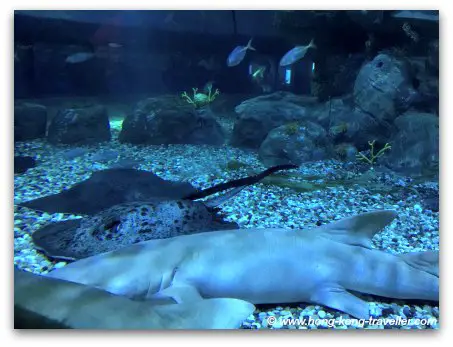 White Tip Sharks and Marble Rays...
Shark Mystique is a wonderful exhibit, you will learn much about the plight of the Shark, conservation and sustainability efforts, and keeping our oceans healthy and thriving, and most of all you will come away with a better understanding of these awe-inspiring and intriguing creatures! Don't miss it if you are in the Summit!
Once in a Lifetime Experiences at Ocean Park...
Fantastic Chance:
Honorary Panda Keeper
+ Souvenir Photo
HKD 1380 (US$183)
A 2-hour one-of-a-kind experience as you go behind the scenes of the panda enclosure, put on a special keeper's uniform and assist with the daily care of the pandas.
More info and details
Animal Encounters:
Dolphins, Seals or Penguins!
From HKD 1180 (US$152)
Get up close to Ocean Park's stars: dolphins, seals or penguin encounters where you can meet, play, feed and learn more about these incredible creatures from qualified trainers and keepers.
More info and details
Thank you for visiting www.hong-kong-traveller.com!
Here is to a wonderful Hong Kong travel experience!