Ocean Park Shows
Dolphins, Sea Lions, Magical Fountains, Fireworks!...
Ocean Park has a roster of very unique and entertaining shows, from animal encounters and accrobatic shows to state-of-the-art splashy multimedia displays. There are shows throughout the day at both the Waterfront and the Summit, so it is best to check the schedules and plan your day if there is a particular show you want to see.
Here is a sample of the shows offered that are worth checking out:
SeaDreams!: Hopping Dolphins, Whirling Sea Lions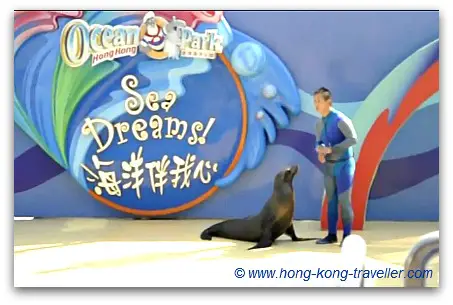 Dolphins, sea lions and their trainers show off for you as they dance to the music, swim, jump and slide. It is a very fun, educational and entertaining show. Here's a little sample:
Where?: Ocean Theatre in Marine World at the Summit
When?: 11:30am, 2:00pm, 3:30pm, 5:30pm
SkyFair Celebrations: Acrobats and Jugglers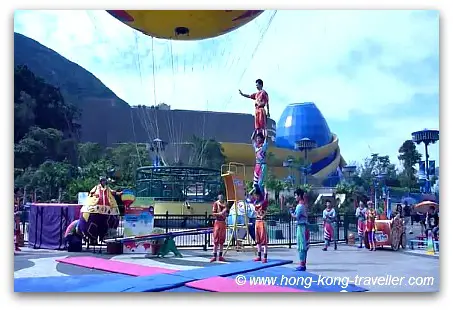 A troop of acrobats, malabarists, clowns and jugglers performing their stunts, balancing acts and tricks at SkyFair in the Waterfront.
Where?: SkyFair by the Big Balloon at the Waterfront
When?: 12:30pm, 3:00pm, 4:30pm, 6:00pm, 7:30pm
Sea Lion Fun Time Show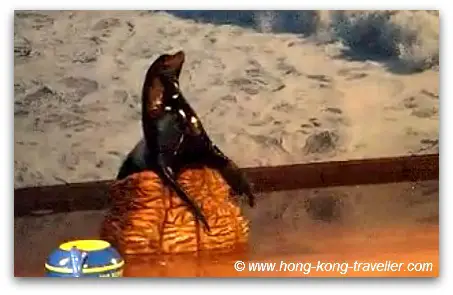 This is a fun inside look at how this animals interact and train with their keepers. You can see them practicing their tricks and preparing for their acts.
Where?: Whiskers Theatre at Whiskers Harobour at the Waterfront
When?: 12:00 pm, 2:00pm, 4:15pm
Emperors of the Sky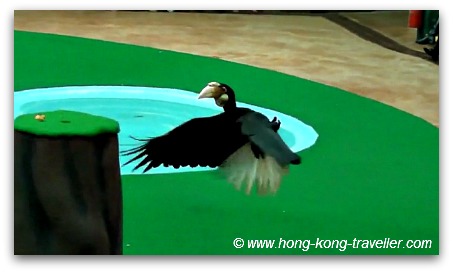 Eagles, Falcons and many more majestic birds of prey, along with 70 other exotic, colorful and rare species of birds, glide at phenomenal speeds and perform tricks that won't fail to mesmerize their audience.
Where?: Bird Theatre in Amazing Asian Animals at the Waterfront
When?: 11:00am, 1:30pm, 3:30pm, 5:30pm
Symbio!: Dancing Fountains and Dragons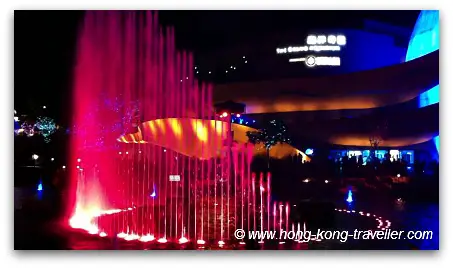 Symbio
is Ocean Park's signature night show performed every day at the Aqua City Lagoon. The beautiful circular fountain of the lagoon becomes a projection screen for this sensational show.
Water, fire, laser beams, music, fireworks, on a 360 degree waterscreen ...and fierce dragons on an action-packed story... I will not say more and spoil your fun, you just need to watch! Here's a little peek:
Where?: You can watch all around Aqua City Lagoon at the Waterfront
When?: Every night at 8:00 pm
---
Once in a Lifetime Experiences at Ocean Park...
Fantastic Chance:
Honorary Panda Keeper
+ Souvenir Photo
HKD 1380 (US$183)
A 2-hour one-of-a-kind experience as you go behind the scenes of the panda enclosure, put on a special keeper's uniform and assist with the daily care of the pandas.
More info and details
Animal Encounters:
Dolphins, Seals or Penguins!
From HKD 1180 (US$152)
Get up close to Ocean Park's stars: dolphins, seals or penguin encounters where you can meet, play, feed and learn more about these incredible creatures from qualified trainers and keepers.
More info and details
Thank you for visiting www.hong-kong-traveller.com!
Here is to a wonderful Hong Kong travel experience!