Hong Kong's Dragon and Lion Dance Festival - January 1 - 2, 2017
Hundreds of colorful dragons, lions, happy Buddhas, acrobats, celestial guardians... dancing and parading through the streets of Hong Kong in one of the most colorful, thrilling and noisy events to welcome the new year. Truly a feast for the eyes!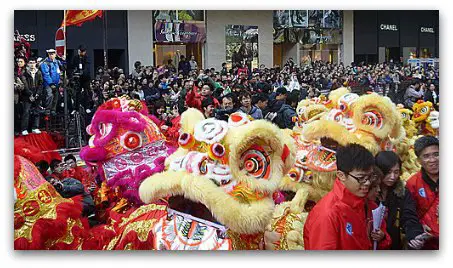 Every January 1st, the Hong Kong Dragon and Lion Dance Festival puts on one of the biggest shows, we're talking Guinness World Records big.
Dragon Parades and Lion Dances are nothing new to the territory, however, this event really takes it to another level. The 2011 extravaganza is what put it in the map with the largest Lion and Dragon Dance display at the time that featured 1,111 Dragons and Lions, setting a Guinness World Record.
Every year after that, new surprises and twists bring us an extraordinary spectacle, whether it is hundreds of lucky animals or special activities like a "Happy Face" design contest, or a lion dance championship.
It keeps drawing the crowds and turning into one of the mega events in the Hong Kong calendar, a great warm up for the Lunar New Year bash coming right on its heels shortly after.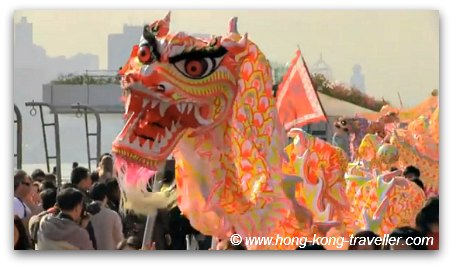 This event is organised by the Hong Kong Dragon and Lion Festival Preparatory Committee and supported by the Hong Kong government's Mega Event Fund which aims to sponsor events that enhance the city's international profile, attract more visitors and add colour and vibrancy to Hong Kong while showcasing traditional Chinese culture and traditions.
This festival certainly accomplishes that and more, just take a peek here:
---
The celebrations normally include a series of Lion Dance performances in many of Hong Kong's most popular tourist attractions, starting early in the morning on January 1st, with troopes of lions showing up from one venue to the next throughout the first part of the day.
We have had them in the past at Ocean Park...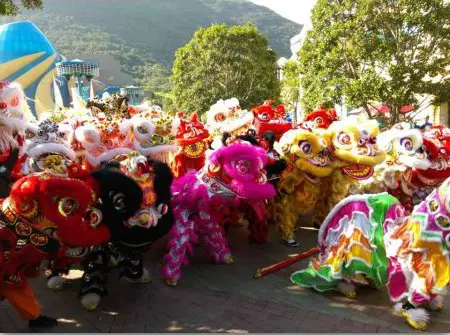 ... at Victoria Peak...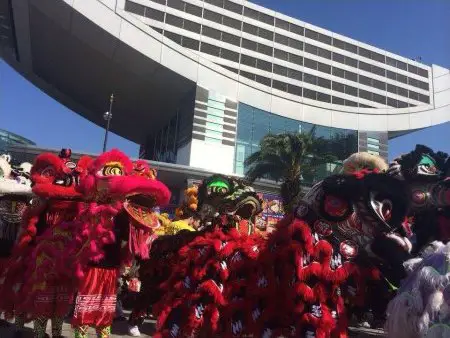 ...at Bauhinia Square...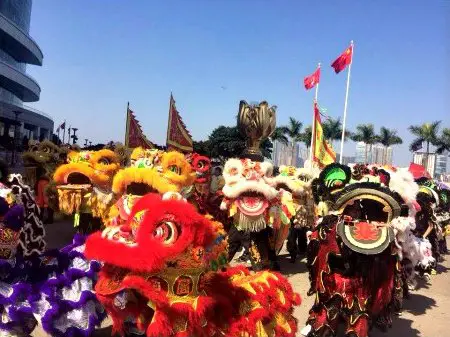 ...at Wong Tai Sin Temple...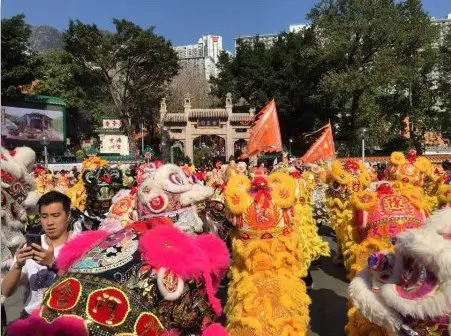 ...even the Star Ferry!...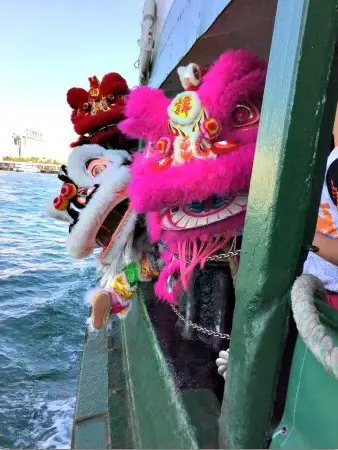 After the short performances and appearances throughout Hong Kong, the Lions and Dragons all congregate in the Kowloon side for the fantastic parade which starts early afternoon and moves along the southern tip of the Kowloon peninsula until arriving at the final destination where the party continues on with the festival and variety show for the rest of the day.
Here we can expect besides the colossal extravaganza of over 200 lions and dragons, traditional lion dancing pole jumping performances, many martial art and kung fu shows and wonderful cultural peformances.
To cap off the Lion overload, the following day the association hosts an all-day Lion Dance Competition where teams show off at this coveted championship event!
So where will the lions be this year? Stil TBA... Stay Tuned...
Dragon and Lion Dance Extravaganza 2017
And Lion Dance Championship
Sunday, January 1st, 2017 - 11:00 am to 5:00 pm
Schedule of events is TBA, the following are the 2016 details for reference, we expect a similar set up this year:
Performances at many Hong Kong Attractions (each will last approx. 15-30 minutes)
11:00 am to 12:00 Peak Road Garden, Wong Tai Sin Temple, Golden Bauhinia Square
12:00 to 1:00 pm Mong Kok Pedestrian Precinct
The Parade: 1:30 pm to 2:00 pm as in previous years, the parade will circle around the southern tip of the Kowloon Peninsula, this time starting at the Hong Kong Cultural Centre Piazza.
Parade Route: Hong Kong Cultural Centre Piazza - > Canton Road - > Haiphong Road - > Kowloon Park
Variety Show : 2:00 pm to 5:00 pm.
Monday, January 2nd, 2017 - 10:00 am to 6:00 pm
Lion Dance Championship
Where? TBA last year at Kowloon Park Piazza
How Much?: FREE!
More Info: http://dragonlion.hk or follow their Facebook Page.
We want to thank you for your continued support and wish you a very very Happy New Year!
Hong Kong Events
Thank you for visiting www.hong-kong-traveller.com!
Here is to a wonderful Hong Kong travel experience!