The Hong Kong Airport Express
From the Airport to the City in 24 Minutes
The Hong Kong Airport Express is the direct rail link from Hong Kong International Airport into the city and one of the most convenient ways to transfer to the several areas in Hong Kong. The trains depart every 12 minutes and at 130 km/hr will make the 30 km ride to Central, the last stop in the line, in 24 minutes.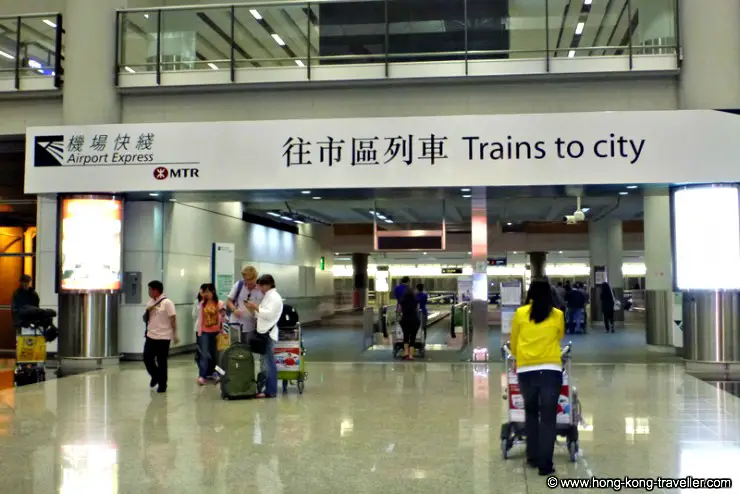 From Airport to City in 24 minutes...
The Hong Kong Express is part of the Mass Transit Railway (MTR) system in Hong Kong. The Airport Express line runs parallel to the MTR Lantau Line but is the only line that makes it all the way to the Airport Terminal.
There are five stations in the Airport Express line, the Teal colored line in the MTR maps: the Airport Station, the Asia-World Expo Station where the line ends, and three Stations which most travellers are likely to use to get into the city: Tsing Yi, Kowloon and Hong Kong in Central.

Once you arrive at your Station, there are free shuttle buses with stops at the major hotels, as well as MTR stations, ferry and rail terminals.
Riding the Hong Kong Airport Express from the city to the Airport is also convenient.
There is a free check-in service at the in-town stations offered for passengers.
This is extremely convenient when you have a late flight, it allows you to check your luggage in the city and you can spend the day without having to carry your bags around.
Riding the Hong Kong Airport Express
At Which Hong Kong Express Station Should I Get Off?
Hong Kong Airport Express Stations
Airport Terminal: at the Arrivals Hall just follow the "Trains to City" huge signs, you can't miss it!
Unlike the Airport Buses which run different lines with several stops each, there is only one Airport Express line, which makes it really easy, you only need to decide in which of the other four stations to get off:
The Asia World Station (not pictured in map above) serves the Asia World Expo site, one of Hong Kong's Convention and Exhibition Centers, a venue for Trade Fairs, Concerts, and all kinds of events.
Most visitors will be taking the line running in the opposite direction towards the city and get off at one of the following:
Tsing Yi: this station is convenient if you are staying in the New Territories. Connects to the vast MTR network via the Tung Chung (Lantau) line plus is a major hub for buses.


Kowloon: for destinations in the lower Kowloon Peninsula i.e. Tsim Sha Tsui, TST East, West Kowloon, Yaumatei, Mongkok, New Kowloon.


Central: for all Hong Kong Island locations i.e. Central, Sheung Wan, Wanchai, Causeway Bay, North Point Island South locations.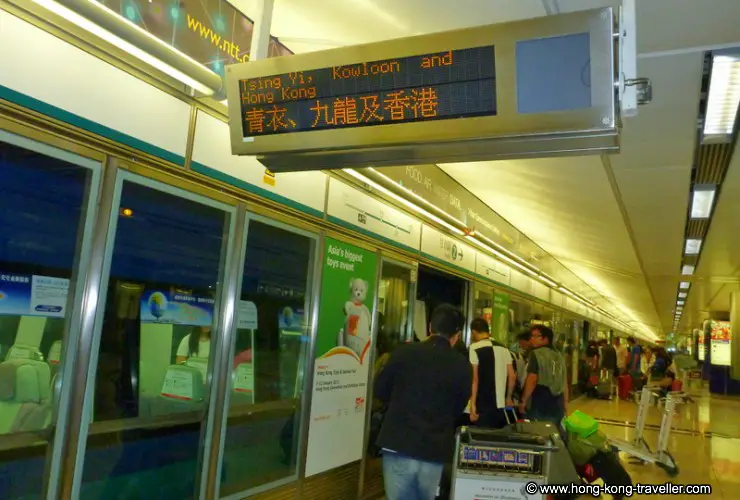 Signs for Trains to the City are clearly marked: "TsingYi, Kowloon, Hong Kong"
From the Central and Kowloon stations, there are free shuttle buses that take you to the hotels around their respective areas as well as selected MTR and rail stations. See below for which free shuttle bus to take.
Buying your Ticket for the Hong Kong Airport Express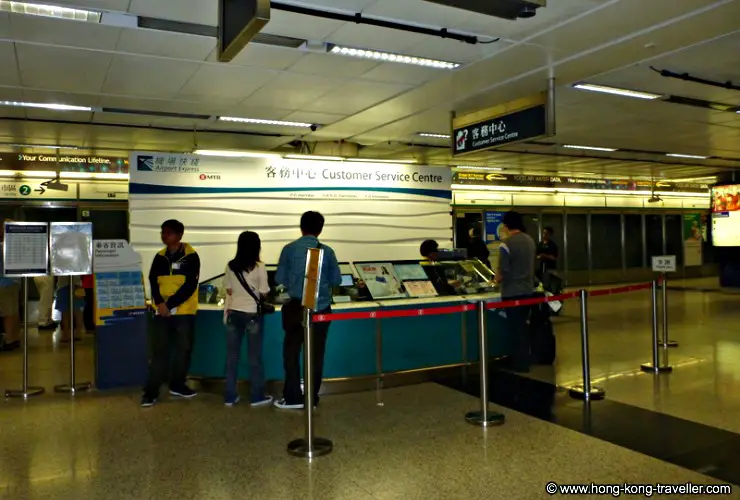 Ticket Counters at Chek Lap Kok Airport,
you can also buy Octopus cards here
Now that you have decided which station to take, you can either buy your ticket at the Customer Center at the Arrivals area, from the vending machine, or you can use your Octopus Card and ride the Airport Express.
Ticket prices are as follows:
Hong Kong Airport Express Ticket Prices

Round Trip HK$

Single HK$

Adult
Child
(3-11)
Adult
Child
(3-11)
Tsing Yi
110
60
60
30
Kowloon
160
90
90
45
Hong Kong
180
100
100
50
There are no concessions (discounts) for seniors over 65. The Adult fare applies.
Children under 3 travel free.
There is no round-trip discount for Adults paying with the Octopus Card, as the transaction will be counted as two single journeys when you take the trip.
Check the Airport Express Website for latest info.
Octopus Cards can be purchased at the Airport Express Service Counter as well.
You can pre-purchase a combined Airport Express and MTR pass in advance of your trip. Option for the Ngong Ping Cable Car is also available. You pick up all your passes at the airport as you arrive, saving you precious time in individual ticket lines, money changing, etc.
Hong Kong Airport Express and MTR Travel Pass - More Info and Booking ››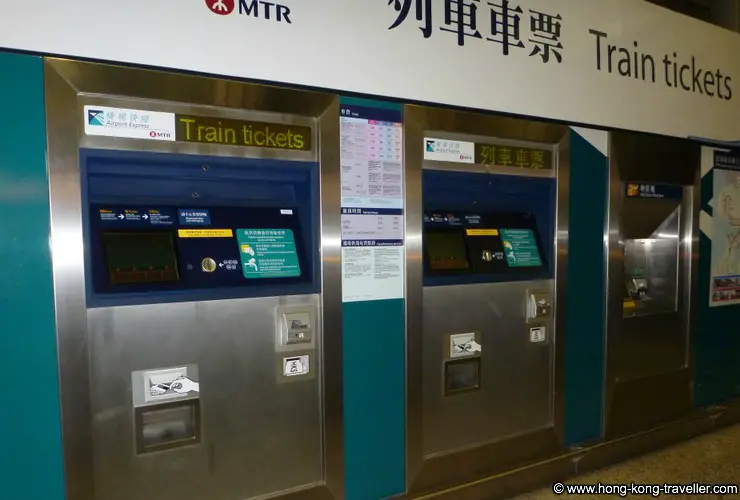 Tickets can be purchased at the many vending machines in the Arrivals Hall
Discount Tickets for the Airport Express
You can save by buying your Airport Express tickets at Klook.com, a consolidator offering discount transportation and attraction tickets.
You can book now and get your eticket instantly.
Prices and savings are as follows:
Kowloon Single HK 90 HK 66 US$9
Kowloon Return HK 160 HK 117 US$15
Hong Kong Single HK 100 HK 73 US$10
Hong Kong Return HK 180 HK 131 US$17
»» More Info and Booking Airport Express Discount Tickets.
Boarding the Airport Express
There is no gate or turnstile to check for tickets, in fact, you don't need a ticket to get on the trains
but you will need one to get out
of the Station once you arrive.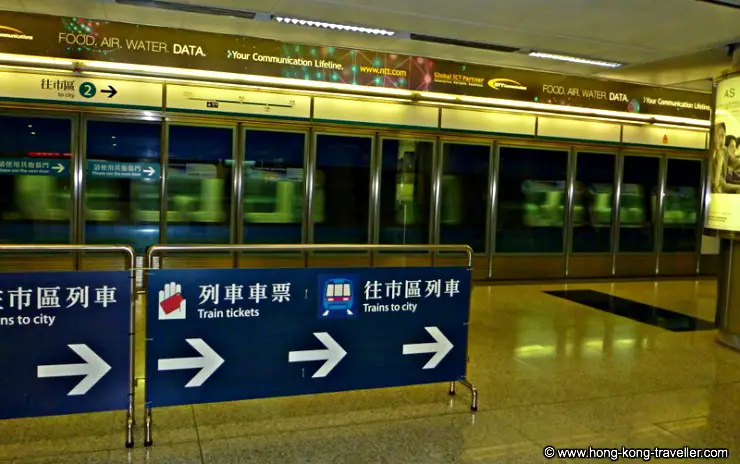 No ticket needed to get on, just hop on a train, tickets are
collected as you exit the train at the arriving station
The Kowloon and Hong Kong Stations have free shuttles in 7 different routes, with stops at major hotels, main MTR, ferry and rail terminals to get you closer to your end destination.
Which Free Airport Express Shuttle should I take?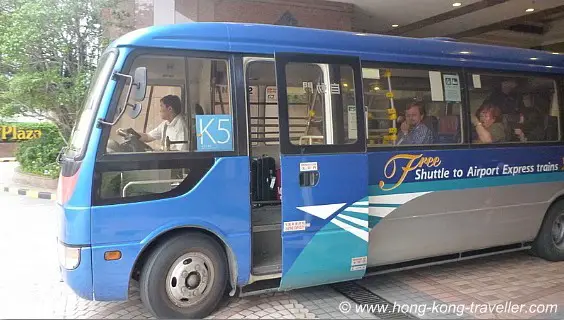 Free Airport Express Shuttles bring you from the Station to your Hotel
The following hotels are served by the Hong Kong Airport Express Free Shuttles, if your hotel does not appear on the list, look for the closest one, stops are not far from each other so it will not be far to walk.
Shuttles from Hong Kong Station
Airport Express Shuttle H1
Runs every 20 minutes and stops at:
Island Shangri-La
Conrad Hong Kong
Pacific Place
JW Marriott Hotel Hong Kong
Empire Hotel Hong Kong · Wan Chai
The Wharney Guang Dong Hotel Hong Kong
Novotel Century Hong Kong
Renaissance Harbour View Hotel
Hong Kong Convention and Exhibition Centre
Airport Express Shuttle H2
Runs every 20 minutes and stops at:
Empire Hotel Hong Kong · Causeway Bay
Harbour Grand Hong Kong
Newton Hotel Hong Kong
City Garden Hotel
Metropark Hotel Causeway Bay Hong Kong
Regal Hongkong Hotel
Rosedale on the Park
The Park Lane Hong Kong
The Excelsior, Hong Kong
Gloucester Luk Kwok Hong Kong
Shuttles from Kowloon Station
Airport Express Shuttle K1
Runs every 12 minutes and stops at:
Jordan Station (Austin Road)
Hung Hom Station
Harbour Plaza Metropolis
Whampoa Garden (Tak On Street)
Harbour Grand Kowloon
Eaton Hotel Hong Kong
Austin Station
Airport Express Shuttle K2
Runs every 12 minutes and stops at:
Prince
Gateway
Marco Polo Hongkong Hotel
The Kowloon Hotel / The Peninsula Hong Kong
Sheraton Hong Kong Hotel and Towers / East Tsim Sha Tsui Station
The Langham Hong Kong
The Royal Pacific Hotel and Towers / China Ferry Terminal
Airport Express Shuttle K3
Runs every 12 minutes and stops at:
Holiday Inn Golden Mile Hong Kong
Hyatt Regency Hong Kong, Tsim Sha Tsui
Regal Kowloon Hotel
Hotel Nikko Hongkong
InterContinental Grand Stanford Hong Kong
Kowloon Shangri-La Hotel
Airport Express Shuttle K4
Runs every 12 minutes and stops at:
Park Hotel
The Mira Hong Kong
The Luxe Manor
Empire Hotel Kowloon · Tsim Sha Tsui
B P International
Airport Express Shuttle K5
Runs every 20 minutes and stops at:
The Cityview
Metropark Hotel Kowloon
Royal Plaza Hotel
Free In-Town Check-in Service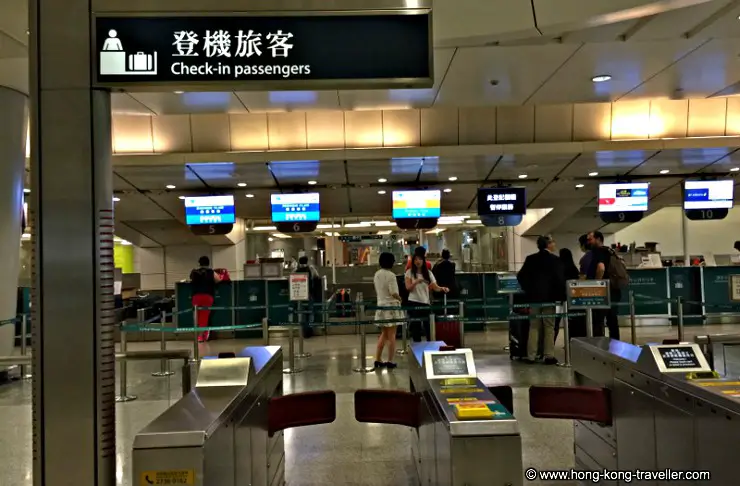 Check In counters at the Kowloon Station of the Airport Express
Another convenient feature of the Hong Kong Airport Express, is that on the day of your return, you can check-in for your flight in the city, at either the Kowloon or Hong Kong stations.
That means, you check-in your bags in town, rather than at the airport, you also collect your boarding pass here.
This is extremely convenient when you have a late flight. It gives you the whole day to explore without carrying stuff around, and then when you're ready, simply ride the train to the Airport and board your plane. Your suitcases will be at the other end when you arrive home!
---
Thank you for visiting www.hong-kong-traveller.com!
Here is to a wonderful Hong Kong travel experience!