Hong Kong Airport Transfers
What is best? Hong Kong Airport Express,
Taxi, Bus, Private Car, Airport Shuttle?
Hong Kong Airport Transfers like all transportation options in Hong Kong are easy and convenient. What is best for you will depend of course on your preference, budget and also the number of people travelling together.
So what are the options once you arrive in Hong Kong?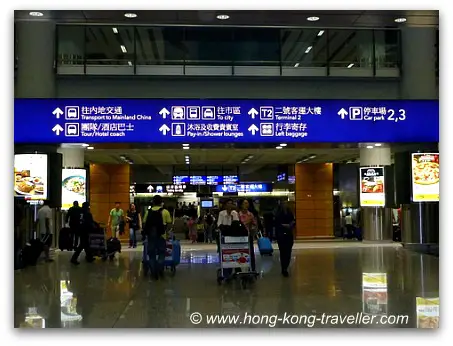 Once you arrive in Hong Kong, there are many options for
your airport transfer into the city
There are many alternatives, ranging from the very economical buses to the over-the-top (literally) helicopter ride straight to the helipads on top of the Peninsula Hotel.
So here we tell you about the different ways of Hong Kong Airport Transfers into the city, pick what's right for you and your wallet and start exploring!
Hong Kong Airport Transfers, What's Your Preference?
---
Great Savings and Discount Offers at Klook.com
Easy and Convenient Hong Kong Airport Transfers:
The Hong Kong Airport Express
The
Hong Kong Airport Express
is the direct rail link from Chek Lap Kok, Hong Kong's International Airport into the city. The trains depart every 12 minutes and at 130 km/hr will whisk you from the Airport Terminals to Central in 24 minutes.
Hong Kong Express Station at HK Airport
The Airport Express line brings you from the airport into several stations in the major areas of Hong Kong, including Central and Kowloon where most visitors will be staying, and makes it very easy to reach your destination wherever it might be in the city.
From the Central and Kowloon stations, there are free shuttle buses that take you to the hotels around their respective areas.
Beware that some hotels advertise a "free airport shuttle", but what they mean is this free shuttle from the Airport Express station to the hotel, you still have to buy a ticket to get to/from the airport to the station, either Hong Kong Station or Kowloon Station.
One Way Ticket Prices for the Airport Express per adult are HK 100 for Central and HK 90 for Kowloon. There are discounts for round trip and children tickets, as well as promotional offers for group ticket prices. At about US$12 per person, it is a fast, convenient and economical way to get into the city and one of the most popular options.
Here's more on the Hong Kong Airport Express, buying tickets, passes, discounts.
---
Hong Kong Airport Transfers by Taxi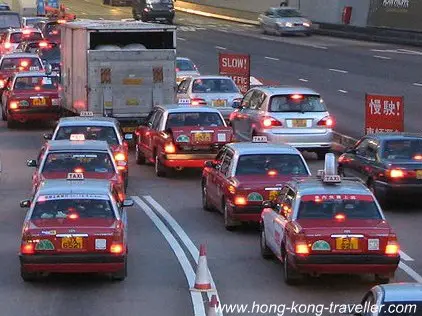 Taxis in Hong Kong are plentiful and economic
Hong Kong Taxis are color-coded for the areas they serve:
Red Taxis for Hong Kong
Blue Taxis for Lantau, and
Green Taxis for the New Territories
All taxis serve the Airport and accomodate 3-4 passengers.
How much is a taxi from Hong Kong Airport to the city?
Taxis use the meter, and in addition, rides to/from the airport incur sur-charges for bridge and tunnel tolls.
Here are some sample taxi fares from Hong Kong Airport to the different areas in Hong Kong, fares include toll charges and could fluctuate based on traffic conditions:
Hong Kong Airport Transfer by Taxi
Cost per Taxi NOT per person including toll charges

Area
One Way in HK$
Central
295
Wanchai
290
Causeway Bay
285
Stanley
350
Tsim Sha Tsui
240
Mongkok
240
SaiKung Town (New Territories)
335
There is a separate charge per piece of luggage of HK 5 which is not always enforced.
If there are 3-4 people in your group, consider a taxi as an alternative to the Airport Express or the Airport Shuttle buses (below). Even with a promotional Group fare for the Express, a taxi might be a better option since you bypass the extra step of having to get to/from the Airport Express station.
Taking a Taxi from the Airport
As you come out the Arrivals Hall, head to the official Taxi stands right outside. They will be lining up in separate lanes according to the areas they service, look for the Red taxi lane if you are heading into Central or Kowloon.
At the Arrivals Hall, beware of the people offering "you want taxi?", before you can blink, they will be carting your bag and taking you to their "taxis" which are nothing more than overpriced private car services you can expect to pay 3 to 4 times more for. If confronted by one of these, just firmly say no and continue to the official taxi stand.
Hong Kong Airport Bus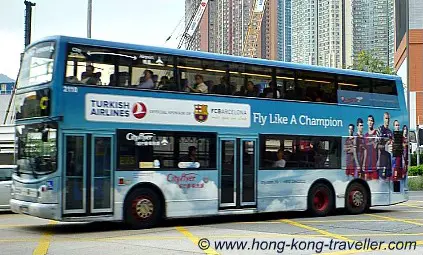 Hong Kong Airport Buses - the CityFlyer AirBus,
best alternative for the budget-conscious
Getting to and from the Airport on the City's double-decker buses is the most economical option. A ride from Central to the Airport is only
HK 40, about US$5,
although a lengthier ride because of all the stops in between, it is certainly the best alternative for those on a budget.
Which Bus should I take?
There are two main types of buses:
the CityFlyer AirBus which offers the A routes
the External CityBus which offers the E routes
You want to take the CityFlyer Airbuses. These are more convenient for travellers, with spacious luggage racks and monitors which announce every stop along the way. The A routes are more direct and take you to all the main areas in Kowloon and Hong Kong. Buses depart every 20 minutes for most of the day.
The External CityBus has limited luggage space and the routes take longer than the more direct A routes. They service the Airport Area and Tung Chung New Town, consequently with a longer route but convenient mostly for the airport staff that commutes every day.
There are five main airport bus routes that will cover most of the travellers staying in Kowloon and Hong Kong: A10, A11, A12, A21, A22. You can look up your hotel in this list to determine which Line to take: Cityflyer AirBus Hotel Stops.
You can pay using your Octopus Card, otherwise exact change will be needed.
---
Hong Kong Airport Shuttle Buses
Airport Hotelink Shuttle Bus offers door-to-door convenience
The Airport Hotelink Shuttle Buses offer door to door transport between the airport and major hotels in Hong Kong and Kowloon. They service over 100 hotels and depart every 30 minutes from the Airport to the hotels and every 30-60 minutes from the hotels to the Airport.
The Airport Hotelink Shuttle costs HK 140 (about US$18) for hotels in Central and HK 130 (about US$17) for hotels in Kowloon per single trip.
Where do you buy the tickets? Where do you board?
You can buy tickets for the Shuttle bus at the Arrival Hall:
Terminal 1: Counter BO1
Terminal 2: Counters C07 and CO8
For the transfer from the hotel to the Airport you buy your ticket from the Hotel Concierge.
You board the Shuttle Bus at the Coach Station in Terminal 2, this is only a 5-minute walk from Terminal 1.
Discount Airport Shuttle tickets are available at Klook.com . One-Way tickets are HK 119 (about US$16), look in the "How to Use" section for list of participating hotels and arrival/departure times.
---
Hong Kong Airport Transfers via Private Car and Vans
There are a number of companies that provide private vehicles ranging from small sedans to mini-vans for private transfers for individuals or groups. And what could be easier than having someone waiting for you with a sign with your name on it and a car waiting just to hop in and whisk you to your hotel.
This is specially convenient if you are arriving late at night and don't want the hassle of arranging your own transport.
How much are private transfers?
Arrival transfers by private car from the airport start at only HK$357 - US$46 per vehicle for up to 3 people and can be booked online prior to your arrival.
For those wanting hassle-free door-to-door service this is a great option. All add-on charges like tolls and lugagge are included and fares are flat rates unlike the taxis that can vary depending on traffic conditions.
Rates are slightly less for departure transfers to the airport.
Airport Private Transfer On A Tesla For 1 - 3 Passengers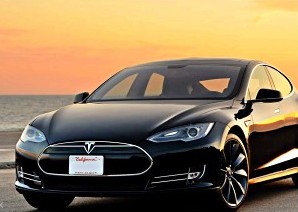 Per Vehicle:
Arrival HK 650 HK 357 (US$46)
Departure HK 600 HK 330 (US$42)
Airport Private Transfer On A Mini-Van For 1 - 6 Passengers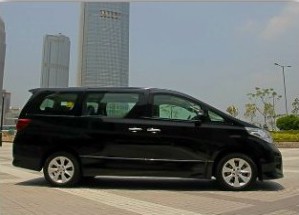 If you are travelling with a larger group (or have a lot of lugagge), Mini-Van transfers offer the best deal for groups of up to 6 people.
Per Vehicle:
Arrival HK 690 HK 505 (US$65)
Departure HK 600 HK 482 (US$62)
Shared Transfers
If you are travelling single, you can also arrange shared transfers i.e. a private mini-van shared with other guests for door to door service. Shared transfers start at about US$27 per person and can be booked through Viator.
Cruise Port Transfers
You can also pre-book your transfers to/from the Airport and the two cruise ports in Hong Kong at Ocean Terminal or the newer Kai Tak Terminal.
For any private transfer booking you will need to provide your flight details and someone will be waiting for you in the Arrivals area and bring you to your Hong Kong or Kowloon Hotel or the Ocean Terminal or Kai Tak Terminal if you are boarding a cruise.
Taking UBER From the Airport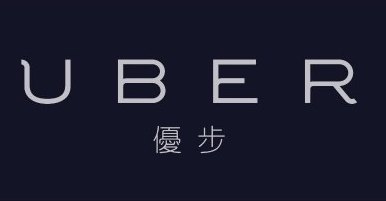 What is the state of UBER in Hong Kong? At the moment, it is still a very fluid situation in Hong Kong, where as in many other places, it is facing regulatory hurdles and at this time still fighting for legal status for its driving partners.
Crackdowns on drivers are still happening. As much as we love the convenience and transparency, this is something to take into account when requesting an UBER in Hong Kong.
If you decide to give it a go:
UberX fares are comparable to taxis, UberBLACK rates are comparable to the Private Tesla transfers above
If you are arriving on Hall A, drivers will be waiting for you at Airport Hotel Car Park 4
If you are arrving on Hall B, drivers will be waiting for you at Car Park 1
---
Arriving in Style... More Hong Kong Airport Transfer Options
Need some ideas for that special occasion? Here are some alternatives for arriving in style and starting your trip with a bang:
Heliservices HK offers Helicopter Transfers from the Hong Kong Airport to the roof-top helipads at the Peninsula Hotel in Kowloon or the Wanchai Government Heliport in Hong Kong Island. The 10-minute ride will set you back HK16,000, but it's likely to be the highlight of your trip. Helicopters accomodate a maximum of 5 guests.
Or how about getting picked up at the Airport on a Rolls Royce Phantom for the ultimate ride into the city? You can arrange that thorough the Peninsula Hotel, who themselves own a fleet of 14 of them. The one-way trip costs HK1,500.
For more information on the Helicopter Transfers or to arrange a Rolls Royce pick up contact the Peninsula Hotel.
---
Thank you for visiting www.hong-kong-traveller.com!
Here is to a wonderful Hong Kong travel experience!