Hong Kong Celebrates National Day 2016
Flag Raising Ceremonies, Pageantry and a Fabulous Fireworks Display - October 1, 2016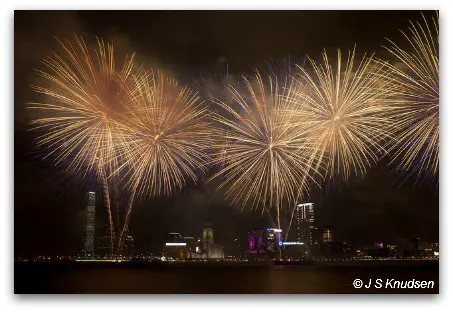 Hong Kong celebrates National Day every year on October 1st.
It marks the founding of the People's Republic of China on October 1st, 1949 and is celebrated throughout Mainland China, Hong Kong and Macau.
In Hong Kong, celebrations have been held since 1997, the year of the handover of the territory from British hands to China.
The festivities include a host of activities such as Flag Raising Ceremonies and Parades, but the main showstealer is without a doubt the magnificent fireworks display in Victoria Harbour.
The National Day holiday is a favourite of Chinese, when they enjoy a "Golden Week" of days off. Needless to say, if you plan on being here during this period, you need to make as many arrangements in advance as most hotels, and transport venues will be running at full capacity.

National Day Fireworks
Fireworks displays in Hong Kong are legendary, breathtaking shows of pyrotechnics that lit up the Hong Kong skyline over beautiful Victoria Harbour.
The National Day Fireworks are no exception and every year, on October 1st, thousands will gather along the waterfront to witness this stunning spectacle.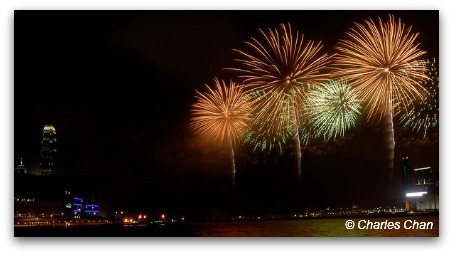 The show is over 20 minutes long and is set off from barges positioned in the middle of Victoria Harbour. The sparkling show can be enjoyed from anywhere there is a view of the sky above the Harbour, either from the Kowloon or the Island side.
The programme consists of several acts with different themes. In previous years, the extravaganza has consisted of several scenes, featuring distinct elements of Chinese culture, Chinese characters, brilliant and colorful designs, etc. and of course the grand finale towards the last minute when the sky is filled with lights and the simmering sparks in all colours, reds, blues, greens, golds...
Click on the arrow to watch one of the previous displays, this is the entire 23 minute programme viewed from the Hong Kong Convention Centre, you can skip to the grand finale at about minute 22, enjoy!
There is synchronised music that is piped in through the speakers along the waterfront. You can also enjoy the musical program by tuning to Radio FM 97.6 - 98.9.
2016 National Day Fireworks
This year's National Day fireworks will last approximately 23 minutes and fire over 23,000 fireworks from the barges set up in Victoria Harbour.
When?: October 1, 2016, at 9:00 pm
Where?: Victoria Harbour
How Much?: FREE!
More Info: Hong Kong Tourism Board
Where to enjoy the National Day Fireworks?
These are some of the favourite places to watch the display, but be mindful that any of the public viewing areas will be extremely crowded, getting there early is definitely a must. Some people arrive as early as noon to stake out a great vantage point and come equipped with picnics, music, drinks, etc.
HKD 289 National Day Fireworks Cruise and 11-Course Asian Dinner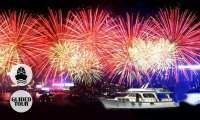 National Day Fireworks-Watching Cruise with 11-Course Asian Dinner HKD 289 (US$38)
Departs from Kwun Tong Ferry Pier, boarding 6:15 pm
More details at Groupon
HKD 268 National Day Fireworks Cruise and Thai Buffet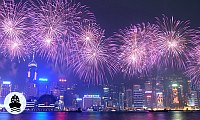 National Day Fireworks-Watching Cruise with Thai Buffet HKD 268 (US$35)
Departs from Tsim Sha Tsui Public Pier, boarding 6:15 pm
More details at Groupon
Flag Raising Ceremonies
Marching bands, drill team activities, drums and parades... Flag Raising ceremonies are events full of pageantry and part of each National Day celebration.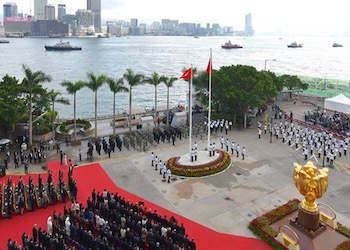 National Day Flag Raising Ceremony 2016
When?: October 1st 2016, 8:00 a.m.
Where?: Golden Bauhinia Square
As part of the ceremony, the National Anthem is performed, followed by a fly-past and a sea parade. The flag-raising ceremony is open to the public from a designated area.
National Day Race Day (Horse Racing) - October 1, 2016
This is not only an exciting day at the horse races for the National Day Cup event and a chance to celebrate the founding of the Republic, but also an opportunity to enjoy a full programme of cultural and entertainment performances.
When?: October 1, 2016 from Noon - 6pm (Gates open at 11am)
Where?: Sha Tin Race Course
How Much?: General Admission at Public Enclosure HK10, free for tourists just bring your passport, or Members' Enclosure with Tourist Badge HK130 (must also bring passport)
More Info: The Hong Kong Jockey Club
Head to Macau: The 2016 International Fireworks Contest Final Night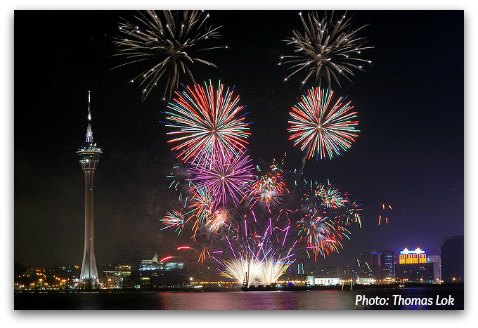 Held over 5 weekends, the best of the best in the pyrotechnic industry battled it out in Macau with the final contest night held this October 1st, with the theme aptly named: "Celebration in the Sky" and China and Romania participating on the last leg.
When?: Saturday October 1, 2016
Times?: 9:00 pm and 9:40 pm
Where?: Sea area in front of the Macau Tower. Where to watch? Just about anywhere in Macau, preferably where the Macau Tower is in full view
How Much?: FREE!
More Info: Macau Toursim Board

Getting to Macau: See our page on Macau Day Trip
And remember you can get Turbojet Macau Ferry Discount Tickets from Klook.com:
Round Trip Weekday ticket: HK 317 US$ 41
Round Trip Weekend Ticket: HK389 HK357 US$ 46
One-Way Weekday, One-Way Weekend: HK343 HK336 US$ 44
More information and Booking Macau TurboJet Ferry Tickets ››
---
Hong Kong Events
Thank you for visiting www.hong-kong-traveller.com!
Here is to a wonderful Hong Kong travel experience!