Hong Kong Typhoons
What You Need to Know
Typhoons, literally "big winds" and also known as cyclones or hurricanes in other parts of the world, are part of life here in Hong Kong.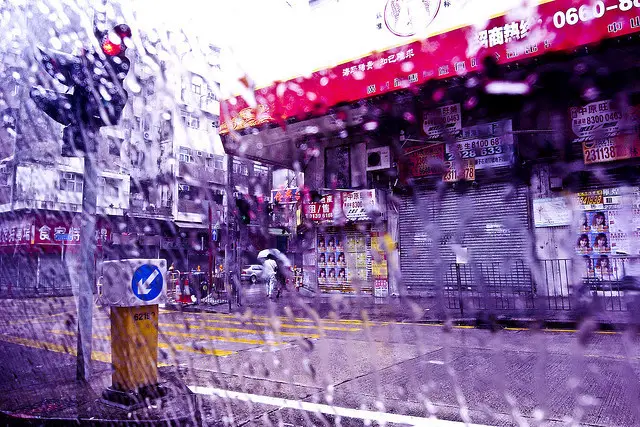 Although certainly not pleasant to experience, the people have become experts at dealing with such occurences in quite a very organised way.
Unlike earthquakes or other natural disasters that occur without warning, getting caught off guard by a typhoon in Hong Kong is not likely. Storms are monitored 24/7 and an early warning system is in effect as soon as a tropical storm is formed.
Typhoon season is from May through September, but you can of course also have a typhoon in April, or October and November. Historically, the highest frequency of typhoons has occured in the month of September.
What The Warnings Mean...
When a storm is identified, the tracking and progress will be closely monitored and broadcast in local news. Signs are posted in all public places, your hotel lobby, MTR stations, etc. there is really no way to "miss" it.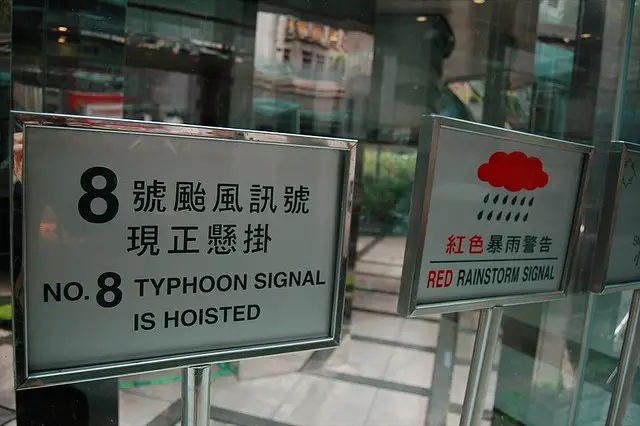 A warning scale corresponds to the typhoon strength and closeness as follows (yes, the numbers in between were scrapped to avoid confusion):
Signal 1: when a storm is identified and could become a typhoon. Everything continues as usual but is a sign to be on alert. This signal could last up to several days.

Signal 3: strong winds are expected with likely heavy rains. Public transportation still runs, but harbour cruises may be cancelled. Some stores and businesses might close, kindergartens close.

Signal 8: gale winds or stronger winds are imminent. Everything closes at this point: schools, offices, tours, public transport, taxis, shops, restaurants, ferries, trains, flights. A signal 8 might last for a day or shorter, often downgrading to a level 3 signal or dissipate completely.

Before a signal 8 is issued, plenty of warning is given several hours in advance to give everyone a chance to return home or a safe place. A Signal 8 will also indicate the direction of the gale winds.

Signal 9: A signal 9 or 10 is rare and most severe with destructive force expected. When a signal 9 is hoisted, gale or storm force winds are increasing or expected to increase significantly in strength.

Signal 10: Direct hit is expected with the eye of the storm passing very close or directly over Hong Kong, hurricane strength winds are expected.
What To Do If a Typhoon Comes?
First of all, don't panic. Being informed and taking precautions is your best course of action. Here are some do's and dont's:
Pay attention to any warnings, when a Number 1 Signal is issued, everything continues normally but it also means that a storm has formed and is brewing somewhere in the vicinity. Avoid going offshore as winds may be picking up and waves are probably high. I would postpone a trip to the neighboring islands or Macau.
If a Number 3 Signal is issued, chances are there is a lot of rain and winds causing all sorts of debris to fly around, so staying indoors is probably best. Try the museums or shopping centres.

Again, do not wander off too far, a Signal 3 can quickly change into an 8, make sure you stay abreast of any warnings of an impending Signal 8, once the Signal 8 is hoisted, there will be no public transport, taxis do not run because their insurance mandates so. There will be plenty of cues: stores shuterring their entrances and windows, public announcements at MTR stations, etc. and well, everyone running home.

During a Number 8 Signal, you should be indoors, not much else you can do. Stay in your hotel, away from windows, and like everyone else, join the party that will likely be going on at the hotel lobby, restaurant or bar. But seriously, pay attention, take precautions, and make the best of an unavoidable situation.
In the very unlikely event of a Number 9 or 10 Signal, if a direct hit is expected and the eye of the storm will be passing through the city, it is very common that conditions will calm when this happens since the storm is rotating around the eye but winds will resume as the eye travels away. It is very important that everyone stays put and not think that the "worst is over".
Typhoons should be treated with respect but not paranoia. Hong Kong deals with them every year. You should not postpone or change your plans if they happen to fall in the May through September window of the infamous typhoon season. Just be aware of any warnings. When a warning is issued, be VERY alert, take the precautions outlined above and stay safe.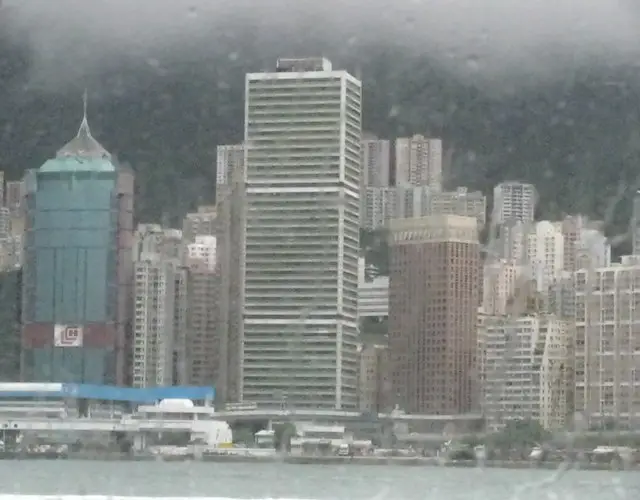 Thank you for visiting www.hong-kong-traveller.com!
Here is to a wonderful Hong Kong travel experience!