The Ocean Park Grand Aquarium
The Ocean Park Grand Aquarium
is simply amazing... it is this massive four-story tank full of an exciting array of marine life. There's everything from tiny seahorses to colossal giant mantas, little tropical fish to hammerheads, in a collection of exhibits and lineups that makes it a serious contender for one of the best aquariums and marine life displays in the world.
I must admit that we are avid scuba divers and marine life lovers, but even if you're not a heavy duty enthusiast of the feeding habits of brain coral or the spawning season of clownfish, you will be thoroughly impressed, it is THAT good.
The Grand Aquarium is front and center in the Waterfront
The Grand Aquarium is located in the lower part of the park in the Waterfront, you can't miss the huge blue and yellow dome-like structure towering in front of the complex. The building houses a series of tanks, pools, and exhibits, which are home to over 5,000 fish and more than 400 different species (or maybe more by the time you read this!).
The Reef Aquarium
Your journey starts in the shallows of the beautiful tropical reefs, it is a gorgeous tank with a myriad of colorful corals, sponges, sea fans and tropical fish...
Shallow Pools, Reef Tunnels, Domes and Bubbles...
Then as you dive further into this wonderful underwater world, you will pass the wading pools with the sea stars and sea cucumbers, it's a great hands-on area for kids. Then on to the smaller displays with the tiny sea life such as sea horses, cuttlefish, sea dragons, as well as some white tip shark tanks and stingrays. As you wander through, don't forget to look up through the many bubbles and domes and you will catch breathtaking glimpses of fish large and small against the shimmering light and what is to come in the next chambers.

An eagle ray through the Reef Tunnel dome

Reef Tunnels: do not forget to look up, lots happening up there

A school of silvery fish shimmering against the light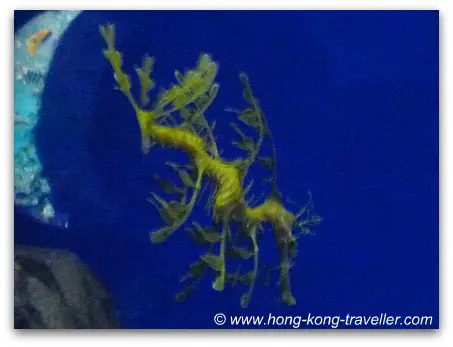 The Leafy Sea Dragon is from the same family as the Sea Horses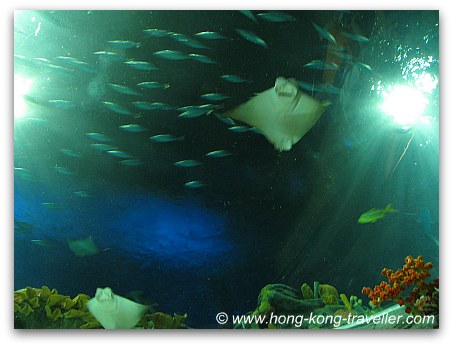 A Giant Manta glides by...
Ocean Park Grand Aquarium: The Grand Finale
So far you've had glimpses here and there through the many domes and bubbles as you went through the tunnels, and finally you come face to face with this massive
viewing pannel that stretches some 13 meters or over 40 feet of sheer dynamism and excitement
as manta rays glide by alongside hammerheads, marble stingrays coddle next to the lazy nurse sharks, a school of eagle rays performs a perfectly coreographed dance, and exotic animals that we had no idea what they were dart by, was it a shark? a ray? a combination of both? No, wait that was a "Bowmouth GuitarFish" the sign says...
We leave you with these images and video of our time at the Grand Aquarium, even though they don't do it justice, it was hard enough to try to focus on any one thing with so much coming at you at all times! Enjoy!

Ocean Park Grand Aquarium: Final Viewing Pannel
A Colossal Action-Packed Display...

Eagle Rays dancing...

Hammerheads, Eagle Rays, Mantas, Tunas...

Huge Marble Ray comes close to the glass pannel, you could almost touch it!

A Bowmouth Guitarfish swims with an eagle ray

As a giant majestic Manta Ray glides by... so graceful...

...Hammerhead Shark swims through swirling schooling fish...

...And a graceful Eagle Ray approaches and circles right in front of us, as if performing... totally mesmerizing to watch!
Enjoy this short video clip of the Grand Aquarium and get a taste of all the action!
One more tip before we go, try to visit while there is still day light. On our last trip we visited near the end of the day, although all the fantastic marine life is still there, without any sun light shimmering through the many domes and skylights, the tanks and exhibits are quite dark. Specially if you are taking photographs, take this into account.
---
Once in a Lifetime Experiences at Ocean Park...
Fantastic Chance:
Honorary Panda Keeper
+ Souvenir Photo
HKD 1380 (US$183)
A 2-hour one-of-a-kind experience as you go behind the scenes of the panda enclosure, put on a special keeper's uniform and assist with the daily care of the pandas.
More info and details
Animal Encounters:
Dolphins, Seals or Penguins!
From HKD 1180 (US$152)
Get up close to Ocean Park's stars: dolphins, seals or penguin encounters where you can meet, play, feed and learn more about these incredible creatures from qualified trainers and keepers.
More info and details
Thank you for visiting www.hong-kong-traveller.com!
Here is to a wonderful Hong Kong travel experience!