A Victoria Harbour Cruise
Ferries, Sightseeing Boats, Traditional Barks,
Hong Kong Junks...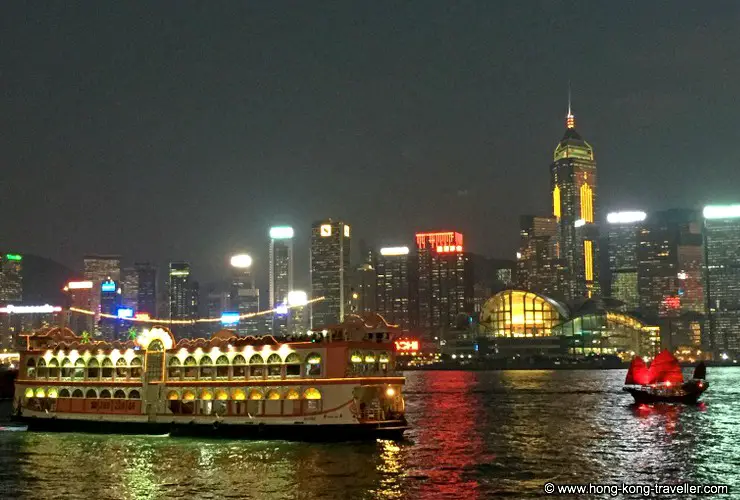 A Victoria Harbour Cruise is not just a great way to enjoy the magnificent views offered by the Hong Kong skyline but also a way to experience the rhythm and vitality of the city.
Victoria Harbour is one of the world's busiests, and quite an engrossing sight with the large cargo freighters and passenger cruise liners sharing the waterways with tiny sampans and junks, barges and ferries, all moving along and going on their daily routines... day and night...
As you can expect, the offerings for a Victoria Harbour Cruise are endless. There are all sorts of cruises and vessels to choose from. Cruises leave conveniently from piers on both the Hong Kong and Kowloon sides.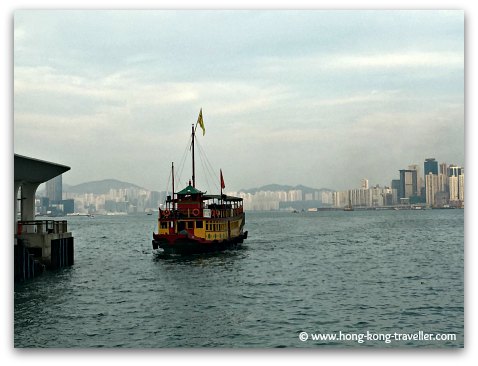 Victoria Harbour Cruise Sightseeing Boat
Advance reservations might be recommended for some of the smaller crafts or the most popular evening "Symphony of Lights" cruises, but in general, it is fairly easy to just show up to the docks and jump on one of the sightseeing ferries or boats as they are constantly running.
Victoria Harbour Cruises are so popular that many companies have jumped in the bandwagon to offer all sorts of different experiences including Day Harbour Cruises, Cocktail Harbour Cruises, Dinner and Cruise options, etc.
Here are some options for Victoria Harbour Cruises to consider:
Hong Kong Harbor Night Cruise and the Symphony of Lights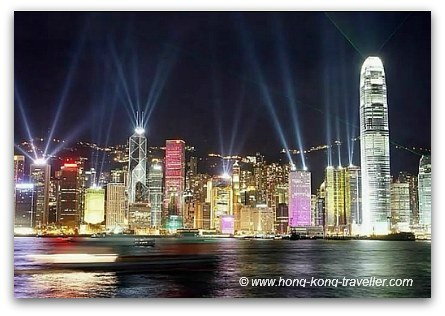 There are simply no words to describe the views of stunning Victoria Harbour and the majestic Hong Kong skyline lit up at night, it's just one of those things you just have to see. This cruise brings you right to the middle of it, offering uninterrupted views of Hong Kong Island, Victoria Peak and the Kowloon skyline while the city's dazzling light show, the Symphony of Lights, unfolds around you.
You will cruise Hong Kong's Victoria Harbour aboard a traditional Chinese sightseeing junk, on your 1.5-hour evening cruise you'll enjoy unlimited free drinks from the open bar.
The highlight of your evening harbor cruise is the 20-minute Symphony of Lights show, a spectacular display of laser beams bouncing off 40 key skyscrapers on both sides of the harbor.
Duration: Approximately 90 minutes
Evening Victoria Harbour Cruise and Symphony of Lights - More info and booking ››
---
Hong Kong Sunset Cruise plus Dinner at the Jumbo Floating Restaurant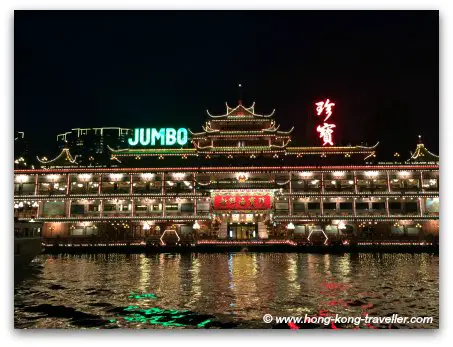 This is certainly one unforgettable experience which combines an evening cruise on Hong Kong's dazzling Harbour, a nine-course feast at one of the cities institutions, Aberdeen's famous Jumbo Floating Restaurant and a glittering night view of Hong Kong and Kowloon from the Mid-levels lookout.
There will be unlimited free drinks from the open bar while onboard your cruise, which will be on a traditional Chinese sightseeing tour boat, close to sunset as you see the striking skyline lit up.
After your evening cruise on Hong Kong's floodlit harbor, you'll travel to Aberdeen by luxury motor coach for a superb Chinese banquet dinner at the famous Jumbo Floating Restaurant, Hong Kong's most renowned floating restaurants. Spectacularly illuminated at night, the Jumbo looks like a floating palace from the imperial era
On your return to central Hong Kong you'll make a stop at the Mid-Levels lookout for a glittering night view of Hong Kong and Kowloon.
Duration: Approximately 4 hours
Hong Kong Sunset Cruise and Dinner at Jumbo Floating Restaurant - More info and booking ››

---
The Star Ferry Harbour Cruise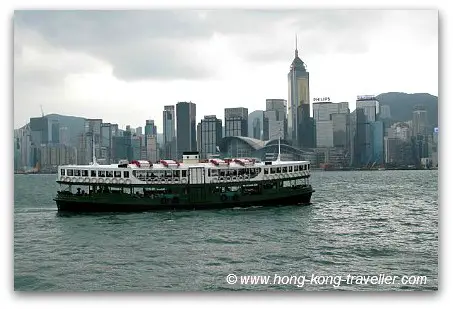 Besides their regular commuting ferries between the Hong Kong Island and Kowloon, the Star Ferry "Shining Star" offers a one hour Cruise that circles Victoria Harbour and leave from three different points:
Kowloon
Central and
Wanchai
This is probably the easiest and most economical no-frill Victoria Harbour cruise which gives you the awesome views of the bay and the skyline you are here to see:
Departures every hour, starting at 11:55 in Kowloon, 12:15 in Central
You can buy a ticket at the pier right before boarding, ticket sales close 10 minutes before departure
Tickets start at an economical HK90 for a day tour, hard to beat HK170 for a night tour
Symphony of Lights evening cruise also available
"Shining Star" is a double-decker air-conditioned ferry, has an outside viewing platform as well, it is quite stable and comfortable
Taped commentary and refreshment offered on board but don't expect much
Definitely value for money!
Here's more on the Star Ferry Harbour Cruise including fares and departure times.

---
Sampans and Hong Kong Junks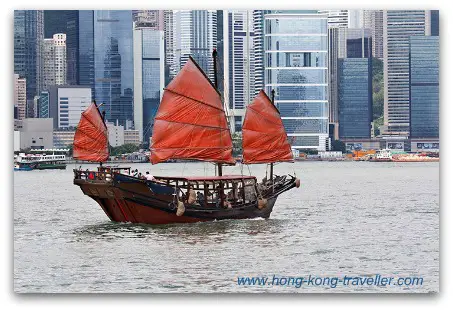 Cruising the waters of Victoria Harbour on a traditional sampan or junk is a fun, one-of-a-kind experience.
If you happen to see the red-sail sampans traversing the waters of the bay, it will more than likely be one of these vessels: the Duk Ling, the V or the Aqua Luna, as there aren't that many traditional sampans in operation any more.
So needless to say, getting in on one or the other for a trip around the Harbour, will take a little more advance planning and booking ahead is a good idea.
Here's more on taking a ride on a Hong Kong Junk.

---
Regardless of which one you choose, it will be a spectacular experience that will stay with your forever! More Victoria Harbour Cruise Options here
Thank you for visiting www.hong-kong-traveller.com!
Here is to a wonderful Hong Kong travel experience!