Goldfish Tanks at Ocean Park
Countless Types of Goldfish: Black Moor, Bubble Eye, Fantail...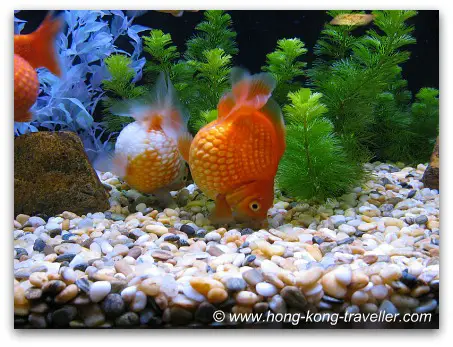 Ocean Park's collection of Goldfish tanks is an amazing array with all types of goldfish you can think of, many of the exotic and rare, and some we had never even heard of.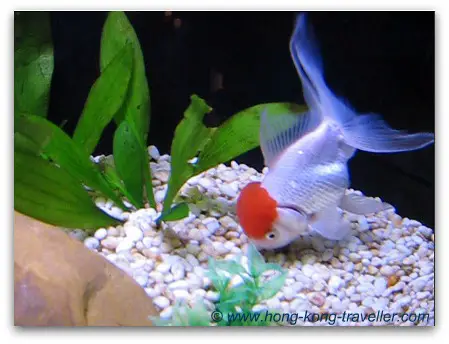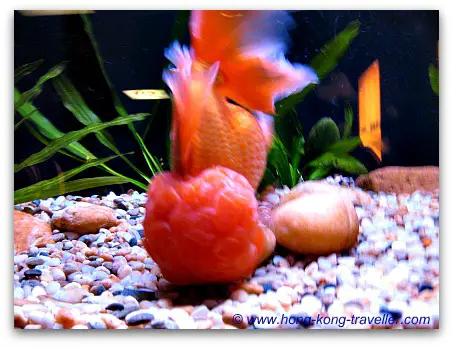 They are a beauty to watch in their serene and tranquil surroundings.
For centuries, the Goldfish has been a part of Chinese culture and life.
The pronounciation for the Chinese word for fish closely resembles that for "Abundance". The Goldfish is often associated with wealth, prosperity and good fortune.
Goldfish tanks are commonly found in homes and businesses. More than decoration, fish tanks are an important tool when trying to attract "good Feng Shui", that is, the art of attracting all the energy that contribute to your home or business health, harmony and wealth.
You also find for this reason, that the goldfish is often a subject in Chinese paintings and art.
So it is only proper for this animal to have its own exhibit at the park where it can be honored and admired.
The Goldfish Treasures Exhibit at Ocean Park, is located at the Amazing Asian Animals complex in the Waterfront.
You will see hundreds of goldfish, of all kinds, shapes forms and colors. Some of the rare varieties like the Black Oranda and some Fantails, as well as some newer varieties.
Goldfish Treasures is a small oasis where you can take a break from the park's excitement, relax in the very soothing environment surrounded by a traditional Chinese garden, and admire the beauty of the Goldfish...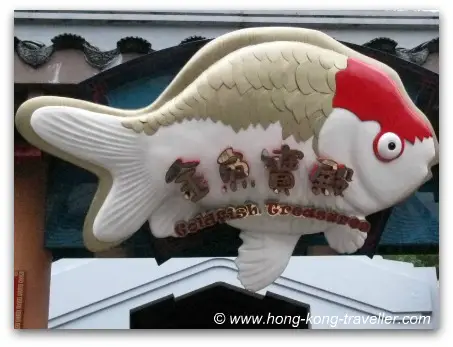 If you enjoy Goldfish, be sure to stop by the Goldfish Market in Mongkok, a totally different experience but a delightful street full of marine life, colorful tanks, shops and stands.
---
Once in a Lifetime Experiences at Ocean Park...
Fantastic Chance:
Honorary Panda Keeper
+ Souvenir Photo
HKD 1380 (US$183)
A 2-hour one-of-a-kind experience as you go behind the scenes of the panda enclosure, put on a special keeper's uniform and assist with the daily care of the pandas.
More info and details
Animal Encounters:
Dolphins, Seals or Penguins!
From HKD 1180 (US$152)
Get up close to Ocean Park's stars: dolphins, seals or penguin encounters where you can meet, play, feed and learn more about these incredible creatures from qualified trainers and keepers.
More info and details
Thank you for visiting www.hong-kong-traveller.com!
Here is to a wonderful Hong Kong travel experience!