The Hong Kong Bank Building
Crossbars, Airy Atriums, and Best Fengshui in the Island
| | | |
| --- | --- | --- |
| HSBC Building Exterior | Interior | The Lions at the gate |
The Hong Kong Bank Building is 47 storeys high, a dwarf by Hong Kong standards, but the design of the building is truly a masterpiece.
Headquarters of the Hong Kong and Shanghai Banking Corp, the HSBC building was designed by Norman Foster, of London's Gherkin and the German Bundestag fame, it consists of five main steel modules and hundreds of thousands of movable parts that were fabricated in the U.K., the U.S. and Japan and brought to Hong Kong and put together.
Apparently, when the building was being designed back in the late 1970's, the future of Hong Kong as the date of the handover approached was not too certain, so the HSBC building was designed to be taken apart and put back together in another location, should "the need arise".
That part of history is all behind us now, so we will never find out if that was really the case and the building can actually be dismantled and moved.
You will recognize the building right away by its asymetric crosbar pattern on the outside. If you have a chance, drop in to take a look, the interior is quite striking with its wide open atrium and plenty of plants and greenery cascading from the different floors as if you were in the middle of a park. In fact, natural sunlight is the major source of lighting for the building.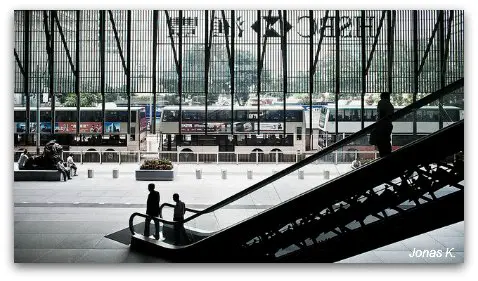 HSBC's Fantastic Open Air Lobby
And don't miss Stephen and Stitt, the pair of lions at the entrance and be sure to rub their paws so some of their money rubs off on you. Incidentally, the Hong Kong Bank building is reputed to have the best feng shui in Hong Kong with its position with unobstructed views of the harbour and its position right on the meeting point of five auspicious "dragon lines".
Sir Norman Foster also designed the new Hong Kong International Airport at Chek Lap Kok, another architectural masterpiece in Hong Kong.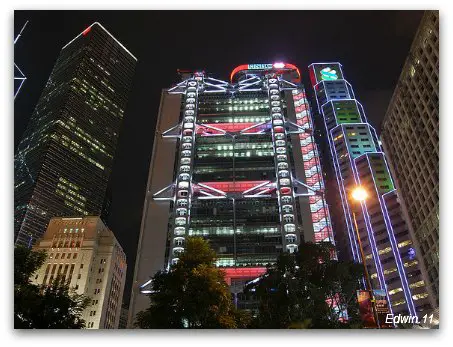 HSBC Building at Night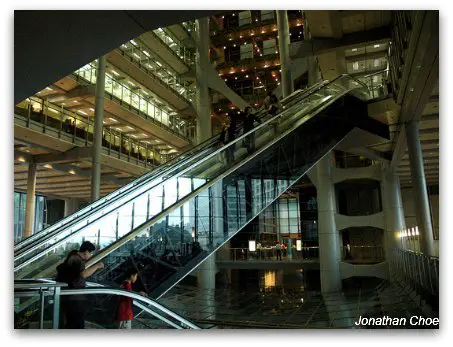 The airy atrium at the Hong Kong Bank Building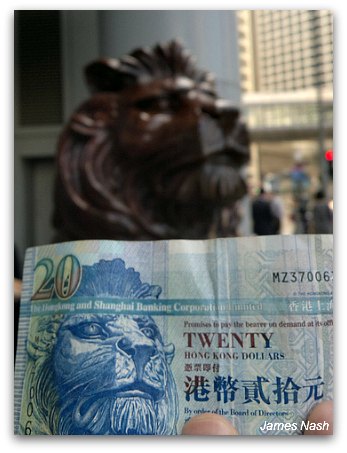 Stitt or Stephen? the HSBC lions feature in Hong Kong's $20 note
Thank you for visiting www.hong-kong-traveller.com!
Here is to a wonderful Hong Kong travel experience!
What's Your Favourite Hong Kong Building?