North Sea Jazz Festival comes
to Hong Kong
Three Days of Fantastic World Class Jazz
November 14-16, 2014
Important!The North Sea Jazz Festival Hong Kong 2014 has been cancelled. Ticket holders will be fully refunded, please contact One2 Entertainment at info@one2entertainment.com. The organisers will continue to explore possiblities for a 2015 edition. Stay tuned!
The North Sea Jazz Festival, the world's premier jazz event and touted as "one of the top 10 events in the world" by Time magazine, is to be staged in Asia for the first time in the festival's history.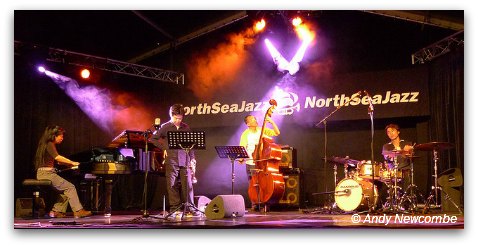 Originally staged in The Hague in 1976, it has become the largest indoor music festival in the world, known as "the event where the past, present and future of jazz are featured within three days".
It has since moved to its current larger location in Rotterdam, where it continues to draw on the high caliber names of the jazz world.
Many legends like Benny Goodman, Count Basie, Sarah Vaughan have filled the festival stages through the years.
In 2010, the first "satellite" festival was launched in Curaçao, the "Tropical Edition". This smaller festival has brought in some big names to the island: Earth, Wind & Fire, Stevie Wonder, Alicia Keys, Sting, Geroge Benson...
And the latest and second addition to the North Sea Jazz family comes to Asia this November. Hong Kong's spectacular New Harbour Front in Central Hong Kong Island will be home to three glorious days of jazz when the North Sea Jazz Festival debuts from November 14 to 16, 2014.
Although the festival's base is jazz, many genres are also presented, blues, soul, hip hop... and we can expect the Hong Kong edition of the festival to feature some emerging local talent alongside the big names.
And in typical Hong Kong fashion, the music fest will be accompanied by premium food and beverage facilities and pavillions, pop-up performances in public venues accross the city and a fantastic atmosphere
2014 North Sea Jazz in Hong Kong
What? This year's line-up includes Hong Kong's most publicly recognized jazz performer, Eugene Pao, as well as leading international musicians Joss Stone, Sergio Mendes, Laura Fygi, Al Jarreau, Yuna, Jamie Cullum and more.
When? Friday, Saturday and Sunday November 14, 15, 16, 2014
Where? Three stages at the New Harbourfront Central, Hong Kong Island
How Much?Ticket prices are HK 960 for a individual day tickets and HK 2,300 for a weekend pass
More Info, tickets and full line-up:
Hong Kong Events
Thank you for visiting www.hong-kong-traveller.com!
Here is to a wonderful Hong Kong travel experience!