Red Pandas at Ocean Park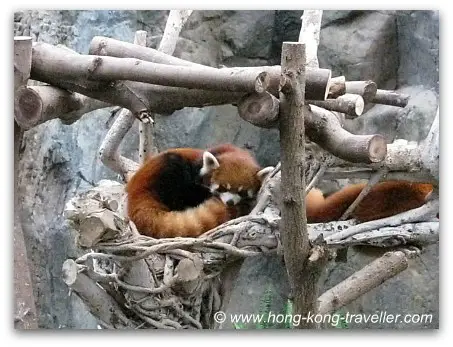 Red Pandas Tai Shan and Rou Rou at Ocean Park
Ocean Park is home to a pair of Red Pandas, Tai Shan (male) and Rou Rou (female). You find them at the Amazing Asian Animals Giant Panda Adventure Exhibit which they share with Giant Pandas Ying Ying and Le Le.
Red Pandas are beautiful creatures and are coveted for their furs, in fact, poaching is one of their major threats. Like the Giant Panda, their population is also threatened by loss of habitat and deforestation.
Native of China, this small arboreal mammal is found in the mountainous forests of Sichuan and Yunnan provinces. The Red Panda population is estimated at about 10,000 and is no longer classified as "endangered" but rather "vulnerable". You find them mainly in China and India, and to a small degree in Myanmar, Nepal and Bhutan.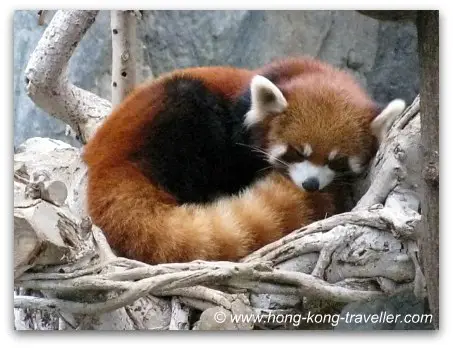 The Red Panda is much smaller than his black and white counterpart, and in fact, is much closer in looks to the racoon.
The Red Panda is more of a reddish-brown color with a long bushy tail.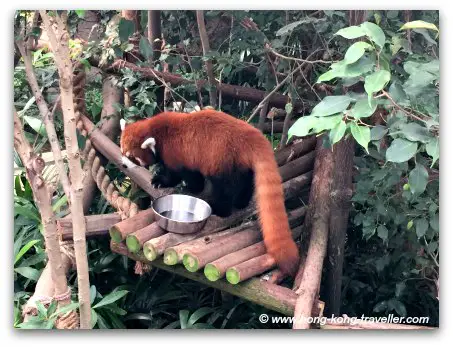 These pair of Red Pandas are the first to have made an appearance in Hong Kong. You can learn much about them and the perils of their fragile habitat. Don't miss them at the Amazing Asian Animals Exhibit!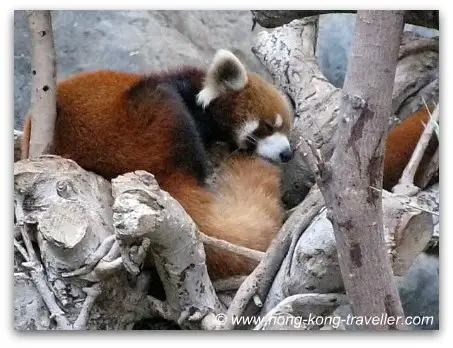 ---
Once in a Lifetime Experiences at Ocean Park...
Fantastic Chance:
Honorary Panda Keeper
+ Souvenir Photo
HKD 1380 (US$183)
A 2-hour one-of-a-kind experience as you go behind the scenes of the panda enclosure, put on a special keeper's uniform and assist with the daily care of the pandas.
More info and details
Animal Encounters:
Dolphins, Seals or Penguins!
From HKD 1180 (US$152)
Get up close to Ocean Park's stars: dolphins, seals or penguin encounters where you can meet, play, feed and learn more about these incredible creatures from qualified trainers and keepers.
More info and details
Thank you for visiting www.hong-kong-traveller.com!
Here is to a wonderful Hong Kong travel experience!