Cute Pandas at Ocean Park Hong Kong
Ocean Park has four prized residents, the two couples of cute pandas which are a magnet to visitors and a must-see, specially if you have never seen these rare and endangered creatures before.
The
Giant Panda
is native to China where it is considered a national treasure. Although their numbers are not well-documented, their total world population is estimated between 1,200 to 2,000 pandas, the majority of them are found in China's Sichuan province.
There are an additional 120 pandas in zoos throughout the world. Seeing one is really a gift, Ocean Park is very fortunate to have four of them.
Here you can admire these beautiful and adorable bears and catch them in action:
... strolling and posing for pics...
...having a snack...
...or just taking a nap...
There are two exhibits, both in the Waterfront (Lowlands).
The first one and most obvious one is the Hong Kong Jockey Club Giant Panda Habitat, which you find next to the Grand Aquarium.
Giant Panda Habitat at Ocean Park
The Giant Panda Habitat is home to Jia Jia (RIP 1978-2016) (female) and An An (male), this couple of Giant Pandas arrived in Ocean Park in 1999.
More recently in 2007 to commemorate the 10th anniversary of the handover of Hong Kong from Britain, China sent another couple of Giant Pandas, LeLe (male) and Ying Ying (female), and new quarters where built for the new arrivals. They are housed at the Amazing Asian Animals complex, which is also located in the Waterfront.
Amazing Asian Animals Complex at Ocean Park
So make sure to check out both exhibits!

Le Le Snoozing at the Amazing Animals Exhibit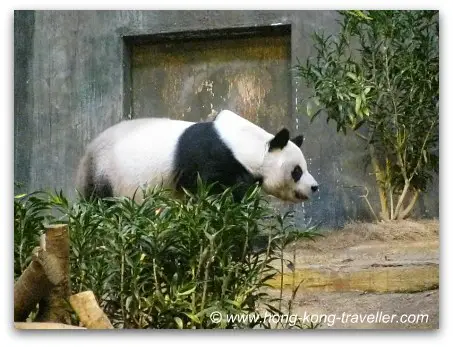 Jia Jia at the Giant Panda Habitat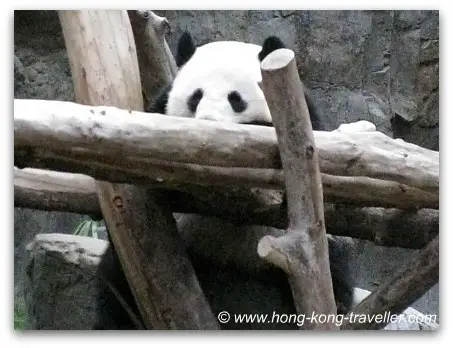 Le Le the male Giant Panda at Amazing Asian Animals Complex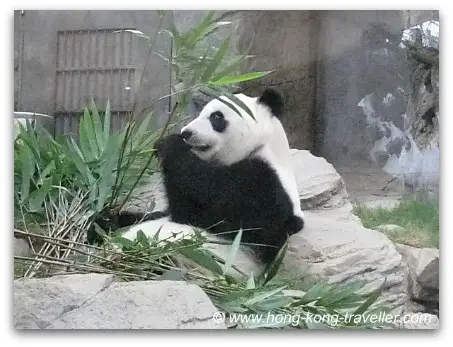 Jing Jing enjoying a bamboo feast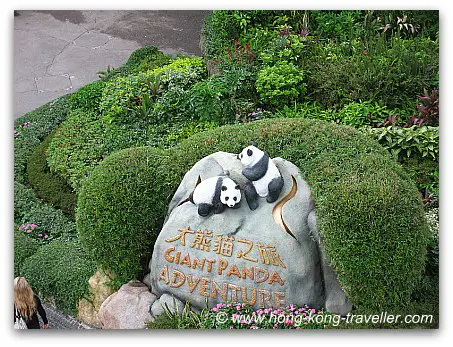 See you at the Giant Panda Adventure!
At the Amazing Asian Animal Exhibit you will also find a pair of the rare Red Pandas.
---
Once in a Lifetime Experiences at Ocean Park...
Fantastic Chance:
Honorary Panda Keeper
+ Souvenir Photo
HKD 1380 (US$183)
A 2-hour one-of-a-kind experience as you go behind the scenes of the panda enclosure, put on a special keeper's uniform and assist with the daily care of the pandas.
More info and details
Animal Encounters:
Dolphins, Seals or Penguins!
From HKD 1180 (US$152)
Get up close to Ocean Park's stars: dolphins, seals or penguin encounters where you can meet, play, feed and learn more about these incredible creatures from qualified trainers and keepers.
More info and details
Thank you for visiting www.hong-kong-traveller.com!
Here is to a wonderful Hong Kong travel experience!