Hong Kong Festivals and Events
September 2017
Mid-Autumn Festival Lantern Carnival in Victoria Park
The scorching heat and hummidity of the summer months are receding and cooler days are ahead as September 2017 welcomes a host of fantastic events and concerts. Colorful lanterns start popping up in anticipation of the Mid-Autumn Festival at the beginning of next month. And try to catch one of the stunning fireworks shows happening next door in Macau for the annual Fireworks Contest.
Here's what's happening this month in Hong Kong:
Hot offers and discount tickets
The following are some of the best Hong Kong deals available
Chinese Hungry Ghost Festival Yue Lan
September 5, 2017
The seventh month of the Lunar calendar is considered the "Chinese Ghost Month". On this month, the spirits of the deceased are released and they come back to wander off in the living world.
It is said that some spirits may be restless and will have to be appeased, and thus, worshippers will burn paper money and make the usual offerings to make sure they are back in the good graces of their ancestors and any other wandering ghost that may happen to "drop by".

The Hungry Ghost Festival marks the middle of the Ghost Month, and offerings and activities will be held particularly on this day.
Activities other than the usual offerings of incense, Chinese paper money and food, include Chinese Opera and the dragon and lion dances with plenty of noise to scare away the evil ghosts, and are held in parks and plazas throughout the territory.
When?: September 5, 2017
Where?: Various locations throughout Hong Kong
More on the Hungry Ghost Festival or Yue Lan
The 2017 Macau International Fireworks Contest
Saturdays in September
Just next door in Macau... Five evenings of mesmerizing fireworks and music extravaganzas!!! Fireworks displays can be some of the most sensational spectacles one can witness, imagine the best of the best in the world battling it out on a competition that encompasses five evenings of stunning lights and sounds, with international teams competing for the coveted trophy.
Two teams participate each evening, each evening features a different theme. So who's competing this year?
When?: Saturdays in September 2, 9, 16, 23, grand finale on Sunday Oct 1, 2017
Times?: 9:00 pm and 9:40 pm
Participants and program for 2017 TBA
Saturday September 2
Saturday September 9
Saturday September 16
Saturday September 23
Sunday October 1
Where?: Sea area in front of the Macau Tower. Where to watch? Just about anywhere in Macau, preferably where the Macau Tower is in full view
How Much?: FREE!
More Info: Macau Toursim Board
Getting to Macau: See our page on Macau Day Trip
Remember you can get Turbojet and CotaiJet Macau Ferry Discount Tickets from Klook.com:
TurboJet Macau Ferry Discount Tickets are as follows:
Round Trip Weekday Daytime: HK317 HK308 US$ 40
Round Trip Weekend Daytime: HK343 HK336 US$ 43
One-Way Weekday, One-Way Weekend, Day or Night: HK389 HK350 US$ 45
One-Way Weekday: HK200 HK165 US$ 22
One-Way Weekend: HK200 HK175 US$ 23
More information and Booking Macau TurboJet Ferry Tickets ››
CotaiJet Macau Ferry Discount Tickets are as follows:
Round Trip Daytime Weekday ticket: HK319 HK304 US$ 40
Round Trip Weekend Ticket: HK344 HK321 US$ 42
One-Way Weekday, One-Way Weekend Day or Night: HK391 HK334 US$ 43
One-Way Weekday: HK201 HK170 US$ 22
One-Way Weekend: HK201 HK160 US$ 21
More information and Booking Macau TurboJet Ferry Tickets ››
The 2017 Hong Kong Watch and Clock Fair
September 5 - 9, 2017
The annual Hong Kong Watch and Clock Fair is the world's largest timepiece event which offers a remarkable selection of watches and clocks and a preview into the latest designs and trends in the market.
Highlights of this event are the "Brand Name Gallery" and "World Brand Piazza", featuring limited edition and rare timepieces from the major global brands.

The Brand Name Gallery is open to the public on the last day of the event and timepieces from selected exhibitors are available for sale.
When?: September 5 - 9, 2017.
Where?: Hong Kong Convention and Exhibition Centre
How Much?: Free for trade visitors and the public
More Info: Hong Kong Watch and Clock Fair
Marvel Hong Kong Disneyland 10K Weekend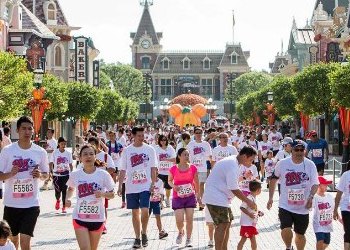 A series of 3K, 5K and 10K races happening through the lands of Hong Kong Disneyland, this year with a Marvel Hero theme! Featuring all Marvel Heroes, you will be running and cheering with Iron Man, Captain America, Spider Man... :
Captain America 10K Run: For 16 and over, co-organised by the Hong Kong Amateur Athletic Association, the results of the 10K Run will be recognized in the Hong Kong rankings.
Thor 5K Run: For 14 and over,
Spider Man 3K Family Run: Must be 3 years old or older, under 12 must be accompanied by adult
Kids Races: 200m for ages 5 and below
When?: September 16 and 17, 2017
Where?: Hong Kong Disneyland
How Much?: Race Packages include t-shirts, event stickers, etc. 10K and 5K HK$ 500, 3K HK$400, Kids Races HK$250.
More Info: Hong Kong Disney Marvel Weekend
For Non-participants:
Remember you can buy discount tickets online at Klook.com:
HK Disneyland Discount Tickets Adult HK589 HKD533 US$69, Children HK419 HKD385 US$49
Special Summer Offer for 2-day pass for Visitors only: Adult HK759 HKD655 US$85, Children HK539 HKD461 US$59 Offer through September 30, 2017
More Info and Booking at Klook.com
Hong Kong International Jazz Festival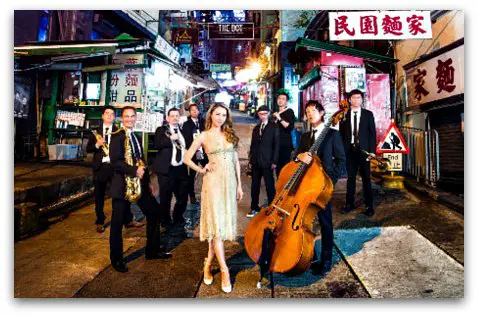 Renowned jazz musicians from around the world will delight audiences with a series of performances, workshops, and photographic exhibitions.
When?: TBA
Where?: Several Venues: HK Cultural Centre Piazza, Hong Kong City Hall Theatre
How Much?: Concert Hall prices HK 180, HK 260, HK 360. HK Cultural Centre Pizza Free Admission
More Info: Full line-up, programme and ticket information check the HK International Jazz Festival site at www.hkijf.com.
Road to ULTRA Hong Kong 2017
ULTRA is the world's most famous outdoor electronic music event and will return to Hong Kong once again to Nursery Park at the West Kowloon Cultural District. The program promises to deliver a uniquely diverse, forward thinking line-up and is likely to be a sell-out like it always is everywhere else around the world.
When?: Saturday, September 16, 2017 - 12 pm
Where?: Nursery Park at the West Kowloon Cultural District
How Much?: HK$ 1,180+ Find Tickets
More Info and Lineup: www.hongkong.roadtoultra.com
One Republic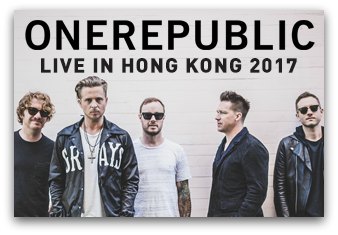 When? Tuesday, September 19, 2017 - 8:00 pm
Where? Asia World Expo
How Much? Find Tickets
Ariana Grande Dangerous Woman Tour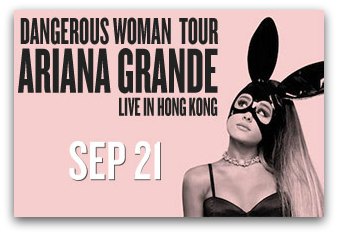 When? Thursday September 21, 2017 - 8:00 pm
Where? Asia World Expo
How Much? Find Tickets
Horse Racing Season 2017-18 at the Happy Valley Race Course starts this month
Happy Valley Hong Kong whether or not you are a horse racing enthusiast is an experience not to be missed!
The beautiful horses, the skillful jockeys, the crowds going wild, they all add up to an exciting, fun-filled, thrilling atmosphere in a world-class venue.
The Happy Valley race course itself is a sight in itself, the city has built around it through the years and it is now practically surrounded by skyscrapers, an awesome experience specially at night when the city is illuminated.

When?: Wednesday Nights, season opening TBA. On race day, first race starts at 7:15 p.m. and the gates open at 5:15 p.m. The races are done by 11:00 p.m.
Where?: Happy Valley Race Course
How Much? Depends, there are many ways to experience the races, from General Stand to Private Boxes and special packages including dinner and drinks. General Stand entrance starts at HK10. The "Come Horseracing Tour" provides transportation to/from your hotel, dinner and drinks and access to the Member's Boxes.
Click here for more on Happy Valley Horse Racing, how to get there and options for viewing the races.
Ongoing Hong Kong Events for September, 2017
These are some popular ongoing events that are worth checking out, specially since they are FREE or offered for a low fee!
These events feature some of the great and ancient traditions of the territory and are offered by experts in their corresponding fields:
The Symphony of Lights
The Symphony of Lights is Hong Kong's light and sound show, a tribute to the city and its people, their diversity, energy and vitality.
The stage is the entire city, which is what makes it so unique, you can watch the lights from just about anywhere in the waterfront.
This free show offered by the city, takes place every night at 8:00 pm and lasts aboout 15 minutes.

When?: Every Night
Where?: Can be seen from both sides of Victoria Harbour
How Much? Free
Click here for more on Hong Kong's Symphony of Lights and best spots to watch.
Hong Kong Events
Thank you for visiting www.hong-kong-traveller.com!
Here is to a wonderful Hong Kong travel experience!