Hong Kong Christmas Events and Celebrations 2016
Best of this WinterFest Season
Christmas is such a wonderful time to visit Hong Kong. As if Victoria Harbour wasn't striking enough on a normal day, during holiday time it really comes to life with the glittering lights that decorate every corner of the territory.
Christmas might not be a typical Chinese holiday but the territory certainly embraces any chance to celebrate, shop and enjoy great food, and Hong Kong is clearly a magnet to visitors during this season.
Shopping centres, hotels, theme parks, streets, plazas, buildings along the harbour, will all be oozing in lights, plush and extravagant displays and holiday cheer.
The Christmas decorations start making their way just as the Halloween goblins and pumpkins are being taken down.
Seems like they are coming earlier each year, but one thing is for sure, the arrangements, lights and decorations are getting fancier and more elaborate, as hotels and shopping centers try to outdo each other...
Christmas Decorations at Harbour City
The Christmas lights are of course one of the attractions of the season, most of the buildings on the harbour front are brightly decorated. A Harbour Cruise during the season is truly a breathtaking experience.
All the buildings along the water are richly decorated
Holiday Highlight Events
Holiday Concerts and Entertainment
Top Picks Christmas Events for Kids and Families
What's On This Christmas in Hong Kong...
Hong Kong WinterFest
Hong Kong WinterFest is the series of events sponsored by the Hong Kong Tourism Board which kick-off in early December and run up until the New Year's Countdown on January 1st.
One of the highlights is the centerpiece in Central's Statue Square, which becomes the season's icon.
Tiffany Christmas Tree in Statue Square
Theme and commercial sponsors vary from year to year, so it's always a very much anticipated surprise of what the current season will bring.
We have had some real dazzlers in previous years, we can all recall the 30-metre crystal beauty presented by Swarovski encrusted with over 20 million pieces of Swarovski crystals, and Tiffany's indulgent Treasures complete with fairy-tale merry-go-rounds...
Last year, Statue Square was adorned with Bvlgari's Serpenti, a 50,000 LED fantastic light-art installation.
And so every year, the landmark centerpiece is a widely anticipated event, it could be a specially commisioned piece of art, a strikingly decorated christmas tree or something or other that will certainly bring the spirit of the season to the fore.
2016 Hong Kong WinterFest Christmas Celebrations
How Much? There is no admission fee
How to Get There? Take the MTR to Central Station, exit Statue Square and follow the crowds...
More information from the HKTB WinterFest site.
Follow The Christmas Lights... Hong Kong Fabulous Christmas Displays
These are some of our favourite places to get into the spirit of the holiday. Themes may vary from year to year, but every time, no exception, they go all out and put extravagant displays, some with live music acts and entertainment, interactive games for kids, or simply fantastic lights and decorations. Warning... watch out for extreme crowds during the holiday season!
If you are in the Tsim Sha Tsui side, you can start your walk at Harbour City, the largest shopping center in the city and conveniently located right next to the Tsim Sha Tsui Star Ferry.
The 1881 Heritage Mall which transforms itself into a magic wonderland every year.
...The Peninsula Hotel, the Grand Dame...
...And don't miss a stroll along the Tsim Sha Tsui Promenade where you can take in the awe-inspiring skyline, all decked up in bright holiday lights...
And while you're here, check out the times for Pulse, the 3D Light Show at the Hong Kong Cultural Centre. See below.
Pulse: Hong Kong's 3D Light Show in the Harbourfront
Hong Kong Pulse is a great FREE show with spectacular 3D audiovisual effects in the Kowloon harbourfront at the Hong Kong Cultural Centre and the TST Clock Tower, just a short walk from the Tsim Sha Tsui Star Ferry station and the Avenue of the Stars.
In December, the show runs through the Winterfest season and the theme is of course holiday related. There are four nightly sessions, each 8 minutes long.
When?: November 25 - December 28, 2016 - 8:20pm, 8:45pm, 9:15pm and 9:45pm nightly
Where?: Hong Kong Cultural Centre and Clock Tower
How Much?: FREE
More info: Hong Kong Pulse.
And if you're catching the Airport Express at Kowloon Station, don't miss the Elements Mall right above...
If you are Island side, your starting point is of course Statue Square, where the Winterfest centerpiece awaits, but also check out the fantastic displays at the shopping centers. These are some of the most elaborate that go all out every year...
The IFC Mall: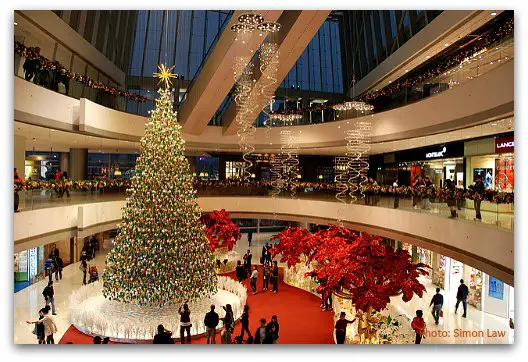 The Landmark: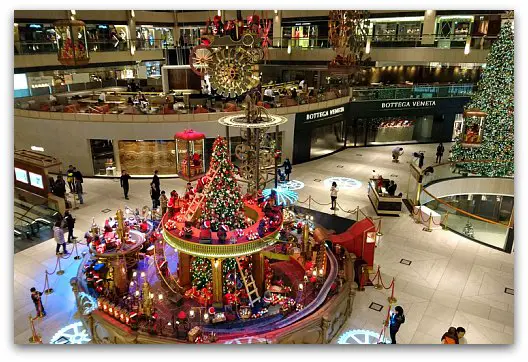 Pacific Place: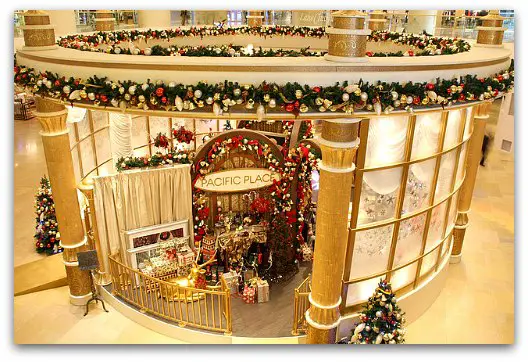 Times Square: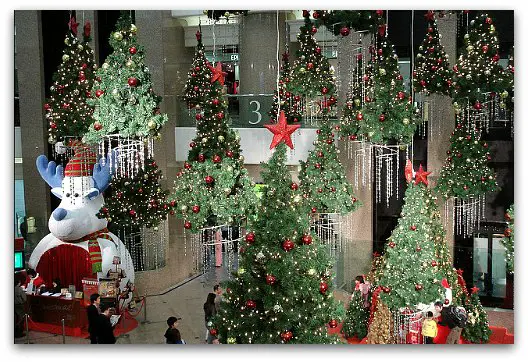 Lee Tung Avenue: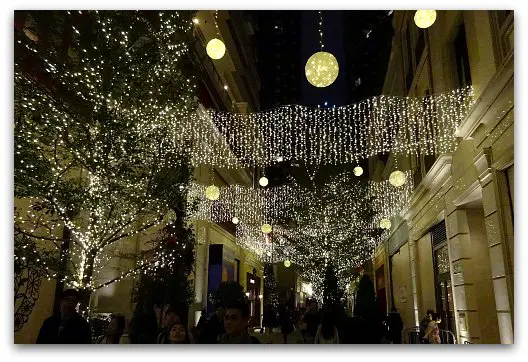 2016 Christmas Displays
Harbour City "Christmas Together" and "Christmas Party of Snowie"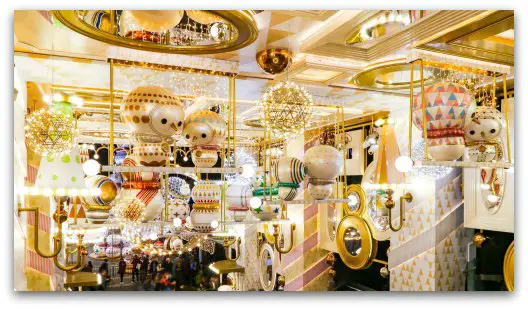 What?: A Christmas tradition, Harbour City's Christmas displays are legendary. This year's icon is "Snowie", the two-snow-ball snowman in 32 different designs.
When?: November 11, 2016 - January 2, 2017 - 10:00 am to 10:00 pm
Where?: Ocean Terminal Forecourt of Harbour City to the Staircases of the Main Entrance
How Much?: FREE
More info: www.harbourcity.com.hk.
Times Square White Christmas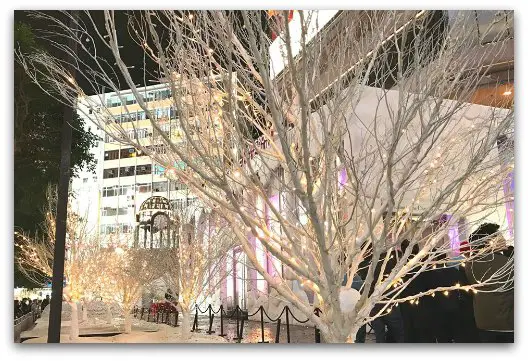 What?: A fun snow experience! Inside the snowy chamber, you can have a snow ball fight, slide from a hill, try out skiing, build a snowman... There will be light shows, christmas music, and don't worry about snow gear, they will provide snowshoes for you!
When?: November 24, 2016 - January 1, 2017 - 10:00 am to 10:00 pm
Where?: Times Square Open Piazza
How Much?: FREE
More info: www.timessquare.com.hk.
Pacific Place Santa's Grotto
What?: No Christmas experience can be complete without having your photo taken with Santa, and Pacific Place will happily oblige. All proceeds are donated to Operation Santa Claus.
When?: December 1 - 25, 2016 check times at their website
Where?: Pacific Place Level L1
How Much?: HK80 - HK110 For entry up to 4, includes photo with Santa and a pack of candies.
More info: www.pacificplace.com.hk.
The Polar Resort at IFC Mall
What?: This Christmas, IFC mall draws inspiration from the Arctic Circle, a floating iceberg is the setting of this year's highlight where puffins, polar bears, whales, seals, and walruses come to life in this magical realm. There will be christmas carols and a special performance of "Vadik and The Bears", hailing from Minsk, Belarus, Vadik Raketa the clown leads his arctic animals in a creative dance show around the floating icebergs.
When?: November 17, 2016 - January 3, 2017
Where?: Oval Atrium at IFC Mall
How Much?: Free
More info: www.ifc.com.hk.
Sparkling Chrismtas With Frosty And Friends At 1881 Heritage
What?: This Christmas, the Grand Piazza at 1881 Heritage will be transformed into a magical winter wonderland with a dazzling 15-metre-tall snowman centrepiece, softly "falling" snow, and roly-poly snowmen galore... In addition, there will be cold pyrotechnics shows as well as classical string quartet performances.
When?: November 10, 2016 - January 8, 2017
Where?: 1881 Heritage Mall Grand Piazza
How Much?: Free
More info: www.1881heritage.com.
Snowy Christmas With Nutcrackers at Lee Tung Avenue
What?: This year, Lee Tung Avenue will transform into a European Christmas village, lined with Christmas trees and giant Nutcrackers, ready to dance. Snowflake Fairies Parades with classic Nutcracker Ballet and snowing will be aired on designated days.
When?: December 5 - 31, 2016
Where?: Lee Tung Avenue, Wanchai
How Much?: Free
More info: www.leetungavenue.com.
Hong Kong Disneyland Sparkling Christmas
Parades, Carols, Christmas Trees...The entire park is transformed into a wonderland full of the holiday cheer, shiny ornaments, dazzling lights, fluffy snow, bows, balls and garlands, holiday wreaths... all decorate every corner of this magical world and make it even merrier...
You don't want to miss the magnificent Christmas Tree, the parties, the parades, and of course the fireworks.
When?: November 17, 2016 - January 2, 2017
Where?: Disneyland Hong Kong
How Much?: Included with Admission Ticket.
Remember you can buy discount tickets online at Klook.com:
HK Disneyland Discount Tickets Adult HK539 HKD497 Children HK385 HKD360

More info:Disneyland Hong Kong Sparkling Christmas.
Ocean Park Hong Kong Christmas Sensation
Lots happening at Ocean Park during the holiday season, we've had stunning ice skating shows, this year's highlight is the Cyber Illusion Spectacular Stage Show, a spellbinding show that will feature breathtaking magic acts, cutting-edge visual effects and amazing live entertainment performed by internationally-acclaimed illusionists.
And you can always count on...
The 70-foot tree at Waterfront Plaza
Christmas Candyland
Christmas Street Shows at the Summit
Santa feeding the fish at the Grand Aquarium
Christmas Menus, snacks, cakes and tons of souvenirs to highlight the season
When?: December 17, 2016 - January 2, 2017 - The Cyber Illusion Spectacular will run through the Chinese New Year festivities ending on February 12, 2017.
Where?: Ocean Park Hong Kong The new MTR South Island line will be opening December 28, 2016!
How Much?: Included with Admission Ticket
Remember you can buy discount tickets online at Klook.com:
Ocean Park Discount Tickets Adult H385 HKD334 Children HK193 HKD169
Milky Way In Town at Starlight Garden at New Town Plaza
Starlight Garden at the New Town Plaza in Sha Tin always rises to the occasion during the Christmas holidays.
Each year, it brings a different display, light show or some other array that has become a highly anticipated crowd magnet. The 2016 Starlight Garden features Milky Way In Town
When?: December 1, 2016 - January 15, 2017 - noon to 10 pm
Where?: The New Town Center is located in Sha Tin, the New Territories, not exactly in the main central areas of Hong Kong but very well worth the trip. It is very easy to get there with the MTR. The displays are at the Outdoor Gardens on Level 7.
How Much?: Free
More Info: 2016 Starlight Garden
Festive Winter Garden at the Hong Kong Observation Wheel
The Observation Wheel transforms during the holiday season into a magical garden full of lights and funtastic atmosphere!

When?: December 12, 2016 - January 1, 2017
Where?: Hong Kong Observation Wheel The wheel is located in the area between Central Piers 9 and 10. You can't miss the big Ferris Wheel in the waterfront.
How Much?: If you are riding the wheel HK 100 for adults, HK 70 for children under 12 and students, HK 50 seniors and the disabled. Children under 3 FREE.
Traditional German Christmas Market At Stanley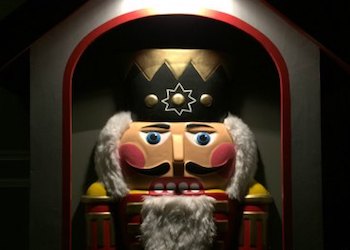 Sponsored by the German Consulate and the German Chamber of Commerce, this is as close as we get to the real thing! Roasted chestnuts, mulled wine, sausages, handicrafts, Nutcrackers, beautiful ornaments and wonderful gifts... all in that fantastic Weihnachtsmarkt atmosphere!
When?: Weekends of December 10-11 and 17-18, 2016 - Noon to 8:00 pm
Where?: Stanley Plaza. Here's how to get to Stanley
Santa Crawl: Drink For A Cause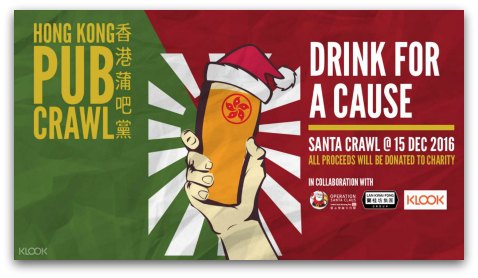 Don't miss this first ever Santa Crawl! Sponsored by Klook.com, Operation Santa Claus, Hong Kong Pub Crawl and the LKF Group for a night of drinking, clubbing and raising money for charity!
Make your way to Hong Kong's Lan Kwai Fong party district on December 15 and prepare for an epic night! ALL proceeds will be donated to local Hong Kong charities.
When?: Thursday, December 15, 2016 meet up 8:30pm
Where?: Meet at Boomshack (8-12 Wo On Lane, LKF, Central)
How Much?: US$ 26 / HK$ 200 includes drink deals at every bar, one free shot at each bar, free entry at the final club of the night
Lan Kwai Fong Christmas Street Party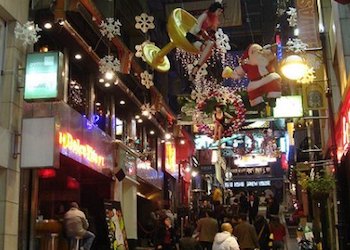 One huge street party...
As if this wasn't already the liveliest spot in Hong Kong, during the merry season Lan Kwai Fong goes all out with its renowned Christmas street party and then a week later, ready to do it again, to welcome the New Year.
Food, drink, entertainment... all restaurants, bars and clubs will be at capacity so reserve early!
When?: Christmas Eve, December 24, 2016
Where?: Streets of Lan Kwai Fong. Take the MTR to Central Station Exit D2, on to Theatre Lane and up D'Aguilar Street.
How Much?: Varies
More information at www.lankwaifong.com.
Hong Kong Christmas and Holiday Concerts and Entertainment
Hong Kong Ballet: The Nutcraker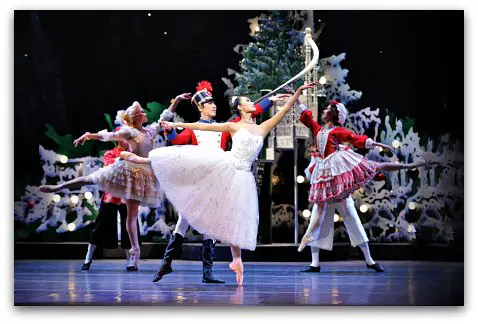 Christmas just isn't Christmas without The Nutcracker and a visit with Clara and her Prince, the Sugarplum Fairy, King Rat, the Snowflakes and all the fascinating characters from this favourite of childhood classic holiday entertainment.
When?: Several performances December 16 - 25, 2016
Where?: Hong Kong Cultural Centre - Grand Theatre
How Much?: HK$180, $320, $480, $680, $1,000 (Limited VIP)

More information and tickets at The Hong Kong Ballet.
Hong Kong Philarmonic: A Magical Christmas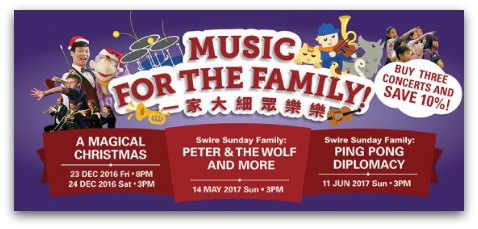 Sing-alongs, snowflakes and magic with the HK Phil's favourite magician Harry Wong. HK Phil's favourite magician will again entertain the young and young-at-heart at our annual Christmas family festivities. Hong Kong native Vivian Ip conducts the Orchestra, including the ever-popular Christmas carol sing-along. And at the end of the concert --spoiler alert-- snowflakes will be dancing on your head, as Harry lets it snow, lets it snow, lets it snow!
For ages 3 and above.
When?: Friday December 23, 2016 - 8:00 pm, Saturday December 24, 2016 3:00 pm
Where?: Hong Kong Cultural Centre - Concert Hall
How Much?: HK$120, HK$180, $280, $380
More information and tickets at www.hkphil.org.
Hong Kong Philarmonic's New Year Celebration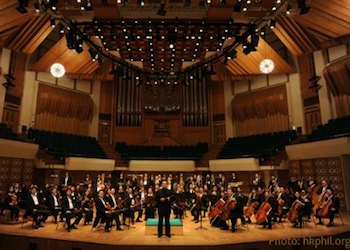 Blue Danube Waltz , Radetzky March and more Viennese waltzes and polkas. Yarub Traub conductor. Like the spectacular Viennese celebration that inspires this always-sold-out performance, the concert will culminate in the Blue Danube Waltz and the Radetzky March (clapping and foot-stomping encouraged!).
When? Friday and Saturday December 30-31, 2016 - 8:00 pm
Where? Hong Kong Cultural Centre Concert Hall
How Much? HK$180, HK280, HK$380, HK$480
More Info and Tickets: www.hkphil.org
Night Views Panoramic Tour of Kowloon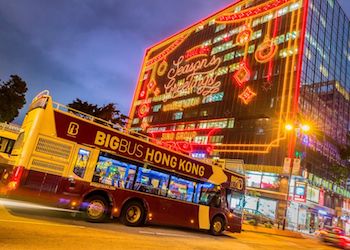 What best way to experience the Christmas lights and fantastic atmosphere than in the open top Big Bus Night Tour?! This is an ongoing tour offered throughout the year, but during the Christmas and Holiday season it is particularly breathtaking!
If you are already taking the Hop-On-Hop-Off, be sure to add the "Night Tour" Option which is only a couple of dollars more and well-worth it. You can also opt for the Night Tour only.
When? Every night, starts
Where? You can board the Night Tour in Hong Kong Island or Kowloon:
Central Star Ferry Pier 7 at 6:15 pm
Peninsula Office Tower at 7:00 pm
How Much? Night Tour Tickets US$35 Klook.com Offer US$30 Choose the "Single Route Ticket"
More Info and Route: Big Bus Tours Hong Kong ››
More Christmas Cheer...
---
Check out some of this year's beautiful Christmas decorations throughout Hong Kong, follow our Pinterest board!
We want to thank you for your support and
wish you a safe and Merry Christmas to you and your family,
happy travels and all the best in the coming year!
Hong Kong Events
Thank you for visiting www.hong-kong-traveller.com!
Here is to a wonderful Hong Kong travel experience!