Hong Kong Halloween Celebrations 2016
Hong Kong Halloween celebrations were practically nonexistent not too long ago, but have recently become quite popular as more and more, young and old, embrace the chilling spirit of the holiday.
It used to be that a handful were joining in the spooky atmosphere in some way or another, whether it was just some decoration or pumpkin here and there or dressing up for the occasion, whereas others did not even know what Halloween was about. In the last couple of years though, it is just as common to see the pumpkins and spiderwebs during this period as it is the red lanterns and firecrackers during Chinese New Year... the demons and vampires have quickly caught up in the territory and Halloween is here to stay. And not only that, it has proved so popular and spread like wildfire, that now Hong Kong is considered the Halloween capital of Asia.
The ghostly scenes and decorations start popping up in the shopping centers and theme parks i.e. Disneyland and Ocean Park, where the spirit of the haunted holiday really comes to the fore.

Halloween Decorations at Ocean Park
And then of course, there is the parties. Halloween is just as good as any excuse to have a party! And this is where Hong Kong really excedes... The celebrations get bigger and better each year. From wildly howling street blowouts, parades and shows to fun and sugary trick-or-treat antics for the kids, there is a wide range of spooky cheer for all to enjoy.
"Hong Kong Halloween Treats" HK Tourism Board sponsors great programmes through the season
Here are some of the places where you can have a screaming good time this Halloween:
Fantastic Halloween Offers
HKD 487 HKDL One-Day Adult Ticket
HK Disneyland Tickets
Adult HK539 HKD497 (US$65)
Children HK385 HKD360 (US$47)
2-in-1 Meal Coupon
More details at Klook.com
Ocean Park Halloween 2016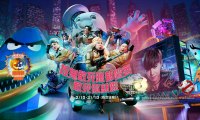 Ocean Park HK Tickets
Adult HK385 HKD 334 (US$44)
Children HK193 HKD169 (US$22)
Priority Access HK730 HKD650 (US$85)
More details at Klook.com
Hong Kong Disneyland Haunted Halloween Celebrations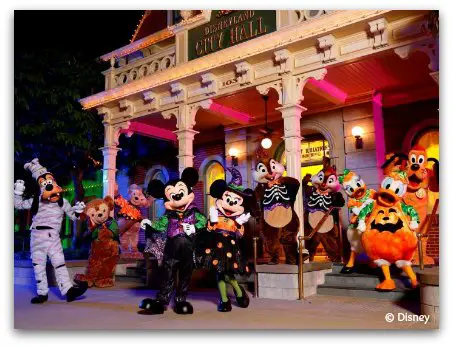 All your favourite Disney friends will make an appearance on Halloween!
Hong Kong Disneyland at Halloween time transforms itself into a haunted land of pumpkins, ghosts, cobwebs and spooky trees... it is a really fun time to visit the park.
There are the parades, trick-or-treating with Mickey and the gang, haunted mansions or rather hotels, and creepy surprises all around the lands.
The decorations and activities commence September 15, 2016 and run through October 31.
Halloween events and attractions at Hong Kong Disneyland are free with park admission. Adults HK539 Children (3-11) HK385
Remember you can buy discount tickets online at Klook.com:
HK Disneyland Discount Tickets Adult HK539 HKD497 Children HK385 HKD360

Here's more on Hong Kong Disneyland Haunted Halloween.
Ocean Park Halloween Fest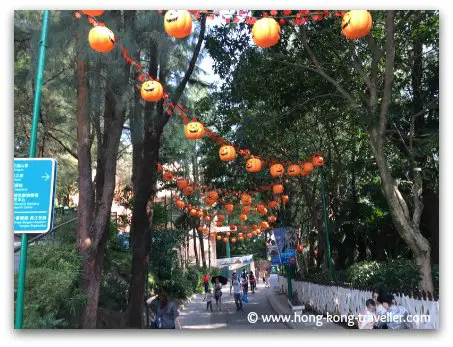 Ghosts, skeletons, vampires and pumpkins decorate the Park
Ocean Park claims the largest Halloween theme park event in Asia, and for the occassion, over 1,000 additional staff and performers are brought in to haunt and amuse you.
There's lots of creepy fun for the little ones during the day throughout the park which transforms into pumpkin land for the occasion.
And for some heavy-duty horror there is plenty to choose from including Haunted Houses and over a dozen Halloween Bash shows exhibiting some of the best in the fright industry.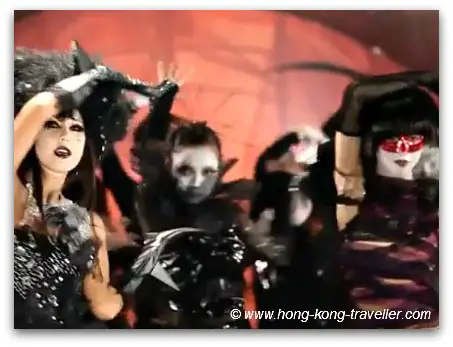 Ocean Park Halloween Fest 2016:
When?: Selected dates from October 2 - October 31, 2016
Time: Park opens at 10:00 am, Halloween activities from 11:00 on
How Much? General Admission Adults HK 385, Children HK 193. The all day-and-night ticket gives access to the Halloween shows and attractions. You can buy a "Premium Ticket" that gives you priority access to some of the most popular regular and Halloween activities for Adults HK 690 and Children HK 345.
Remember you can buy discount tickets online at Klook.com:
Ocean Park Discount Tickets Adult H385 HKD334 Children HK193 HKD169
More info: Here's more on Ocean Park's 2016 Halloween Fest.
Lan Kwai Fong Halloween Street Party
Lan Kwai Fong's reputation as a party mecca is legendary, and come Halloween time, it doesn't dissapoint. This is one massive street party, which seems to be getting bigger every year. If you like crowds, you're at the right place. Skeletons and goblins are coming out full force on Halloween, get your costume ready...
2016 Lan Kwai Fong Halloween Street Party:
When?: October 31, 2016 7:00 pm onwards
Where?: Take MTR to Central Station Exit D2 and follow the crowds to D'Aguilar Street.
How Much?: Free!
More Info at www.lankwaifong.com.
Time Out Hong Kong Halloween Styloween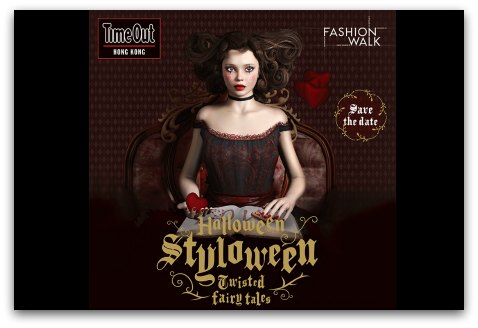 Time Out's annual Halloween party returns at Fashion Walk for a night of chills and thrills. Classic fairytale characters, trick-or-treat goodies and prizes await you as you stalk your way down streets filled with music, games and drinks.
Twisted Halloween Styloween Parade
Fairy Tale Games with Lollipop Prizes
Finger food and beer
Time Out Hong Kong Halloween Styloween:
When?: Saturday, October 28, 2016 8:00 pm to 10:00 pm
Where?: Fashion Walk, Causeway Bay
How Much? Entry is free but places are limited, register below.
More Info and RSVP: Time Out Halloween Styloween
9th Annual Dead Not Alive Halloween Party
Dead Not Alive's Halloween Party is back on its 9th year in an all-new location at the historic Hullett House.
Featuring a collection of top local and international DJs, the party atracts a full house of Hong Kong's most beautiful celebrities and party people.
The Dead Not Alive party is always one of Hong Kong's biggest Halloween events. Last year's star-studded installment included actors Byron Mann and Alan Luk, actresses Angela Yuen, Susan Shaw and Jeana Ho.
The 2016 Halloween bash features a special headline performance by Japanese Hip-Hop legends m-flo from Tokyo.
Dead Not Alive 2016:
When?: Saturday October 29, 2016
Where?: Hullett House, 1881 Heritage, 2A Canton Road, Tsim Sha Tsui
How Much? Early Bird HK 400, Advanced HK 600, At Door HK 800. Table packages available.
Costumes are mandatory!
More Info and tickets Alive Not Dead Halloween Party.
More Halloween Parties and Events in Hong Kong
And for all your Halloween needs...
One of the best places for a great variety of cheap Halloween trinkets is Pottinger Street aka Stone Slab Street, just a few blocks south of the Central MTR station.
Check it out!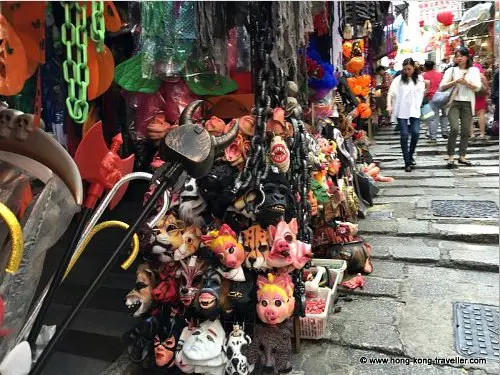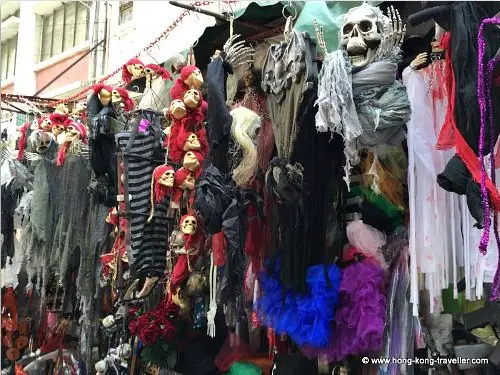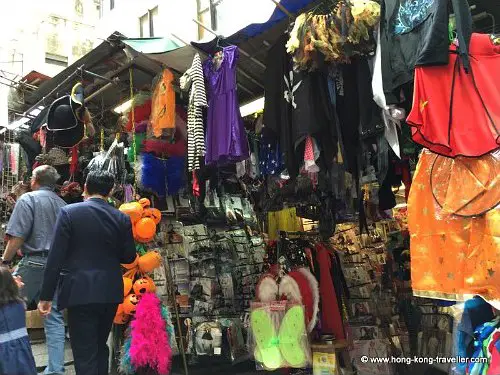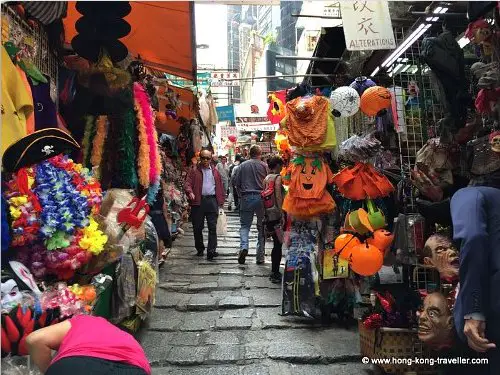 ---
Hong Kong Events
Thank you for visiting www.hong-kong-traveller.com!
Here is to a wonderful Hong Kong travel experience!