Ngong Ping 360: Getting There
Several Options: MTR, Taxi, Private Transfer, Day Tour
Ngong Ping 360 which is located in Lantau Island has two Cable Car Stations, the Lower Terminal in Tung Chung and the Upper Terminal where you find the Big Buddha and Ngong Ping Village.
Easy and Economical: With Public Transportation
If you are coming from the city, getting to the Ngong Ping Lower Terminal is easy with the MTR. First head over to the Tung Chung MTR Station which is at the very end of the Yellow line of the same name.
MTR From Central (Hong Kong Island) to Tung Chung Station
You can get on the Tung Chung line from Central/Hong Kong Stations and cruise to Tung Chung MTR station without having to change.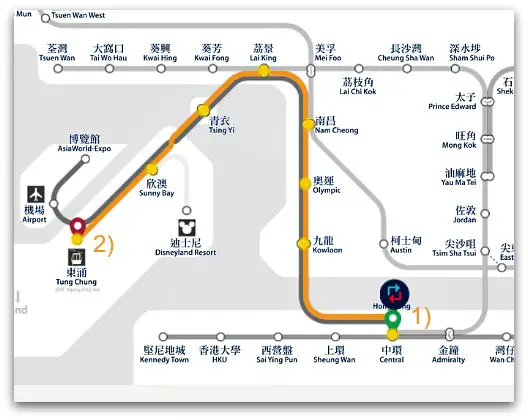 1) Take the Tung Chung Line (Yellow), from Hong Kong Station, you can get to Hong Station from the Island Line through Central Station, it is a five minute walk.
2) Arrive at Tung Chung Station.
MTR From TST (Kowloon) to Tung Chung Station
From Tsim Sha Tsui there is only one change involved.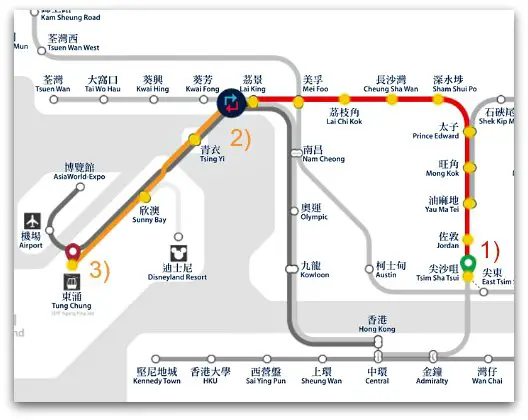 1) Take the Tsuen Wan line (Red), conveniently along this line are stations for some of the main areas in Kowloon: Tsim Sha Tsui, Jordan, Mong Kok
2) Change to the Tung Chung Line (yellow) at Lai King
3) Arrive at Tung Chung Station.
From either Central or Tsim Sha Tsui it will take about 40 minutes. Price tickets for single journey are:
MTR tickets Single Journey

from Central
from Tsim Sha Tsui
Adult
HK 25
HK 19
Child
HK 12.50
HK 9
Senior
HK 12.50
HK 9
And remember you can use your Octopus Card to pay for the fare and get a small discount.
Once you arrive at Tung Chung Station, the Ngong Ping Cable Car Terminal is a short walk accross. Everything is well-marked, you cannot get lost.

You really can't miss the huge station. Inside you find the ticket office and the Cable Car departure platforms.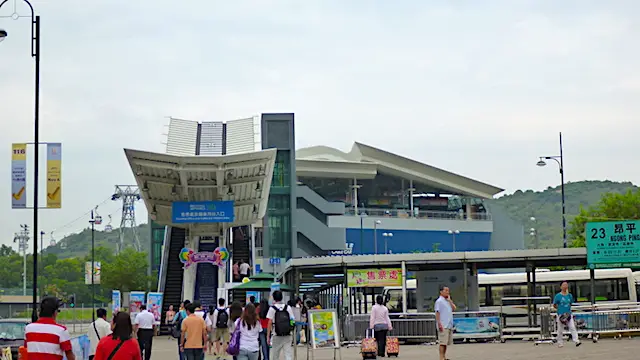 Likewise, if you are taking the Ngong Ping Cable Car from the Upper Station at the Village, there are very clear signs to point you in the right direction.
Lines and waits for tickets and the cable car can be long. Try getting there early in the morning before the rush of tours and everyone else arrives, otherwise lines can be as long as an hour or more.
You can also buy tickets online and skip the ticket line, see below.
Easier: Private Transfer (One-Way or Round Trip)
There are private one-way transfers from your hotel to Tung Chung where you take the Ngong Ping Cable Car.
This is a great option if you have a small group as the transfer price is per vehicle which accomodates up to 6 people. For round-trip transfers you need to book two packages.
One-Way Transfer from Kowloon HK$ 472 - US$63 slightly more from Kowloon East
One-Way Transfer from Hong Kong Island HK$ 506 - US$67 slightly more from HK Island South
Easiest: Lantau Island Day Trip including Hotel Pick Up and Drop Off
Leave the arrangements to the guides and enjoy a fantastic day in Lantau Island that will include the Ngong Ping Cable Car, Giant Buddha, and Tai O Fishing Village among other attractions. No lines, no waiting, no looking for the right train/bus/ferry... what could be easier?
Ngong Ping 360 Cable Car Ticket Prices - Can You Get Discount Tickets?
Ngong Ping 360 Ticket Cost
There are Standard Cabin and Crystal Cabin prices. You can consider riding the Crystal Cabin one way and the regular cabin on the return trip or vice versa.
Ngong Ping 360 Cable Car Ticket Prices

Adult
Child
Single Standard
HK 130
HK 65
Single Crystal Cabin
HK 180
HK 125
Round Trip Standard
HK 185
HK 95
Round Trip Crystal
HK 255
HK 175
Standard + Crystal
HK 240
HK 150
There is a VIP entrance for the Crystal Cabin and if the line for the regular cabins happens to be too long as it often is in the busy times, riding the Crystal Cabin is definitely an advantage to skip the wait.
Hong Kong Travel Pass: Ngong Ping 360, Airport Express and MTR
The Ngong Ping 360 travel pass can save you money if you are also planning on taking the Airport Express.
The pass includes a round-trip ticket on the Ngong Ping Cable Car, the Airport Express and unlimited travel on the MTR for as low as US$53. Buy it in advance before you arrive and skip the ticket lines!
Ngong Ping 360 Discount tickets
Discount tickets for both the standard and crystal cabins are available online through Klook.com, pre-book and skip the ticket line!
Discount ticket prices are as follows:

Single Standard Cabin - Adult HK 130 HK 105 US$13 Child HK 65 HK 55 US$7

Single Crystal Cabin - Adult HK 180 HK 150 US$20 Child HK 125 HK 104 US$14

Standard + Crystal Cabin - Adult HK 240 HK 198 US$26 Child HK 150 HK 130 US$17
Also available are return discount ticket prices for the standard and crystal cabins.
---
Nearby Sights in Lantau Island
Don't miss any of the other nearby attractions in Lantau. These can all be done on a
DIY day trip or a guided tour
to the Island and will certainly cover most of Lantau Highlights:
Lantau Island Day Trip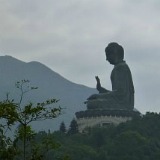 Lantau Island and Giant Buddha Day Trip from Hong Kong

. This day trip to Lantau Island will take you to some of Hong Kong's pristine beaches, traditional fishing vilages, lush valleys, soaring mountains and spiritual enlightenment.

The tour lasts approximately 8 hours with pick up points at several Hong Kong and Kowloon hotels.
Highlights include:
Giant Buddha
Po Lin Monastery
Vegetarian Lunch at Po Lin Monastery
Wisdom Path
Express ferry trip across Hong Kong's harbour to Lantau Island
Tai O fishing village and its traditional houses on stilts
Ngong Ping cable car journey from Ngong Ping Village to Tung Chung town. (Ngong Ping Cable Car will be closed for a rope replacement project from January 9, 2017 to June 2017, bus transport will be used during this period)
Lantau Island Day Trip from Hong Kong Adult US$137 Child (2-11) US$112 - More information and Booking ››
Thank you for visiting www.hong-kong-traveller.com!
Here is to a wonderful Hong Kong travel experience!