Chinese New Year
at Disneyland Hong Kong
Bright Lanterns, Red Envelopes, Lion Dances,
Dragon Parades...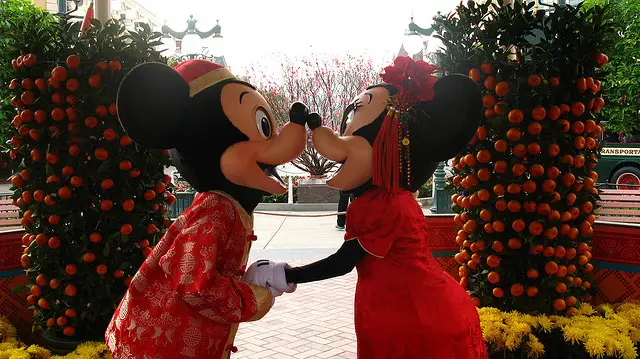 2017 Year of the Rooster Celebrations
coming this January - February 2017
During Chinese New Year, Disneyland Hong Kong transforms once again after the rush of the Christmas season. This time instead of fluffy snow and holiday wreaths, it is lanterns, red envelopes, chinese lions, drums and gongs...
And in typical Disney fashion, our favourite characters will be there dressed in full Chinese traditional gear to celebrate and wish you Gung Hay Fat Choy!
The Chinese New Year celebrations at Hong Kong Disneyland kick off a week or so prior to Chinese New Year's Day, the date of which varies and is set according to the Lunar calendar, it falls normally in January or February.
This year, Chinese New Year is on January 28, 2017 and the celebrations will be officially launched on January 23 and run until mid-February.
Traditional red and gold ornaments, the colors for good luck and happiness, decorate every corner of the park...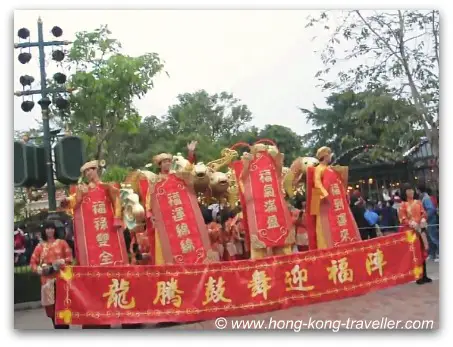 ...as well as revered Chinese symbols, like the Goldfish, which is believed to bring abundance and prosperity...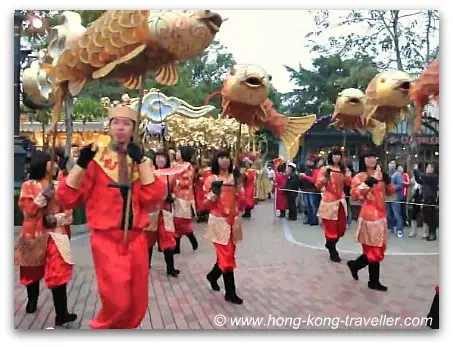 There is of course special events and shows, the themes vary from year to year, a Year of the Tiger celebration will naturally feature our favourite Disney Tiger front and center...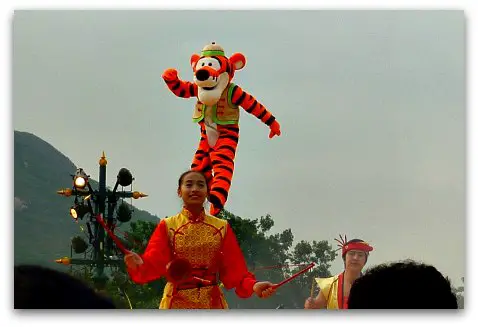 ...and you can guess who the star at the Year of the Rat... ehem... Mouse... would be!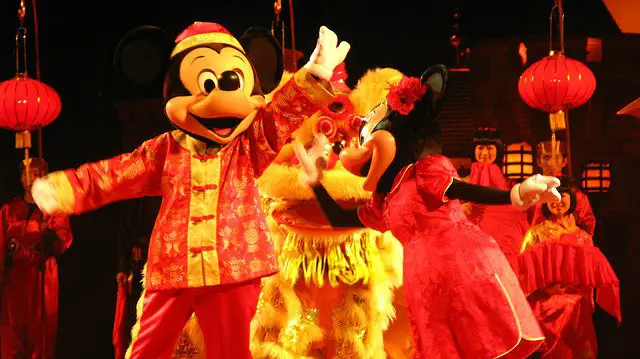 Irrespective of the theme for the year, there is always the Lion Dances...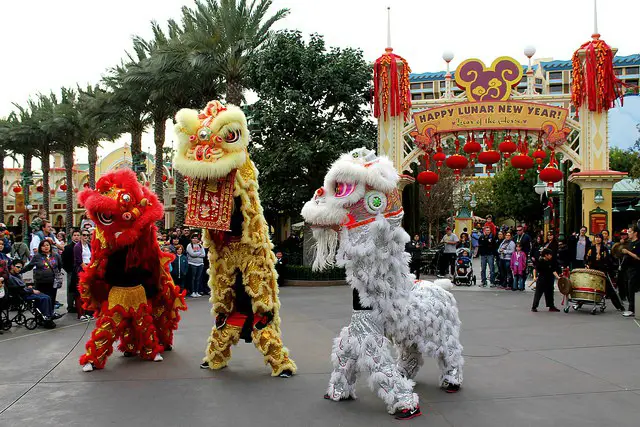 ...The character greeting times throughout the day as well as plenty of shows and entertainment...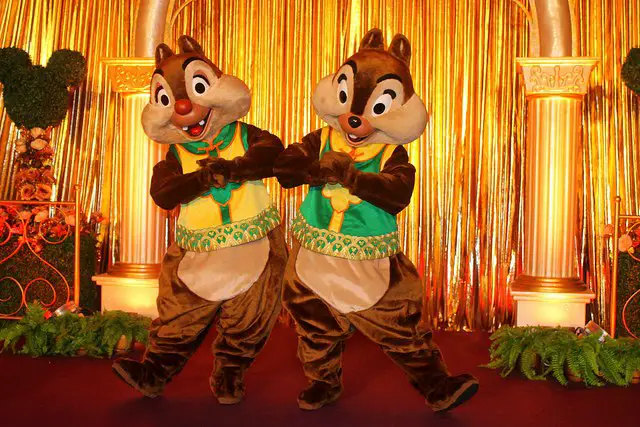 ... And special activities like lantern making and "good luck" foods to celebrate Chinese New Year.
And don't forget, at the end of the day, there's always the wonderful Fireworks!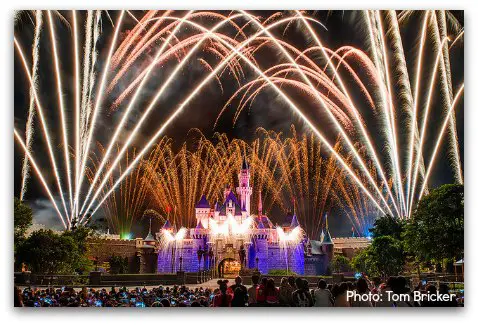 Some years a Dragon Parade replaces the Flights of Fantasy Parade. Check the Times Guide first thing when you get to the park so you don't miss out on any of the special events!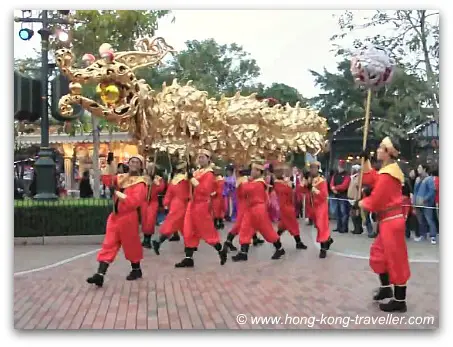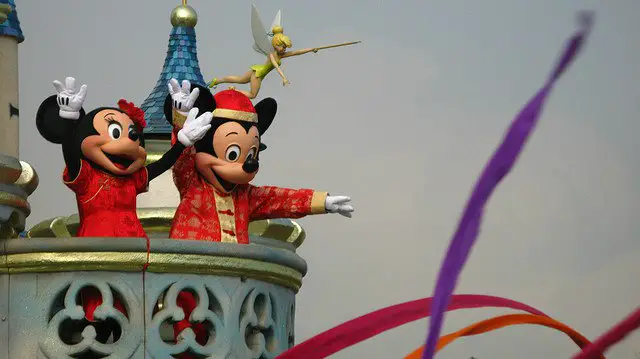 Here is a short video of the fantastic Chinese New Year Parade at Disneyland Hong Kong:
Hong Kong Disneyland Year of the Rooster Celebrations 2017
Front and center this year is the grand-opening of the Iron Man Experience in the first Marvel themed zone of all Disney Parks. Special Chinese New Year parades or events have not been announced, but the Park is all decked in cheery red and gold and our favorite friends are ready to welcome you in their holiday best! Special Chinese New Year menus are available at the restaurants as well.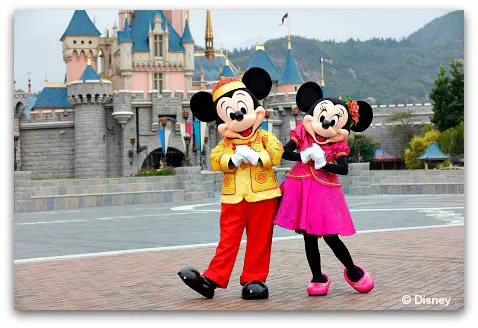 When?: January 23 to Mid-February 2017
Where?: Disneyland Hong Kong
How Much?: Included with Admission Ticket.
Even though there will be no special parade for Chinese New Year we still have:
Flights of Fantasy Parade at 3:00 pm
"Disney Paint The Night" Parade at 7:00 pm
"Disney in the Stars" Fireworks at 8:00 pm
Be sure to check the daily programme for the day of your visit for any changes.
Remember you can buy discount tickets online at Klook.com:
HK Disneyland Discount Tickets Adult HK589 HKD520 US$67, Children HK419 HKD375 US$48
More Info and Booking at Klook.com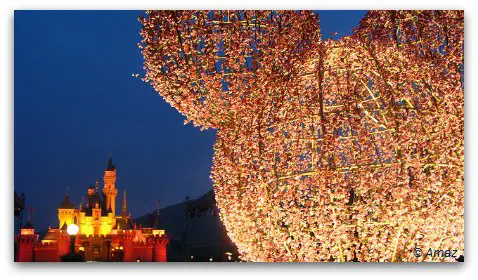 Gung Hay Fat Choy!
Thank you for your support and
we at www.hong-kong-traveller.com wish you a healthy, happy and prosperous Year of the Monkey to you and your family,
happy travels and all the best in the coming year!
---
Thank you for visiting www.hong-kong-traveller.com!
Here is to a wonderful Hong Kong travel experience!