Hong Kong Chinese New Year
Flower Markets
In anticipation of Chinese New Year, Hong Kong Flower Markets are buzzing with a frenzy of activity in the weeks leading to this most loved event as households prepare decorations as well as gifts for their loved ones.
A visit to the Hong Kong Flower Markets during this time of the year is a great way to get into the spirit of the festivities.
One of the most popular Chinese New Year Flower Markets is held annually in Victoria Park in Causeway Bay starting a couple of weeks before the New Year and running up until New Year's Day.
Through the years the offerings have extended beyond flowers and plants and decorations.
Nowadays you can find just about anything in this market and is one of the most popular ones with the locals, so be prepared for the wall-to-wall crowds, specially at night.
If you are on the Kowloon side, a popular Chinese New Year Market in Mongkok is set up at Fa Hui Park.
See the locations of these two popular Flower Markets on the map:

Victoria Park


Fa Hui Park
The flower markets which traditionally have ended at midnight on New Year's eve are now beginning to open throughout the early hours of New Year's day until 6:00 am, for all those last-minute necessities!
Chinese New Year "Lucky Plants"
Much as the Christmas Tree in the western world, these are some of the most popular plants that hold a special meaning for the Chinese during the New Year celebrations, some are considered auspicious, some make wonderful decorations.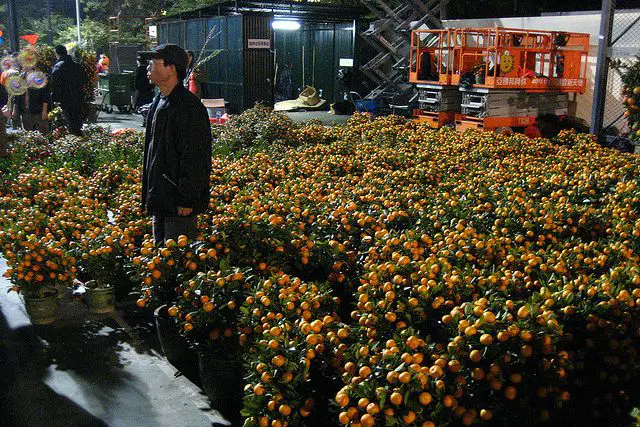 Look for any of these which are in great demand during the season at all the flower markets in Hong Kong.

Mandarin Trees
The Kumquat plant or mandarin oranges, is a symbol of good fortune and prosperity. A must for each household.


Lucky Bamboo
The lucky stems of the bamboo are used frequently in fengshui, Chinese love them for their auspicious qualities for a happy home.


Pussy Willow
The long stalks with multiple blooms are a favourite and often decorated with gold and red ornaments, the lucky colors.


Cherry and Plum Blossom
First to bloom in spring, they represent the promise of new life.


Orchids
Blooming orchids are loved for their beauty and fragrance and are a symbol of nobility.


New Year Fruit
The beautiful golden fruits are used for building lucky Chinese New Year trees.


Peonies
These beautiful and fragrant large blooms represent prosperity and peace


Daffodils
Typically bloom around Chinese New Year and are considered a symbol of luck


Pitcher Plant
The more pitchers the better to accumulate good luck and fortune in the New Year!
Happy shopping!
Victoria Park's Chinese New Year Flower Market
When? January 22 thru the New Year on January 28, 2017. On New Year's Eve January 27 it will be open throughout until the early hours (6:00 am) of New Year's Day.
Where?
Victoria Park in Causeway Bay:
MTR Causeway Bay Station Exit E, then follow the crowds along Great George Street, or
MTR Tin Hau Station Exit A2, turn left at exit.
Fa Hui Park in Mongkok:
MTR Prince Edward Station Exit A, walk along Playing Field Road, then left to Sai Yee Street then right to Boundary Street, Fa Hui Park will be on the left
How Much? Depends on what you're buying! Free to browse!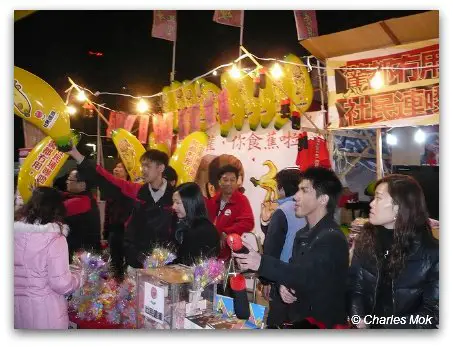 Enjoy the festivities and celebrations of this amazing time that is Chinese New Year in Hong Kong!
Gung Hay Fat Choy!
Hong Kong Lunar New Year Celebrations 2017!...
Chinese New Year Parade - January 28, 2017 - 8:00 pm
Chinese New Year Fireworks - January 29, 2017 - 8:00 pm
Chinese New Year Flower Markets - Janaury 22 - 6:00 am January 28, 2017
Chinese Dragon and Lion Dances - From Chinese New Year's Day January 28, 2017 onwards
Lunar New Year Lantern Displays - Jan 20 - Feb 19, 2017
Hong Kong Well-Wishing Festival - January 28 - February 12, 2017
Chinese New Year Race Day (Horse Racing) - January 30, 2017 - noon to 6pm
Lunar New Year Lantern Carnival - February 11, 2017
Chinese New Year at Disneyland Hong Kong - Jan 25 - Mid-February, 2017
Ocean Park Lucky Lunar Fiesta - Jan 28 - Feb 12, 2017
Chinese New Year Dining Offers
Thank you for visiting www.hong-kong-traveller.com!
Here is to a wonderful Hong Kong travel experience!