Hong Kong Chinese New Year
Lion Dance Performances
Lions, Dragons, Drums, Gongs...
Lion Dances and Dragon Parades are an essential part of every Chinese New Year celebration, or rather, any Chinese Festival for that matter, and in Hong Kong that is no exception.
In fact, the city set a Guinnes World Record in 2011 for the largest Lion and Dragon Dance display which featured 1,111 Dragons and Lions.
These traditional arts date back for more than a thousand years.
Besides being incredible acrobatic performances, in Chinese Culture it is believed that the Lions and the accompanying revelry of drums, gongs and firecrackers, will scare away the bad spirits and bring in the good luck in the coming year, and thus a Lion Dance is a "must" during the Chinese New Year festivities.

Where are the Lion and Dragon Dances
during Chinese New Year in Hong Kong?
During the Chinese New Year celebrations,
Lion and Dragon Dances will be performed just about everywhere
, from businesses and office buildings, shopping centers to restaurants and hotels, chances are, you will be able to catch one at some point or another after the New Year.
Chinese New Year Lion Dance Performance at Pacific Place
Starting on New Year's Day, it will be dragon and lion galore at the annual Chinese New Year Parade, then the celebrations continue for another fifteen days and culminate with the Lantern Festival on the 15th day of the New Moon. Dragon Parades and Lion Dances will be ongoing during this period.
For 2017, that will be from January 28 to February 11, 2017 give or take a couple of days or so. That gives you plenty of time to catch a performance. Details for 2017 are TBA.
Here are some popular places where lions and dragons made an appearance for the Year of the Monkey in 2016:
The Blessing of Dragon and Lion Exhibiton at Times Square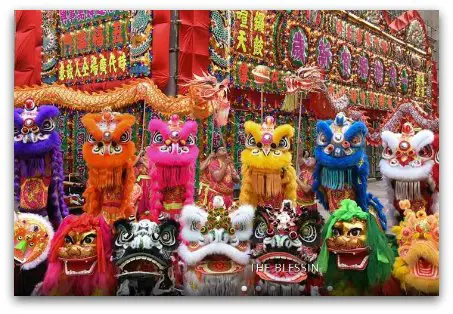 What? Flower Boards, Paper Crafting and Dragon and Lion Dance
When? February 5 - 28, 2016 - 10:00 am to 10:00 pm
Where? Times Square Living Room Museum Open Plazza
How Much? Free
More Info: www.timessquare.com.hk
---
"Healthy and Wealthy" in the Year of the Monkey at Harbour City
What? Chinese Dragon Dance Performance
When? Saturday February 20, 2016 - 12:00 pm to 1:00 pm
Where? Ocean Terminal Forecourt
How Much? Free
More Info: www.harbourcity.com.hk
---
Chinese New Year ar IFC Mall
What? Live Chinese Music Performance
When? Select Dates Februrary 15 - 21, 2016
Where? IFC Mall Oval Atrium or West Bridge, Podium Level 1
What? Lion Dance
When? Februrary 15, 2016 11:00 am to 1:00 pm
Where? IFC Mall Oval Atrium, Podium Level 1
How Much? Free
More Info: www.harbourcity.com.hk
---
And even if you're just strolling the markets, keep an eye out for those lions! After all, anybody that is in business will want to usher away all the accumulated bad luck, clean house and bring in the good fortune, so the Lion Dancers are sure to be welcomed by all anytime... anywhere!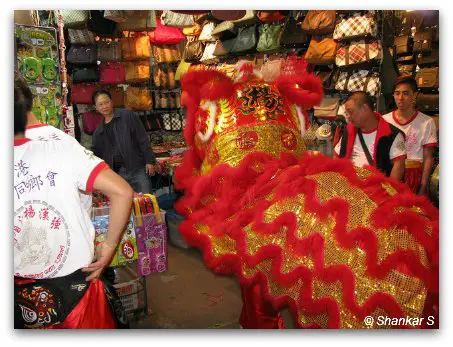 Chinese New Year Lion Dancers at the Temple Street Night Market
Lion Dances... Dragon Dances... what's the difference?
The
Lion Dance
is performed by a pair of dancers, one handles the head of the lion and the other half handles the tail.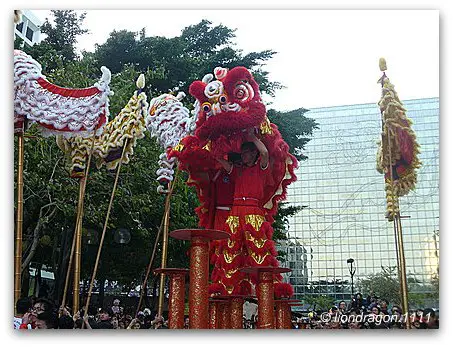 The Dragon Dance is a team effort involving a dozen or more dancers. The long Dragon is held on poles carried by each dancer, they raise the poles up and down creating the Dragon's movements as they snake around the streets.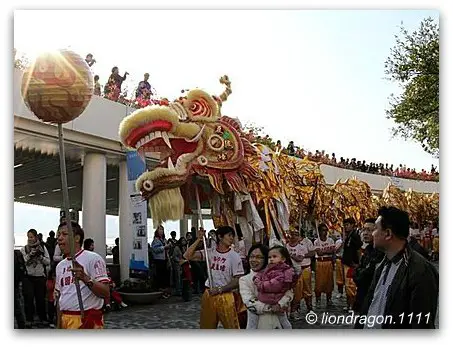 You can learn more about the Lion Dance and Dragon Dance at our sister site, China Family Adventure.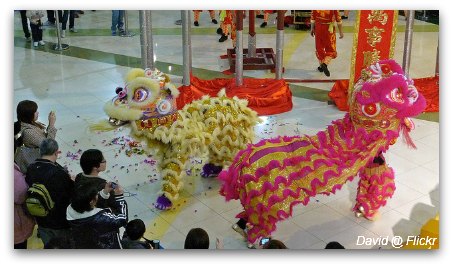 Enjoy the festivities and celebrations of this amazing time that is Chinese New Year in Hong Kong!
Gung Hay Fat Choy!