The Ngong Ping Village
The Ngong Ping Village was created at the top of the Ngong Ping plateau to accomodate the influx of tourists now flocking to the Big Buddha and the Ngong Ping Cable Car and is therefore fairly new.
Even though it is built in the old traditional style, it is by no means an "old village" and this is what dissapoints some of the visitors who expect to see something more "genuine" and less "commercialised".
It has somewhat of a theme park atmosphere, complete with souvenir shops, tea houses as well as fast food outlets offering both Western and Asian fare, including Subway and Starbucks.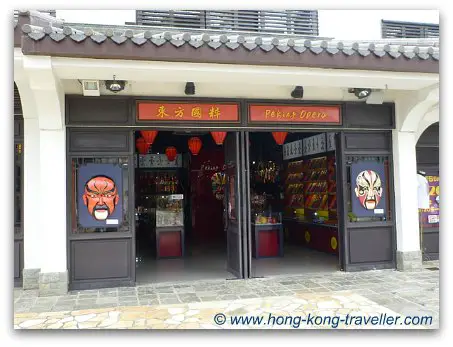 There are specialised souvenir shops like this Peking Opera Shop...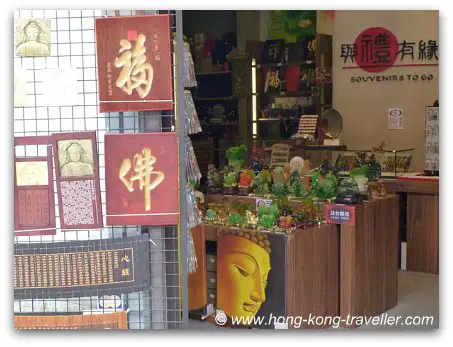 Many kinds of Souvenir and Knick Knack shops...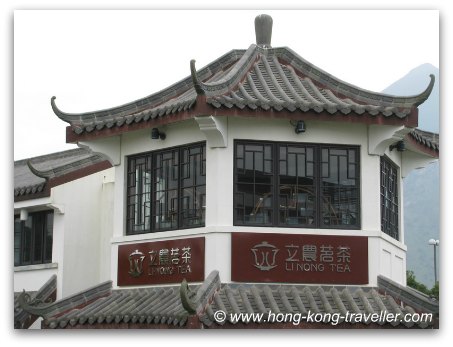 Tea Houses and wide choice of restaurants...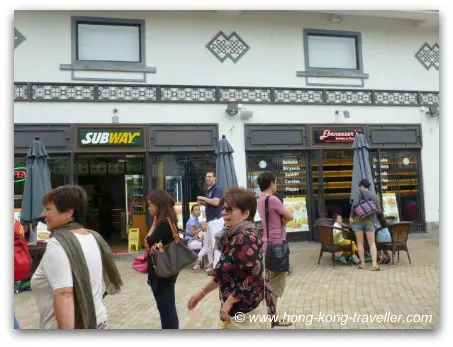 Subway and Starbucks around the corner...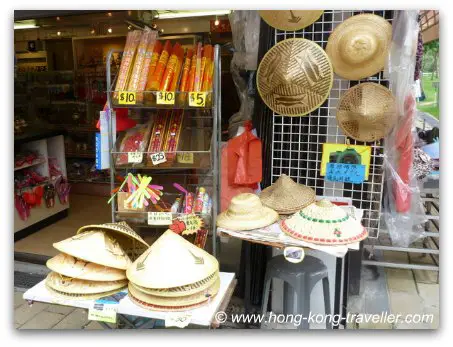 You find more souvenir shops right outside the Main street of the village on the way to the Monastery
There are also audio-visual attractions that re-count Buddha's legends and stories, including the Monkey's Tale Theater and the Walking with Buddha Show. They are both short 15 minute spectacles.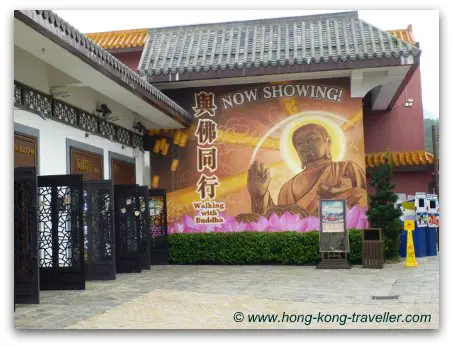 The Village is well appointed and with all its modern facilities, serves as the central point for the many highlights and tourist attractions in the area and serves also as a transportation hub.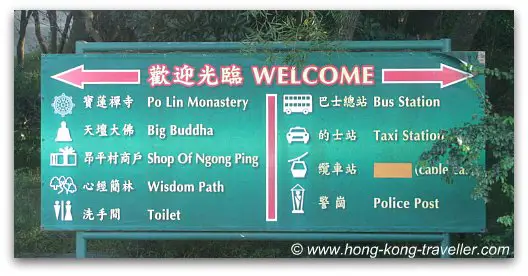 Main points of interest are well marked and easy to find
The Ngong Ping Village is connected via the Ngong Ping Cable Car to the Tung Chung lower terminal which is linked via MTR to the rest of Hong Kong.
Visitors can easily find their way to two of the plateaus main attractions, the Hong Kong Big Buddha and the Po Lin Monastery which are a quick five minute walk from the Village.
A visit to the Tai O Fishing Village is a short 15-minute ride away from Ngong Ping.
Getting around to other parts of Lantau is easily done, bus lines and taxis are available at the Public Transport Interchange.
---
Nearby Sights in Lantau Island
Don't miss any of the other nearby attractions in Lantau. These can all be done on a
DIY day trip or a guided tour
to the Island and will certainly cover most of Lantau Highlights:
Lantau Island Day Trip
Lantau Island and Giant Buddha Day Trip from Hong Kong

. This day trip to Lantau Island will take you to some of Hong Kong's pristine beaches, traditional fishing vilages, lush valleys, soaring mountains and spiritual enlightenment.

The tour lasts approximately 8 hours with pick up points at several Hong Kong and Kowloon hotels.
Highlights include:
Giant Buddha
Po Lin Monastery
Vegetarian Lunch at Po Lin Monastery
Wisdom Path
Express ferry trip across Hong Kong's harbour to Lantau Island
Tai O fishing village and its traditional houses on stilts
Ngong Ping cable car journey from Ngong Ping Village to Tung Chung town. (Ngong Ping Cable Car will be closed for a rope replacement project from January 9, 2017 to June 2017, bus transport will be used during this period)
Lantau Island Day Trip from Hong Kong Adult US$137 Child (2-11) US$112 - More information and Booking ››
Thank you for visiting www.hong-kong-traveller.com!
Here is to a wonderful Hong Kong travel experience!