Valentine's Day in Hong Kong
Romantic Getaway Ideas
There's more to the candle-lit dinner, the chocolates and the flowers... Hong Kong's stunning harbour lends itself to unforgettable memories. No matter what your budget, there are certainly many options to make this day extra special.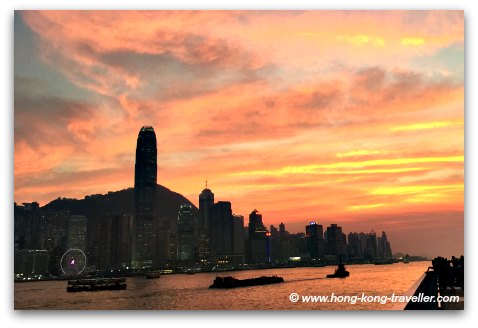 From romantic strolls, a quiet restaurant with killer views, the iconic sunset cruise on the harbour or a mind-blowing flight as you soar over the magnificent skyline... here are some romantic getaway ideas for a magical Valentine's Day in Hong Kong:
Our Favorite Strolls
Tsim Sha Tsui Promenade and Avenue of Stars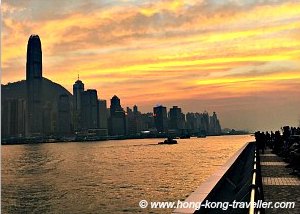 For fantastic views of the harbour, you can't beat this stroll. Not exactly a quiet and peaceful walk as this is a popular spot at all times, but the views of the skyline on the opposite side are stunning.
Start your walk from the Star Ferry Terminal as the sun goes down and the lights of the city start coming to life. Then head East towards the Avenue of the Stars and end your walk at the InterContinental, drop by the Lobby Bar for a drink with its fantastic floor-to-ceiling windows for more mind-blowing views. If you stick around long enough, the Symphony of Lights starts at 8:00 pm
More on:
Oasis in Central: Hong Kong Park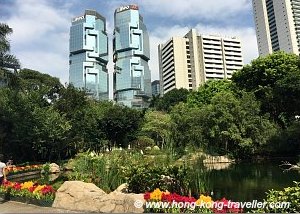 If you happen to be on the Island side, this is our favorite spot to scape the concrete jungle of the Central district.
A paved path takes you around ponds, waterfalls, manicured flower beds, lots of trees and vegetation, Hong Kong Park is right in the middle of the skyscrapers, a little oasis and a charming stroll.
Right around the corner, is the Lower Terminus Station for Victoria Peak Tram, take it up to the Peak and enjoy some of the most fantastic views Hong Kong has to offer.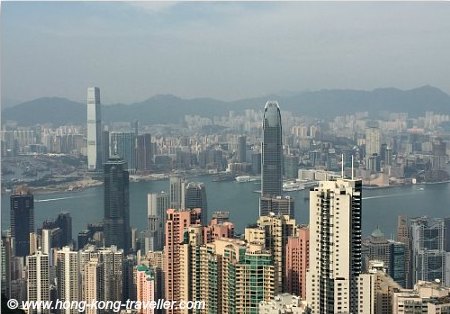 Here's more:
Nan Lian Garden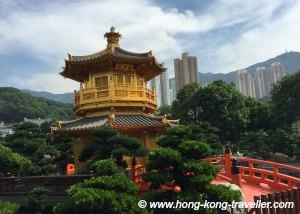 Beautiful, peaceful, serene... the Nan Lian gardens and its beautiful hallmark pavillion, koi ponds, arch bridges, cascades and lily pools... and a hidden restaurant behind a waterfall...
This is one of our favorite gardens, although a bit far from the main tourist areas, it is very easy to get there with the MTR, just a two-minute walk from the Diamond Hill Station on the Green line.
Best Sunsets in Hong Kong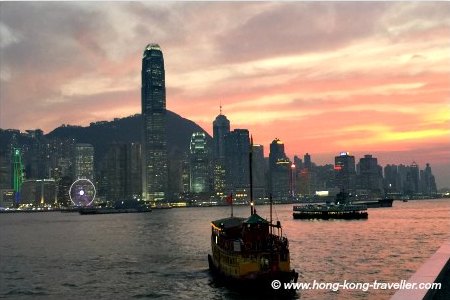 Valentine's Day and romantic sunsets go hand in hand... Luckily, in Hong Kong you don't have to go far, some of the most fantastic sunsets can be enjoyed right from the promenade on the Tsim Sha Tsui side.
It is absolutely magical as the sun sinks in the horizon behind the skyline... the colours start to burst... yellows, oranges, pinks, reds, purples... then the lights start coming to life, absolutely unreal...
Sunsets in Aberdeen are also out of this world: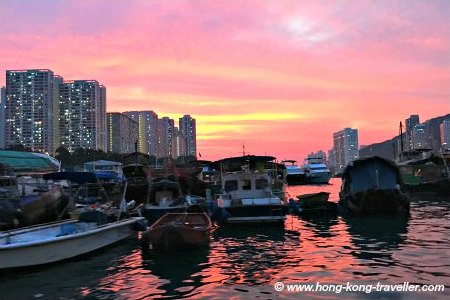 Hire a sampan to take you around the picturesque harbour with the many fishing junks and the tall buildings framing it. The lights start to glow and reflect in the water and the majestic floating restaurants are quite a sight when they are all lit. A 20-minute run for two should be around HK 75.
Contrary to what many suggest, the Peak is not an optimal spot for sunsets if you also want to enjoy the city skyline, the sun sets behind and the views will be of the back of the island and the reservoir, also beautiful with the islands and the open sea in the distance but not exactly what most have in mind.
Consider a sunset cruise, also a wonderful way to enjoy the magical Hong Kong sunsets, below we list a couple of options. Be sure to book in advance, Valentine's Day, although a western holiday, is catching up quickly in Hong Kong, so it is better to be prepared.
Sunset / Evening Cruises
Sunset or Evening Sail Aboard the Aqualuna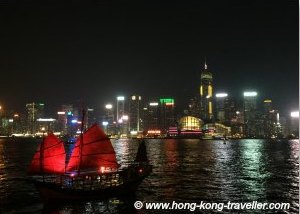 Aqua Luna is the beautiful red-sailed junk you will see cruising the waters of Victoria Harbour every day.
We love the top deck which is lined on both sides with comfy sofas where you can lounge, enjoy your cocktail and the marvelous views all around you for the one-hour sail.
Cruises depart from both sides of the harbour from Central Pier 9 and TST Pier 1. Evening sailings start from the TST pier, so try to board from this end rather than Central to have first pick for a good place.
How Much? HK$ 195 (US$ 26) *Symphony of Lights Sail HK$ 271 (US$ 36)
When? 6:30 pm, 7:30 pm*, 8:30pm, 9:30 pm, 10:30 pm
›› More Info and Booking Aqua Luna Evening Sail.
›› More Info and Booking Aqua Luna Symphony of Lights Cruise.
Sunset Cruise plus Dinner at the Jumbo Floating Restaurant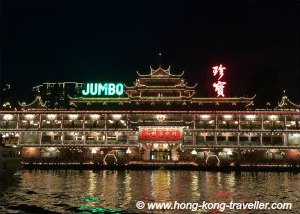 This one ticks all the boxes:
A sunset cruise as the lights are coming to life in dazzling Victoria Harbour
8-course Chinese banquet at the Jumbo, Hong Kong's most renowned floating restaurant which is spectacularly illuminated at night
A quick stop at the Mid-Levels lookout for glittering night views of Hong Kong and Kowloon
Where? Cruises depart from both sides of the harbour from Central Pier 9 and TST Pier 3
When? Departs 5:55 pm from Central, 6:10 pm from Kowloon
How Much? US$ 153 per person
›› More Info and Booking Sunset Cruise and Dinner at Jumbo Floating Restaurant.
Top Romantic Hotels in Hong Kong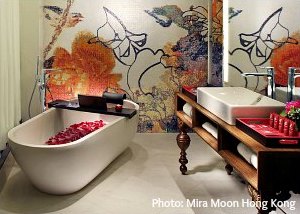 When pampering of a higher scale is called for, whether you are visiting or for a memorable staycation, you won't be short on options for romantic hotels in Hong Kong.
They consistently deliver with their stunning harbour views, delightful decor and ambiance, impeccable service, fantastic restaurant options, infinity pools, exquisite spas... you are in good hands from the moment you step foot in their lobbies.
More on:
Restaurants/Bars with a View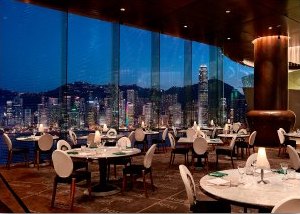 There is no shortage of restaurants and bars with that million-dollar view of Victoria Harbour...
Cocktails out on a rooftop bar as the sun sets over the skyline and the city lights slowly start coming to life... what could be more romantic?
There are many choices in both sides of the harbour, in Hong Kong Island as well as Kowloon. The views will be splendid from either side.
You will likely find many of these places in all the five-star and luxury hotels in Hong Kong, but not necessarily. There are quite a few options that don't have to cost an arm and a leg.
More on:
Totally Over The Top Experiences...
Flightseeing in Style: A Hong Kong Helicopter Tour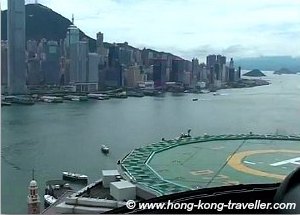 This is definitely one of those wow experiences, as if Hong Kong's fantastic skyline and harbour aren't stunning enough... try seeing it from the air... it simply takes your breath away...
And helicopter rides are extremely convenient, taking off from the heart of Tsim Sha Tsui from the helipads on top of the Peninsula Hotel, which by the way, is a top pick for a romantic stay in the city, why not combine both?
You can choose from a short 15-minute ride to a longer 45-minute flightseeing which can be tailored to your specifications.
How Much? 15-minute from US$273
›› More Info and Booking Hong Kong Helicopter Tours.

---
Hong Kong Events
Thank you for visiting www.hong-kong-traveller.com!
Here is to a wonderful Hong Kong travel experience!