Ocean Park Polar Adventure
Penguins, Walruses, Seals... and a Fantastic New Roller Coaster!
The Ocean Park Polar Adventure located in the park's Summit Area features a world-class frosty exhibit area and one more roller coaster to add to Ocean Park's fun array of rides.
This new area showcases several species of penguins, walruses and seals, enhancing the park's existing collection of precious animals which includes Giant Pandas, Red Pandas and the rare Golden Monkey.
Ocean Park's Polar Adventure aims to educate the public about the perils of global warming affecting the Arctic and Antarctic regions and how this is affecting the natural habitats of these species who dwell in these areas.
The Polar Adventure is home to:
The South Pole Encounter: Welcome to Antarctica!
The South Pole Encounter features a 270° open exhibit with an array of walkways, balconies, skylights, and glass floors which will bring you eye to eye with the park's Antarctic residents.
Joining the 70 or so existing penguins at the park which were formerly boarded at Pinniped House, are three different species of penguins:
| | | |
| --- | --- | --- |
| King Penguins | Gentoo Penguin | Southern Rockhopper |
This semi-enclosed structure is perfect to catch a close-up view of the penguins, swimming away or frolicking in the ice in their glacial habitat...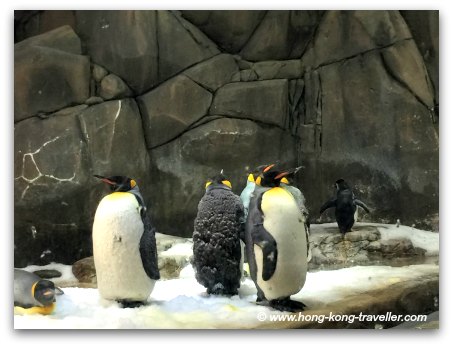 King Penguins, the world's second largest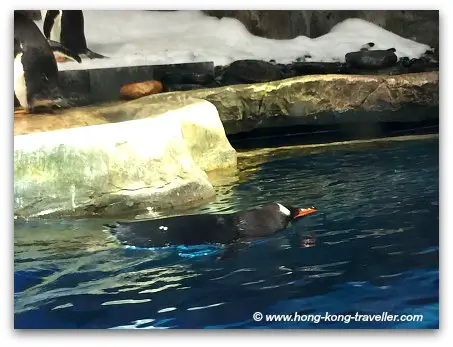 A Gentoo Penguin swimming away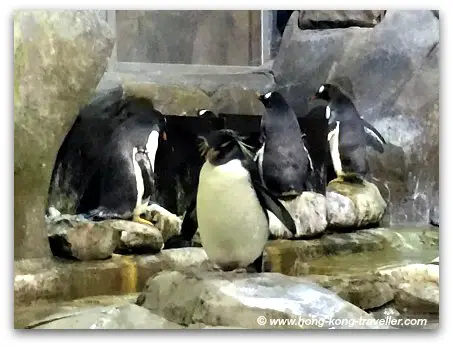 A Southern Rockhopper Penguin front and center, Gentoo Penguins in the background
Check out these short clips with these great creatures, above and below the water:
The North Pole Encounter: Arctic Wildlife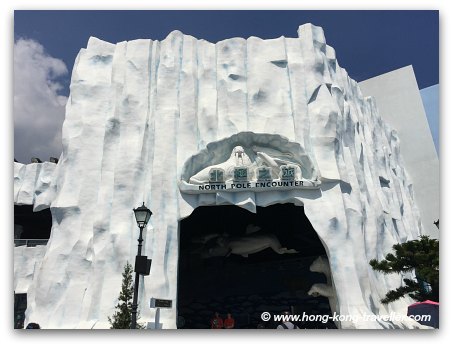 Many Arctic species typical of the North Pole tundra congregate at this exhibit.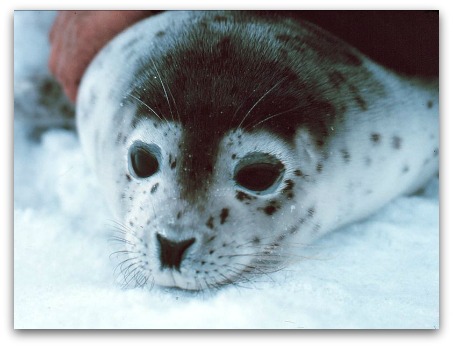 Spotted Seal
Here you will find giant long-tusked Pacific Walruses, Northern Sea Lions, Spotted Seals, and Snowy Owls.
| | | |
| --- | --- | --- |
| Pacific Walrus | Snowy Owl | Northern Sea Lion |
The North Pole Encounter exhibits start with a wide open area resembling an Arctic setting... with temperatures to match!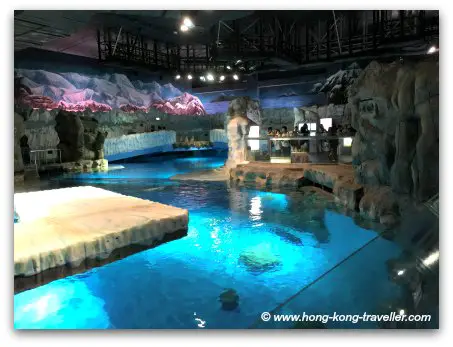 This is were you find the Sea Lions and Spotted Seals swimming about and playing with their many toys in the wide pools which you can observe from the surface.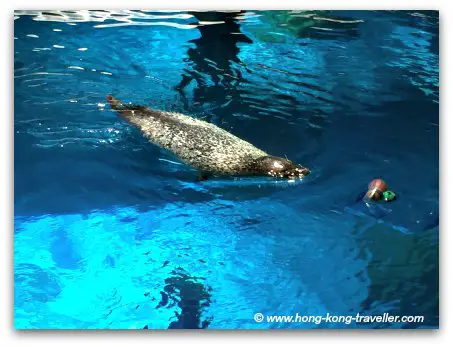 A Spotted Seal plays in the surface with a ball
Then you go "underwater", there are some fantastic tunnels and lots of windows to observe all the animals underwater.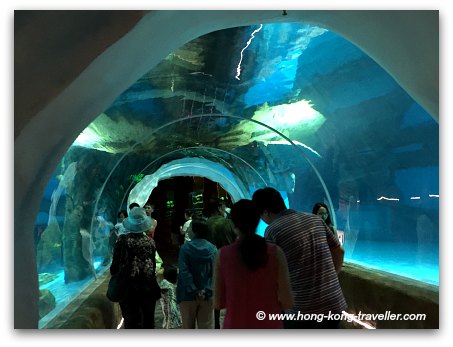 You could spend all day under one of these tunnels and watch all the animals dart over...
One of a pair of resident walruses at the park swims by...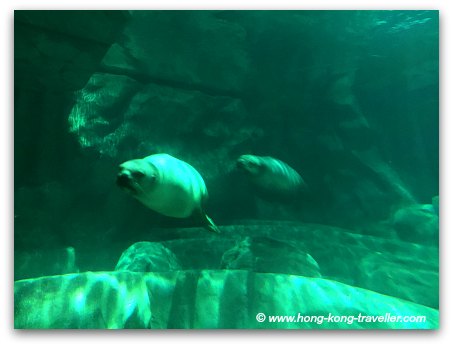 A pair of playful sea lions torpedoed right to us...
Arctic Fox Den
These adorable creatures can subsist in temperatures under -50° c.! Come watch them play and run around, there are a few of them in these exhibit.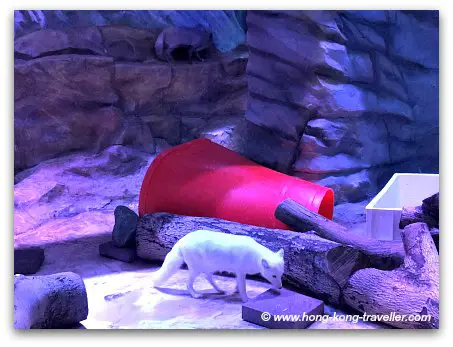 This is a very small exhibit and a bit hidden. Look for the Entrance to the Arctic Fox Den through the Gift Shop!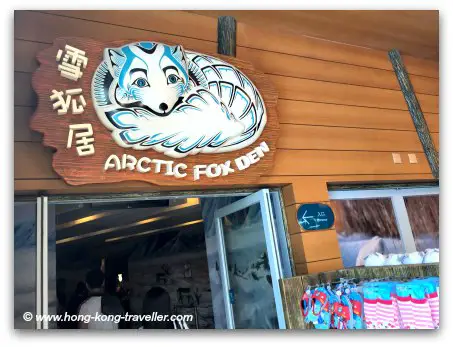 Arctic Blast Roller Coaster
This is the newest of Roller Coasters at Ocean Park and is a fun wild ride for the family.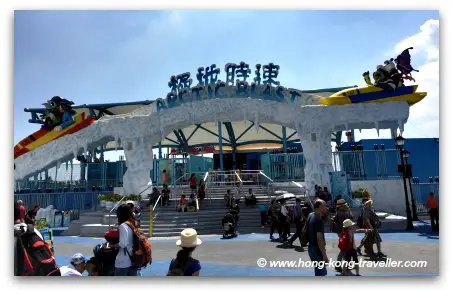 Children must be 4 years old or above, minimum height requirement is 100cm (39"). In addition, children between 4 and 6 years or between 10 cm (39") and 120 cm (47") must ride with a person 15 or older and is 120 cm (47") tall or more.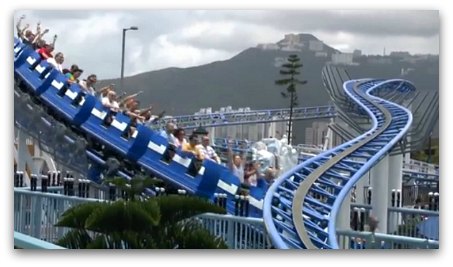 Here are some more roller coasters!
Once in a Lifetime Experiences at Ocean Park...
Fantastic Chance:
Honorary Panda Keeper
+ Souvenir Photo
HKD 1380 (US$183)
A 2-hour one-of-a-kind experience as you go behind the scenes of the panda enclosure, put on a special keeper's uniform and assist with the daily care of the pandas.
More info and details
Animal Encounters:
Dolphins, Seals or Penguins!
From HKD 1180 (US$152)
Get up close to Ocean Park's stars: dolphins, seals or penguin encounters where you can meet, play, feed and learn more about these incredible creatures from qualified trainers and keepers.
More info and details
Thank you for visiting www.hong-kong-traveller.com!
Here is to a wonderful Hong Kong travel experience!