Ocean Park Waterfront
The
Ocean Park Waterfront
is the "Lowlands" area and where the main entrance to the park is.
The Waterfront is home to the park's jewels, the Grand Aquarium, as well as the Giant Panda Habitat and the Amazing Asian Animals exhibits.
Also in the Waterfront is Whisker's Harbour, the main play areas for toddlers and small children with merry-go-rounds, bounce houses.
Here are some quicklinks to the main areas and most popular attractions at the Waterfront:
Park Entrance and Ocean Square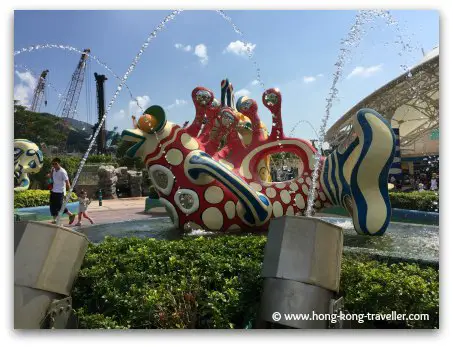 The park's characters and fountains and water spouts will greet you at the square.
You will find the ticket counters and all ground transportation, bus interchanges and future MTR station here.
The bus stop for Bus 629 which brings you to Central will be to the left as you exit the park.
There are convenient Car Park facilities also if you are arriving by private car.
Also at Ocean Square prior to entering the park, you will go through a quick security check. Please note that outside food and drink are not permitted, other than baby food. Although, a water bottle or a bag of chips here and there will not raise the alarm bells, please refrain from bringing in the whole picnic basket.
If you are planning on exiting and re-entering the park, you need to have your hand stamped at the exit.
Aqua City and Lagoon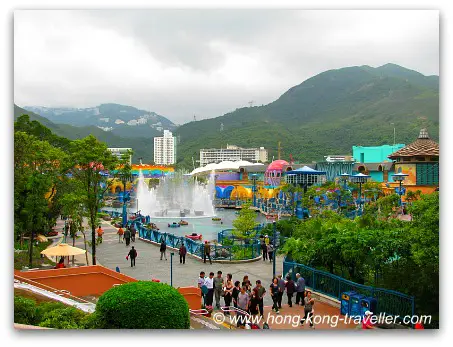 This is the "welcome" center of Ocean Park. All visitor's facilities are found in this area facing the Aqua City Lagoon. Here is where you find:
Main information counters
Lockers
Public Phones
Money Exchange
ATM's
First Aid
Wheelchair and Stroller Rentals
Lost and Found
Aqua City Lagoon is the site of the park's most popular Night Show "Symbio"
Surrounding the Aqua City Lagoon are some of the main attractions of the Ocean Park Waterfront:

The Grand Aquarium
A spectacular array of marine life, from tiny seahorses to hammerheads, mantas... Truly a world-class aquarium, one of the best of its kind


HK Jockey Club Sichuan Treasures
Home to the park's original panda couple Jia Jia and An An and a pair of golden monkey cousins Le Le and Hu Hu


Amazing Asian Animals
Great exhibit includes newcomer Giant Pandas Ying Ying and Le Le, and a couple of Red Pandas Tai Shan and Rou Rou.


Australian Adventure
Koalas, Wallabies, Kookaburras... don't miss them at the Old Hong Kong Vintage Theatre


Old Hong Kong
Ride a rickshaw at this beautiful and authentic replica of a city street of the Hong Kong of the 50s - 70s


Whiskers Harbour
Merry-Go-Rounds, bounce houses, small rides, games, playgrounds for the little ones
Food and Drink at the Waterfront
There is no shortage of eating options throughout, you will see a lot of the typical fast food stands, and there are also a couple of restaurants if you prefer something fancier.
The Neptune Restaurant is located in the Grand Aquarium, where you can enjoy Asian as well as Western dishes.
The Panda Cafe is in the Amazing Asian Animals complex and the specialty is South East Asian Gourmet.
Reservations can be made for both of the above restaurants and highly recommended during the summer and the busy holiday periods.
If you prefer something casual, try the Aqua City Bakery for all kinds of breads and pastries.
Whiskers Harbour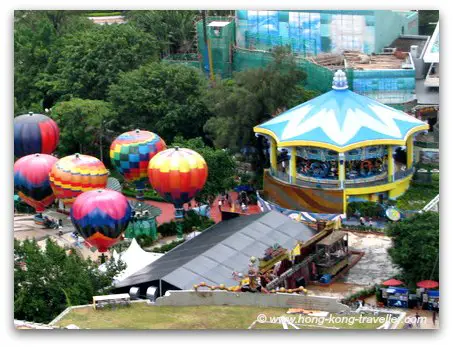 Whiskers Harbour is a dreamland for the little ones. There are playgrounds, bounce houses, a merry-go-round, a creative corner, a theater with shows scheduled througout the day, interactive games and more than enough to keep them busy all day.
---
Once in a Lifetime Experiences at Ocean Park...
Fantastic Chance:
Honorary Panda Keeper
+ Souvenir Photo
HKD 1380 (US$183)
A 2-hour one-of-a-kind experience as you go behind the scenes of the panda enclosure, put on a special keeper's uniform and assist with the daily care of the pandas.
More info and details
Animal Encounters:
Dolphins, Seals or Penguins!
From HKD 1180 (US$152)
Get up close to Ocean Park's stars: dolphins, seals or penguin encounters where you can meet, play, feed and learn more about these incredible creatures from qualified trainers and keepers.
More info and details
Thank you for visiting www.hong-kong-traveller.com!
Here is to a wonderful Hong Kong travel experience!