Disney Land Hong Kong Halloween... Boo!
Ghostly Parades, Pumpkin Patches, Spooky Trees ...
Disney's Haunted Halloween Starts September 15, 2016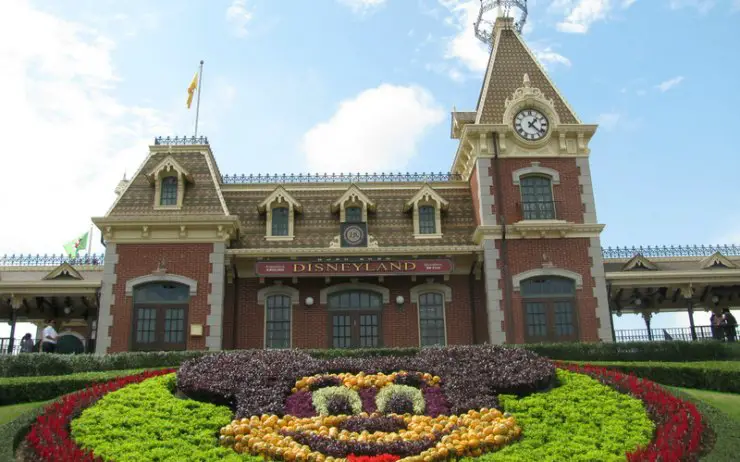 Hong Kong Disneyland at Halloween
time transforms itself into a haunted land of pumpkins, ghosts, cobwebs and spooky trees... it is a really fun time to visit the park.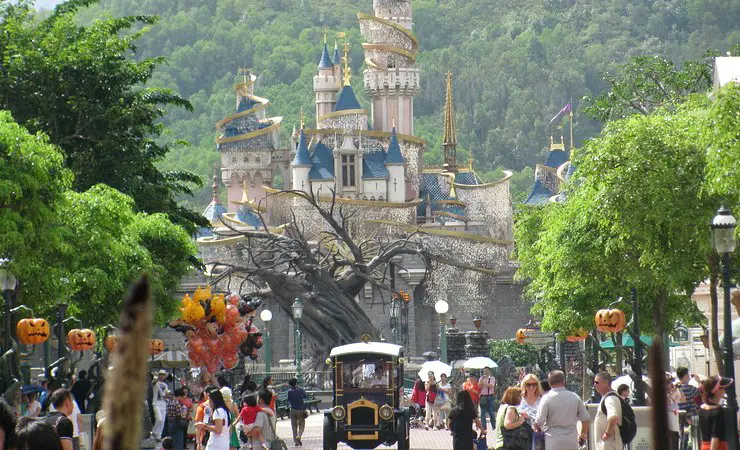 Mickey and friends will of course be playing along with the theme and wearing their Halloween costumes, handing out candy for all trick-or-treaters...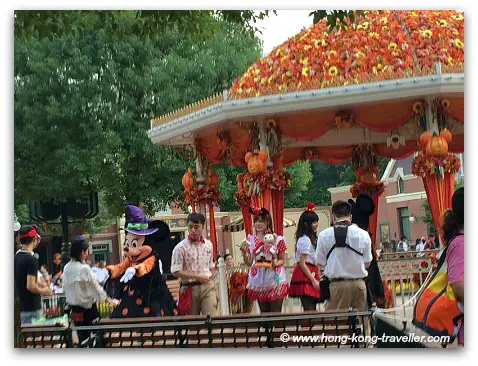 ... and it will be pumpkin galore all around...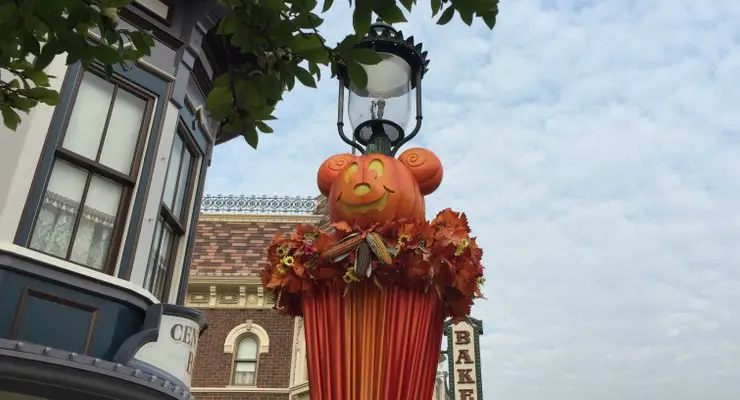 The Halloween celebrations typically include attractions like the Main Street Graves Academy, a Cursed Jungle and the Revenge of the Headless Horseman at Adventureland, Trick or Treat fests and Masquerade Balls with Mickey, Minnie, Goofy and Pluto over at Fantasyland, a Halloween Fair at Grizzly Gulch, and of course the Boo-tique in Tomorrowland where you can stock up with all sorts of menacing Halloween paraphernalia.
There are shows and of course parades. Some years it is a Night Parade, some years a daytime parade with a Halloween theme. You can always bet on seeing all your favourite friends in fantastic colorful costumes.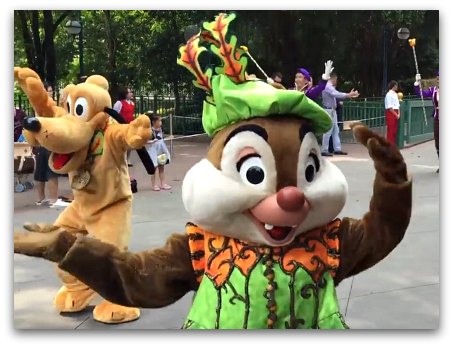 And in typical Disney fashion, everything is spooktaculary decked out.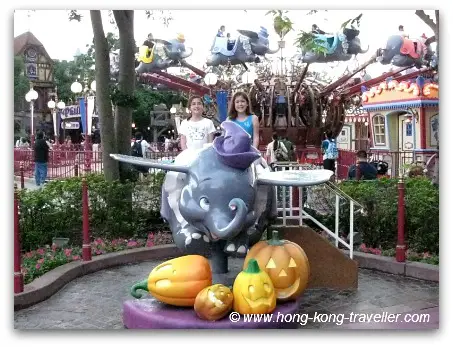 You will see all of your favourite villains, i.e. Captain Hook and the witch from Sleeping Beauty, dancing pumpkins, cobwebs and vampires... and of course Mickey and the gang will be there to haunt you.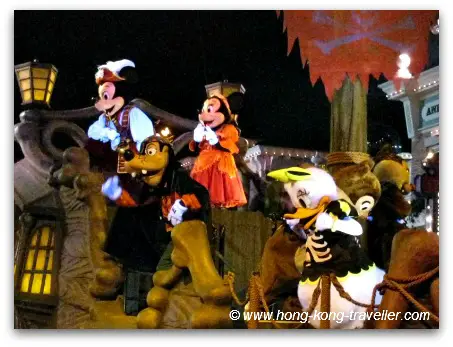 Besides the usual Disney friends, there are also some unique characters making an appearance during Halloween.
Look for the cannibalized Babyhead lurking in Toy Story Land, and in the past, there have been "Headless Horsemen" and even Jack the Pumpkin King from The Nightmare Before Christmas.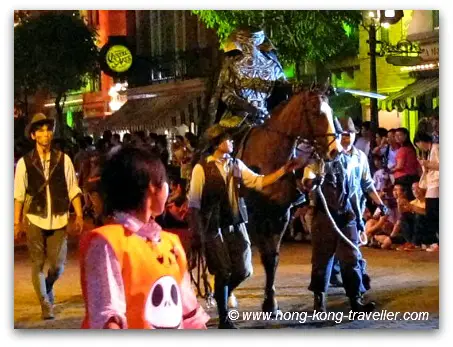 The Headless Horseman at the Parade...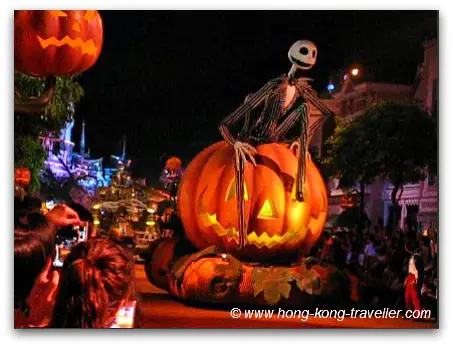 ...and Jack Skellington along for the creepy ride...
Shows and entertainment vary from year to year, so get a copy of the daily show, parade and fireworks schedule on the day of your visit to make sure you don't miss anything you would like to see!
New this year is a daytime parade "Mickey's Halloween Time Cavalcade" with all our favourite Disney friends: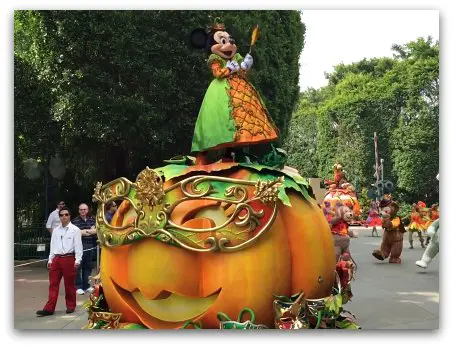 Minnie at the New Halloween Time Cavalcade Parade
Take a peek here!
When are the Halloween Festivities at Hong Kong Disney?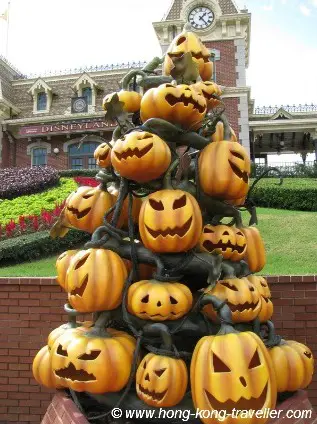 The 2016 Halloween decorations and ghostly celebrations at Hong Kong Disney kick off September 15, 2016 and run until October 31, 2016.
Some of the "Haunted Halloween activities" however are not on a daily basis, they take place on weekends Thursday through Sunday, so make sure you check the schedule for the planned activities for the day you wish to visit.
In addition, several attractions, shows and parades run under a different schedule.
These are some of the 2016 changes:
The Flights of Fantasy Parade is suspended from September 15 - October 31, 2016 and replaced by "Mickey's Halloween Time Cavalcade". The parade takes place at either 3:00 p.m. or 4:30 pm
The "Paint the Night" Parade is suspended from September 4 to November 1, 2016, instead there is the "Villains Night Out" when all your favourite Disney Villains from Maleficent to Alice in Wonderland's Queen of Hearts make an appearance. Jack Skellington is also back and this show takes place in Main Street at 7:00 pm

Toy Story Land, Mystic Point and Grizzly Gulch will close at 4:30 pm on September 16, 18, 24, 25, 30 and October 1, 3, 9, 2016.
So, again, be sure to pick up the Times Guide at the entrance for the day of your visit which will include any revisions to the regular daily schedule to avoid dissapointment!
Halloween events at Hong Kong Disneyland are free with park admission. Adults HK539 Children (3-11) HK385
Remember you can buy discount tickets online at Klook.com:
HK Disneyland Discount Tickets Adult HK539 HKD497 Children HK385 HKD360

Opening hours normally extend to 11pm during this period.
Have a frightfully spooky Halloween!!!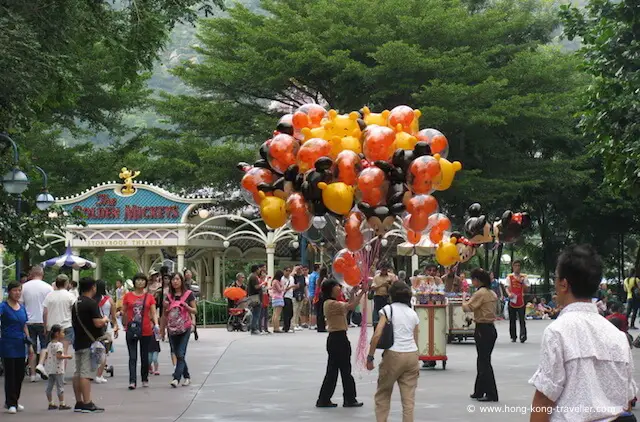 ---
Thank you for visiting www.hong-kong-traveller.com!
Here is to a wonderful Hong Kong travel experience!