Tomorrowland at Disneyland Hong Kong
Star Wars and Marvel Heroes!
Welcome to the land of the future...
This is Hong Kong Disney's most popular land amongst the older kids, the prevalent theme is adventure in space and into the future.
Front and center are the Star Wars attractions, the newest Marvel Super Heroes and of course the old-time favourite Buzz Lightyear taking us to infinity and beyond...
The futuristic land is tucked between Main Street and Fantasyland, just look to the right as you enter the park for Space Mountain's distintctive rocket dome, you can't miss it!

Tomorrowland Rides and Attractions
These are our favourite rides at Tomorrowland:
Iron Man Experience
The Iron Man Experience Attraction
This is another fantastic 3D simulation ride where you soar over Hong Kong in a gravity defying Iron Wing flight vehicle while the city is under attack by Hydra and which Iron Man saves with your help of course...
Stunning digital sound and video effects throughout!
You can then drop by the Stark Expo and meet Iron Man at the Iron Man Tech Showcase.
Iron Man Character Greet and Meet
Height requirements for Iron Man Experience ride is 102 cm or 40 inches or taller.
Lines could be long, so be sure to get your Fastpass for this ride and reduce your waiting time.
STAR WARS Hyperspace Mountain and Command Post
Space Mountain is one of the most popular rides at all Disney parks and here at Hong Kong Disneyland is no exception. This oldtime classic has been reimagined into a STAR WARS theme ride together with intergalactic battles, X-Wing StarFighters, Stormtroopers, Death Stars... It is a fast, thrilling ride, in the dark, with sudden turns, drops and bends.
The Space Mountain Rocket Dome
The ride starts at the Space Port where you board your Spacecraft, two space travelers can ride side by side, as opposed to other Space Mountain shuttles where you ride one behind the other.
Now get ready for lift off and your intergalactic adventure starts as your rocket takes you on a dashing, exciting ride.
A gigantic X-Wing Starfighter at the Hyperspace Mountain Space Port
Compared to the other Space Mountain rides, at Disneyworld for example, this one seemed to us slightly milder. In fact, the height requirement for the little space commanders is 102cm (40 inches), as opposed to 112cm (44 inches) at Disneyworld.
Due to high traffic at the space station, the lines could be extremely long, so be sure to get your Fastpass for this ride and reduce your waiting time.
And after you land, be sure to stop by the Command Post and meet all our favorite Star Wars Characters!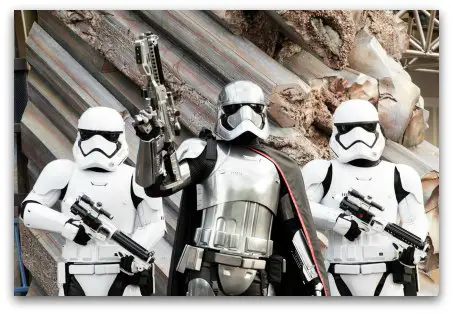 Stormtroopers at Command Post
Buzz Lightyear Astro Blasters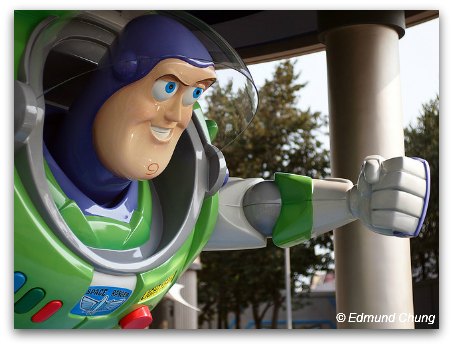 Buzz Lightyear welcomes you at the Astro Blasters Ride
This is a very popular ride and one of our favourites. You get to help Buzz defeat the evil Zurg, armed with Laser Astro Blasters which you use to shoot at the targets as you go through the ride.
Along the way, you meet some of Buzz's old friends from Star Command and the Little Green Men, the aliens of course.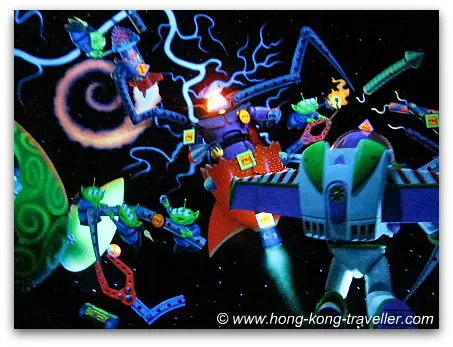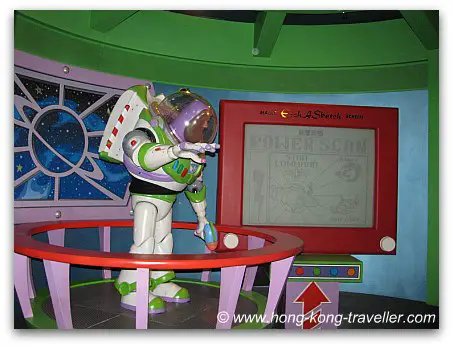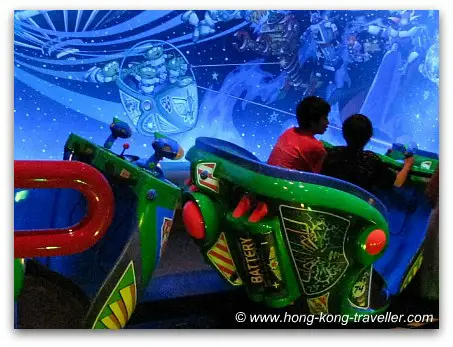 As the fellow Space Rangers can be numerous, lines might be long for this attraction, but luckily the Fastpass is available for the Astro Blasters ride, and it helps you cut the waiting time.
Orbitron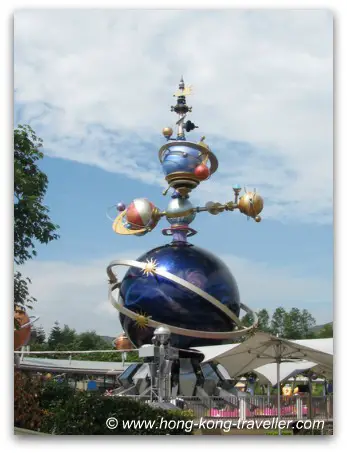 Flying saucers ready for liftoff at Orbitron
At Orbitron you get to pilot your own flying saucer and control how high or low you go, it's a nice mild ride. You get your own "boarding pass" with a specific number for your corresponding spaceship making the boarding process easier without the usual mad dash to the vehicles.
Have a Blast at Tomorrowland at Disneyland Hong Kong!
---
Thank you for visiting www.hong-kong-traveller.com!
Here is to a wonderful Hong Kong travel experience!