Disney Land Hong Kong Christmas Time!
Parades, Carols, Christmas Trees...
Christmas at Hong Kong Disneyland is such a magical time of the year, the celebrations kick off normally the second half of November and run up to the New Year.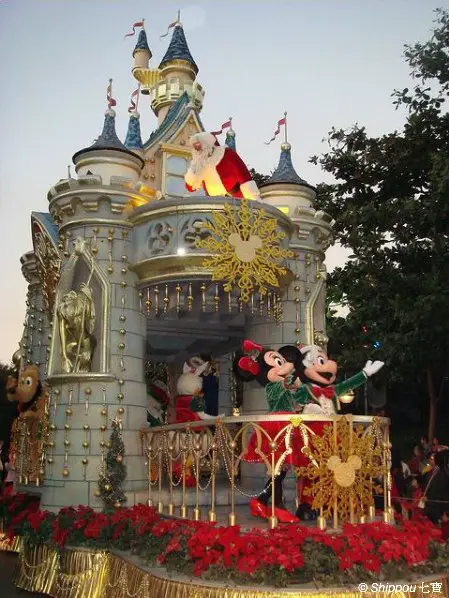 The entire park is transformed into a wonderland full of the holiday cheer, glitzy ornaments, dazzling lights, fluffy snow, holiday wreaths...
And everywhere you go, red, green and golden shiny bows, balls and garlands, merry candy canes and Santa hats... all decorating every corner of this magical world to make it even merrier...
There is of course the magnificent Christmas Tree that greets you as you first come in Main Street, and all the buildings flanking it are splendidly decorated as well...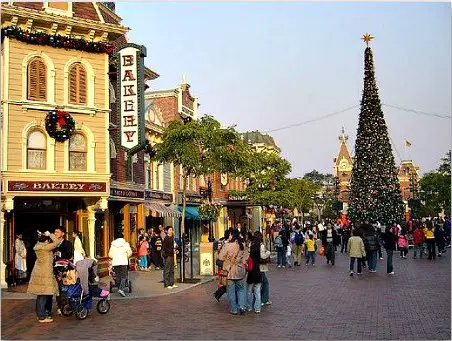 The holiday celebrations will normally include daily parades and fests with Mickey, Minnie and the gang all dressed up in holiday gear, singing carols and partying away with the crowds.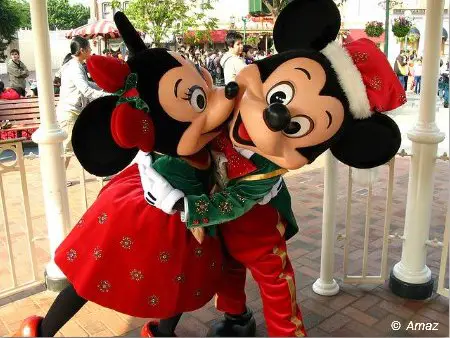 There's the usual Character Greeting spots where you get to meet your favourite friends.
Get the daily guide at Guest Services to see the times and locations for that particular day.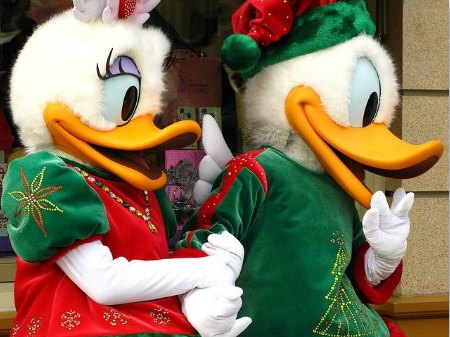 And keep your eyes open as you roam around the park, you never know who you might run into... Here's Goofy and Pluto along Main Street in their Christmas costumes...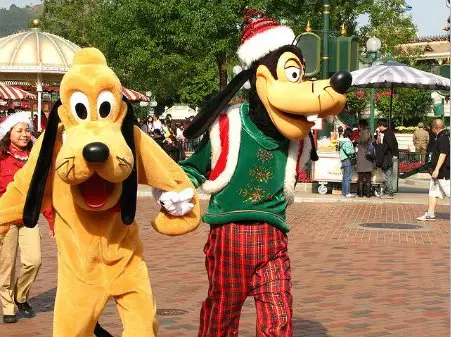 And of course, a Christmas celebration wouldn't be complete withouth a festive Parade!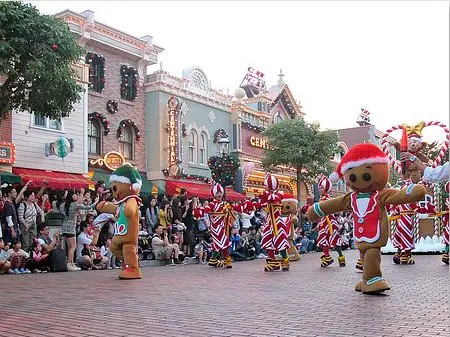 Themes for the parades and celebrations vary from year to year, "Let it Snow"...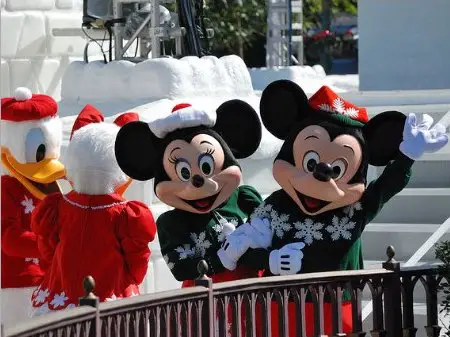 "Santa Mickey's Toy - Riffic Street Party", etc.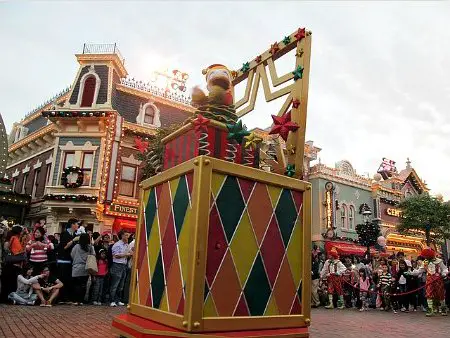 They all share the common beat of rejoicing in this magical time of the year.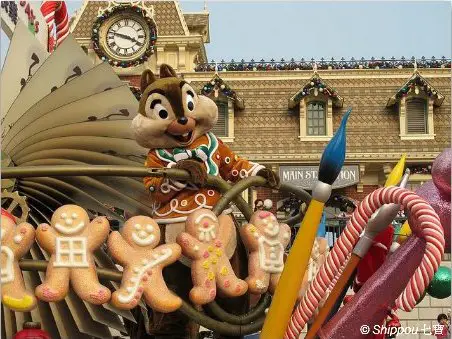 And at night, the lights come to life and the spectacle is breathtaking...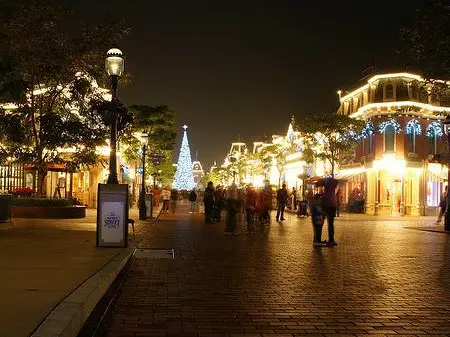 If during the day Sleeping Beauty Castle is stunning, wait until the night when it is lit up in all its glory...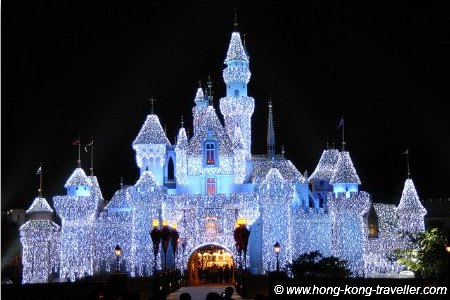 ...And beautiful Christmas Illumination ceremonies and events take place every day at dusk.
Although the events may vary from year to year to coincide with the theme of the season, it is always spectacular. Some may last only a few minutes, some may be even interactive.
This one took only a few minutes, starting with the Christmas tree lighting, then one by one, all the lights along Main Street led the way to the castle, with bursts of shimmer and glow that literally exploded with colour, simply stunning...

Click on the arrow to watch:
Hong Kong Disneyland Christmas Illumination
And Disney's newest night parade "Disney Paint the Night" will be adding more sparkle to the holidays. It is a dazzling array of lights and colours, pixie dust and hi-res panels, a very unique concept with Hong Kong Disney being the first Disney park to host it. Here's more on the Paint the Night Parade. Right after the parade, you get to "Paint the Christmas Tree", be sure to join in at Main Street USA.
And don't forget the "Disney in the Stars" Fireworks extravaganza that lits up the skies every night, Christmas time is no exception!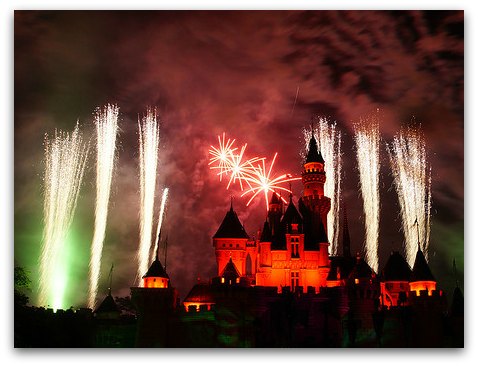 The Disneyland Resort likewise, is all dressed up in holiday cheer... It is a wonderful time of the year to stay at one of the two Disney Hotels: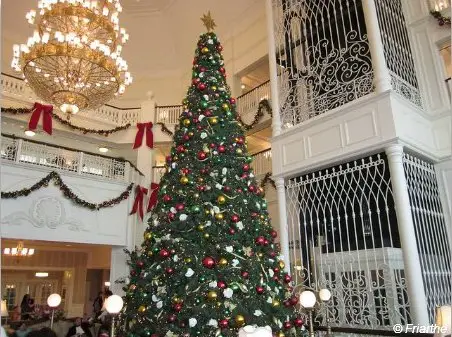 Happily Ever After Christmas LIVE! 2016
The 2016 Happily Ever After Christmas LIVE! Celebrations will run from November 17, 2016 to January 2, 2017.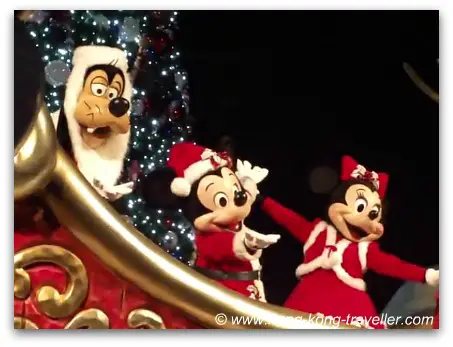 Flights of Fantasy Parade - 3:00 pm
"Mickey and the Wondrous Book" - various shows throughout the day
Christmas Tree Lighting Ceremony at Main Street USA - Check the daily schedule for day of your visit
Disney's "Paint the Night" Parade - 7:00 pm
"Disney in the Stars" Fireworks - 8:00 pm
(Times may vary, check daily schedule for the day of your visit)
When?: November 17, 2016 to January 2, 2017
Where?: Disneyland Hong Kong
How Much?: Included with Admission Ticket.
Remember you can buy discount tickets online at Klook.com:
HK Disneyland Discount Tickets Adult HK589 HKD533 US$69, Children HK419 HKD385 US$49
Special Summer Offer for 2-day pass for Visitors only: Adult HK759 HKD655 US$85, Children HK539 HKD461 US$59 Offer through September 30, 2017
More Info and Booking at Klook.com
We want to thank you for your support and
wish you a safe and Merry Christmas to you and your family,
happy travels and all the best in the coming year!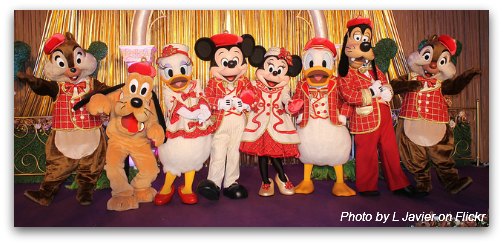 ---
Thank you for visiting www.hong-kong-traveller.com!
Here is to a wonderful Hong Kong travel experience!